Linda L. Berry
March 13, 1925 – June 23, 2019
Resident of Martinez, Calif.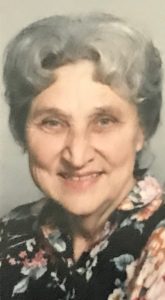 Linda was a dedicated mother who treasured her children and embraced every moment with them. She especially loved her role as grandma to both of her grandsons.
Linda was one of seven children to James and Etta Morris. She was preceded in death by her loving husband William Berry Sr (Bill) and her son William Berry Jr. (Smiley).
Linda will be sorely missed by her daughter Debbie White, her husband Howard and grandsons Paden and Dylan White of Martinez, her brother Bill (Ray) Morris of Idaho and her nephew Vernon McFarlin who was like a son. Vernon's girls called her Gram Berry. She leaves behind many nieces and nephews.
She always told you the truth, even if it wasn't what you wanted to hear. It was the school of hard knocks and yes, we were told how she had to walk to school in a blizzard for miles up hill.
Linda was known for her patience, and not holding back her opinion. She touched many lives in her 94 years.
Mom, grandma, and aunt Linda we love and miss you! We lost our "ROCK" on June 23rd.
Graveside service will be held on July 1st at 11:00 a.m. at Oakmont Cemetery in Lafayette.