by Stephen Langsam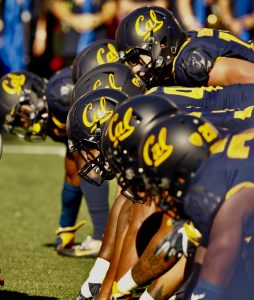 Cal Athletics introduces the March to Victory Pass (MVP) as an innovative and new way for fans to attend all six Cal football home games at California Memorial Stadium during the 2019 season. MVP is designed to give fans access to all home games through an affordable experience tailored around current trends including the convenience of digital delivery on your mobile phone 48 hours prior to kickoff.
Fans who purchase MVP will save from $100 to $300 and those who attend all six home games will be entered to win a prize package thanking them for their dedication that will include Cal athletics apparel, bobbleheads and more.
MVP guarantees a different reserved seat for each of Cal's 2019 home football games with two options priced at $149 per person for the basic pass with tickets in the corner and end zone sections. The premium option is $299 per person and guarantees non-club sideline seats.
"We are always listening to our fans and what they are looking for in the ticket-buying process," said David Kao, Assistant AD for Ticket Sales, Service & Operations. "It is important that we provide this type of modern and creative ticket-buying experience as a convenient way for fans to attend our events."
For more information or to become a 2019 MVP, visit CalBears.com/mvp or contact (800) GO-BEARS and press option 3.
Cal opens its 2019 season against UC Davis on Saturday, Aug. 31 (3:30 pm PT).
Below is a list of all of the Golden Bears who suited for High Schools or Junior Colleges before their time at Berkeley.
| | | | | | | | |
| --- | --- | --- | --- | --- | --- | --- | --- |
| 13 | Robby Rowell | QB | 6-2 | 225 | R-Fr. | RS | Lafayette, CA / Acalanes HS |
| | | | | | | | |
| --- | --- | --- | --- | --- | --- | --- | --- |
| 16 | Collin Moore | TE | 6-4 | 240 | R-So. | SQ | Novato, CA / San Marin HS |
| | | | | | | |
| --- | --- | --- | --- | --- | --- | --- |
| 17 | WR | 6-3 | 185 | Fr. | HS | Richmond, CA / El Cerrito HS/Dorsey HS |
| | | | | | | | |
| --- | --- | --- | --- | --- | --- | --- | --- |
| 23 | Marcel Dancy | RB | 5-10 | 190 | R-Jr. | RS | Oakland, CA / Laney College/West HS |
| | | | | | | | |
| --- | --- | --- | --- | --- | --- | --- | --- |
| 40 | Parker Bosche | OLB | 6-4 | 225 | R-Fr. | RS | Berkeley, CA / Saint Mary's College HS |
| | | | | | | | |
| --- | --- | --- | --- | --- | --- | --- | --- |
| 41 | Ben Skinner | WR | 6-2 | 185 | R-Fr. | RS | Kentfield, CA / Marin Catholic HS |
| | | | | | | | |
| --- | --- | --- | --- | --- | --- | --- | --- |
| 42 | Colt Doughty | ILB | 6-1 | 230 | Sr. | JC | Los Gatos, CA / College of San Mateo/Los Gatos HS |
| | | | | | | | |
| --- | --- | --- | --- | --- | --- | --- | --- |
| 47 | JH Tevis | DE | 6-3 | 255 | R-Fr. | RS | Piedmont, CA / Menlo School |
| | | | | | | | |
| --- | --- | --- | --- | --- | --- | --- | --- |
| 48 | Daniel Etter | LS | 5-10 | 230 | R-So. | SQ | Oakland, CA / Riordan HS |
| | | | | | | | |
| --- | --- | --- | --- | --- | --- | --- | --- |
| 52 | Nick Alftin | OLB | 6-5 | 255 | R-Fr. | RS | Woodside, CA / Archbishop Mitty HS |
| | | | | | | | |
| --- | --- | --- | --- | --- | --- | --- | --- |
| 56 | Sam Walker | ILB | 6-3 | 230 | R-Fr. | RS | Orinda, CA / Miramonte HS |
| 57 | | ILB | 6-2 | 210 | R-Fr. | RS | Lafayette, CA / Acalanes HS |
| | | | | | | | |
| --- | --- | --- | --- | --- | --- | --- | --- |
| 62 | Miles Owens | OL | 6-6 | 350 | R-Fr. | RS | Oakland, CA / Bishop O'Dowd HS |
| | | | | | | | |
| --- | --- | --- | --- | --- | --- | --- | --- |
| 71 | Jake Curhan | OL | 6-6 | 330 | R-Jr. | 2L | Larkspur, CA / Redwood HS |
| | | | | | | | |
| --- | --- | --- | --- | --- | --- | --- | --- |
| 78 | Brandon Mello | OL | 6-6 | 285 | R-Fr. | RS | Clayton, CA / Clayton Valley Charter HS |
| | | | | | | | |
| --- | --- | --- | --- | --- | --- | --- | --- |
| 85 | Jake Tonges | TE | 6-5 | 230 | R-So. | 1L | Los Gatos, CA / Los Gatos HS |
| | | | | | | | |
| --- | --- | --- | --- | --- | --- | --- | --- |
| 88 | Ryan Regan | WR | 6-0 | 185 | R-Fr. | RS | Moraga, CA / Campolindo HS |