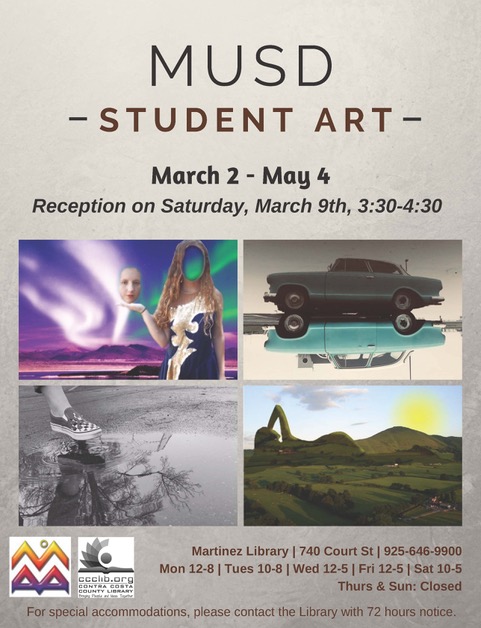 The Martinez Arts Association is proud to announce the Art Exhibit of student work in the Martinez Library for March and April. Each year, MAA offers grants to teachers in the Martinez Unified School District for art projects. The art work done by the students will be in the community room of the Library at 740 Court Street.
Carol Wiley, MAA Grants Chair, is coordinating this exhibit and planning a reception for the students on Saturday March 9 at 3:30pm at the Library.
Dorrie Langley has been curating exhibits in the Library for the Martinez Arts Association for over five years now. Exhibits change every two months. Sometimes there is a group show and sometimes a solo artist. MAA encourages young artists to become involved in the community.
MAA is a non-profit organization that promotes art in the community through a number of annual events; Swan Day, Art in Park, Dia de los Muertos, and the Holiday Boutique. For more information, visit www.martinezarts.org.
The art exhibit is open to the public during Library hours, (925) 646-9900, closed on Thursdays.