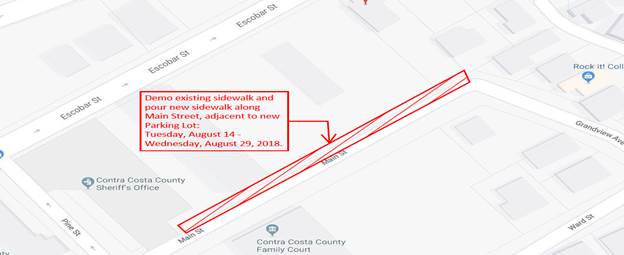 A section of the sidewalk and parking lot on Main Street between Pine Street and Grandview Avenue will be closed Tuesday, Aug. 14, through Wednesday, Aug. 29, according to an announcement released by Contra Costa County Public Works.
That department will be building a new sidewalk during that time. This is part of the county's project to replace its current administration building with a new one and the building of an expanded parking lot.
Aztek Consultants, the general contractor for the county's new parking lot on Estudillo Street, will be demolishing and replacing the existing city sidewalk on Main Street, the announcement said.
Neither the sidewalk nor the parking area on the north side of Main Street will be available for use during that project, and signs will be posted to that effect, the announcement said.
Those interested may receive alerts from Contra Costa County about alerts related to the county administration building construction project may visit the website http://www.contracosta.ca.gov/6788/County-Administration-Building.