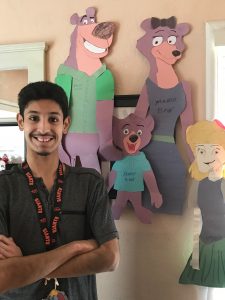 MARTINEZ, Calif. – Maggie Servantes knew her son, Richie, had talent when, at 4, he used a pad of paper to create scene-by-scene animation in a flip book.
That's how the classic animators who worked at Walt Disney, Warner Brothers and other studios painstakingly created cartoons before the days of computer-generated cartoons: One sketch at a time, with characters and scenery that changed position slightly with each page used.
Held in one hand, thumbed with the other, the pages flip rapidly, and the drawings appear to move.
When his mother saw what her young son had created and how his characters performed, she called it an "Aha!" moment.
"Art is Richie's life," she said.
"He is a Renaissance man. He thinks, breathes art throughout his days and nights," she said. "If he's not drawing, he will be watching or making videos, doing voice overs or while in conversation repeat or reenact scenes of movies."
Richie, 18, also has learned to play music. He's self-taught on keyboards.
His mother thinks he learned to love music before he was born – he was an active baby in the womb who would become calm when she put on music.
Servantes had hoped relatives might help the boy learn other instruments. When that didn't happen, Richie tracked down his own version of music teachers.
Turning to YouTube videos, he found the instruction he needed, then got to work. Now he can play his own music.
A walk through his grandmother's house is a walk through a family art gallery. Richie has lined the walls with his "paper children," freehand drawings on bright paper that are cut and assembled into familiar characters. He designs their clothing or costumes, then adds hair after drawing their expressive faces.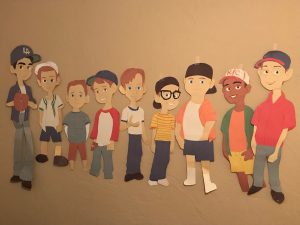 Peter Pan protects Wendy and her brothers from the deadly Captain Hook. The talking horse, Mr. Ed, holds court among cartoon characters on another wall.
Sherlock Holmes and Dr. John Watson, standing near a cabinet, take a break from an investigation.
The cast of "The Sandlot," interpreted as cartoon characters, fills another wall.
Other popular figures from movies, television and stories brighten the house as well.
Not all of his characters are created through drawing. Richie also scripts and acts in his own movies filmed on his cell phone. His characters have their own accents, and he knows how to time the necessary sound and special effects.
But early on, Servantes realized that Richie was going to be special in other ways, those that could make her son's life more challenging.
At about 2, Richie received eight shots, four in each leg, during a checkup. He developed a high fever and stopped doing things he had been doing, his mother said. Things like eating and making eye contact. At the same time, he started being fascinated by spinning toys, especially when viewing them with a mirror.
Servantes kept describing the changes in Richie's behavior and how his play routines differed from other children.
She sought answers through a series of doctor appointments, visits with the Regional Center of the East Bay that helps those with developmental difficulties, and in classes at We Care School in Clayton, other schools and finally in the early intervention program at Martinez Unified School District.
Finally, when Richie was 3, testing provided through MUSD program indicated the boy had mild to moderate autism.
At Contra Costa County's Mauzy School in Alamo, Richie participated in programs that incorporated signing along with methods that retaught him to speak and to avoid the emotional meltdowns often associated with autism. He earned Student of the Year and Most Improved honors.
At Lafayette Elementary and then Turner (Pittsburg) Elementary schools, he improved to the point their programs no longer were challenging. Back at Martinez Unified, he first went to John Muir and then found his niche at Las Juntas Elementary School.
"It was there that Richie got a taste of music and drama classes," Servantes said. "Richie enjoyed it so much."
Already armed with voices, accents and expressions, Richie turned to YouTube to learn more about music and drama. By fifth grade, he was making his own videos, including comedies with sound effects and pratfalls.
"I always make sure he gets the art courses at school in the IEP (individualized education program) meetings," she said.
At Martinez Junior High School's art classes, he expanded into three-dimensional and abstract art, although he never lost his love for drawing. And this coming year, at 18, he will be graduating from Alhambra High School with a completion certificate, after which Servantes will seek more programs for her son's art skills.
He's received theatrical training, performing in roles in plays, and showing a talent for musicals as well as a broad interest that ranges from "Guys and Dolls" to "Charlie and the Chocolate Factory."
He's also been busy this year creating three-dimensional props, from torches to crowns of thorns to legs that walk like stilts.
Meanwhile, Richie keeps making his construction paper art. "I like the colors and drawing characters," he said.
Some he has cast in his movies, which he storyboards like a Hollywood professional.
He's also been commissioned to create characters for others, but it's hard for him to let them go. They become like family members, he explained.
It doesn't matter whether the characters are animals or people. He enjoys the creative process as he transforms blank colored rectangles into recognizable figures.
"I love them all," he said.