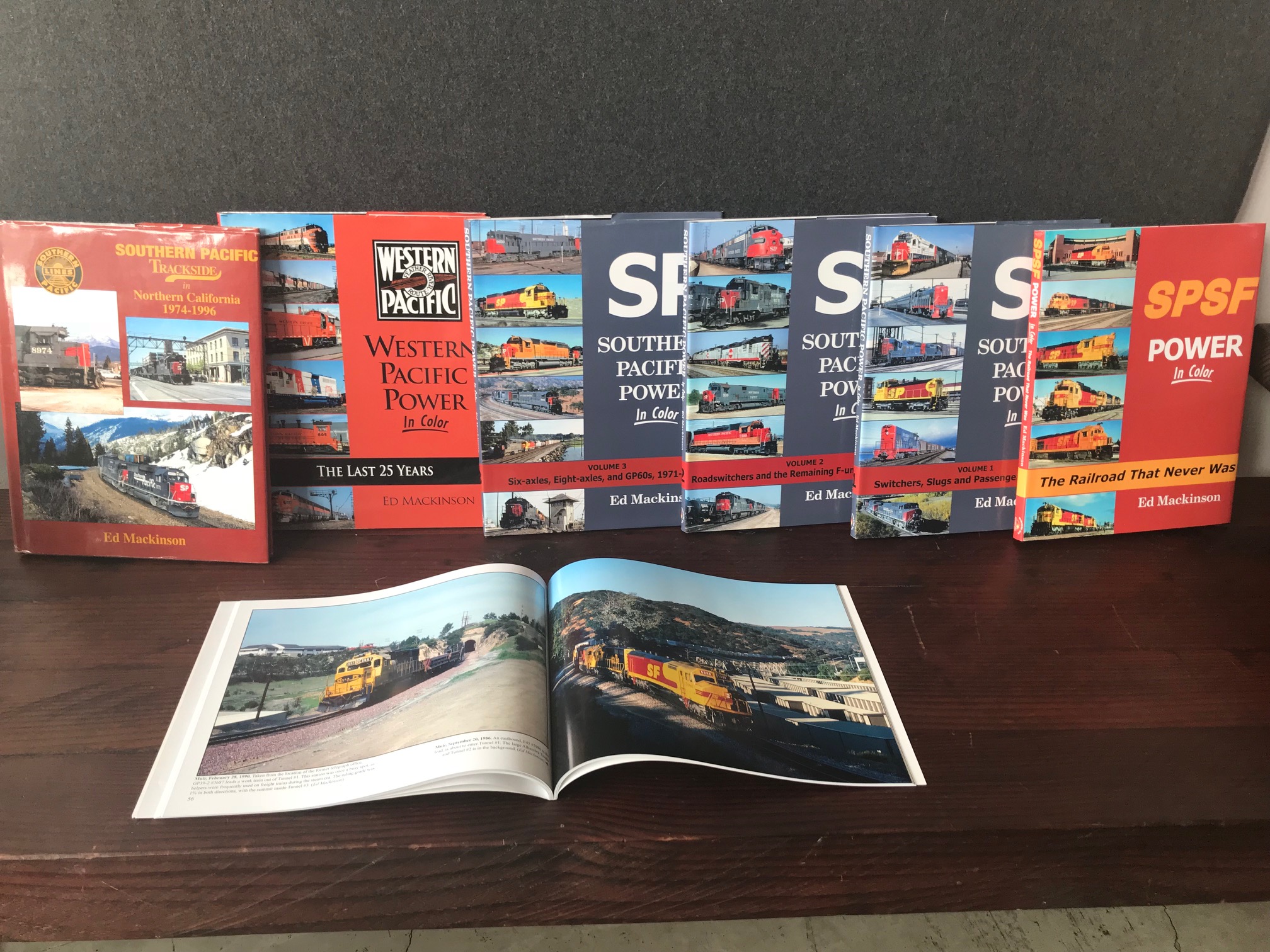 MARTINEZ, Calif. – In an era when railroads throughout the United States were merging, two companies were so confident their merger request would be approved, they began painting locomotives and rolling stock in the bright, new logo pattern.
After two years of consideration, the Interstate Commerce Commission denied the Southern Pacific and the Santa Fe railroads' request, and few members of the public got to see those red and yellow engines and railroad cars.
But Ed Mackinson, a Martinez author, has written a pictorial book on the subject. It's complete with colorful images, some of which were taken on railroad tracks familiar to area residents.
Mackinson is retired from a career spent in trains as a brakeman and conductor. His most recent years were with Amtrak, primarily on the San Joaquin and Capitol Corridor trips.
He took up photography years about the same time as he got his driver's license, and his favorite subject has been trains. Plus, when he took a writing course, his instructor assured him he had a talent for the written word. Eventually he contributed some magazine articles on trains. But there was more on his horizon.
As someone whose interest in railroads began before his career, Mackinson discovered Bib Yanosey's publishing house, Morning Sun Books, and its illustrated volumes about multiple train lines. As he accumulated more and more photographs, he realized Morning Sun might want to compile them in a book.
In 2014, the company published Mackinson's "Southern Pacific Trackside in Northern California, 1974 to 1996" which begins with the first photographs he took of the railroad and continues as a geographic journey through the railroad's final year before it merged with Union Pacific Railroad.
Yanosey liked what he saw in the first book, and encouraged Mackinson to do more.
The books have limited runs because they are of specific interest, Mackinson said. Compared to best-seller popular fiction, which can sell 3,000 to 9,000 in a week, a successful train book may sell but 5,000 copies total. Because the run is small and the photographs are high-quality color, train books often are pricier than other hardbacks and softbounds.
Since 2014, Mackinson has written "Western Pacific Power in Color," with illustrations from his own and others' collections taken from 1957 to 1982; the three-volume "Southern Pacific Power in Color" and the soft-cover "Santa Fe's Valley Division – The Last Two Decades," with illustrations from Bakersfield to Richmond.
Some of these have photographs of trains as they roll through Martinez and surrounding areas –Hercules, Pinole, west of Franklin Canyon Golf Course and the tall railroad overpass and tunnel near Alhambra Avenue and the John Muir Historical Site.
The latest book, released Thursday, is "SPSF Power in Color – The Railroad That Never Was," about the expectation that the Southern Pacific and the Santa Fe would become a single railroad.
It was the 1980s, during some tight economic times, Mackinson said. Several railroad companies already had merged, creating stronger but fewer transportation lines more likely to survive the financial downturn.
The Southern Pacific and the Santa Fe railroads' owner companies already had merged after approval from the Securities and Exchange Commission, Mackinson said.
They applied in 1984 to the Interstate Commerce Commission to unite the two railroads as well, he said.
"It happened all the time," he said. Those fascinated with trains took notice of those mergers, as their favorite railroads were blended into other operations or occasionally disappeared.
Since competitors had not been denied permits, the two companies started painting locomotives and rail cars in a new scheme that took the red from SP and the yellow from the Santa Fe. Among the new patterns would be the "warbonnet livery" from the Santa Fe.
The new design was going to have four letters – SPSF – on the sides.
In anticipation of the merger, the Southern Pacific stock was repainted with SP situated on the sides with space to the right to accommodate the SF that would be added after the merger.
Likewise, the Santa Fe locomotives and cars had SF placed so that SP could be placed correctly when the two became one.
Only, it didn't happen, Mackinson said.
"To their surprise, in 1986, after two hears of hearings, the ICC denied the request, saying it wasn't in the public interest," he said. Appeals also were rejected. "They went their separate ways."
While people had seen locomotives with the new SP or SF lettering on the side, most people never saw the few locomotives that were painted in the finished scheme, likely for promotional photographs or other publicity purposes.
However, a few employees did take some color snapshots. And those rare pictures are in Mackinson's book.
Unfortunately, the decision against the merger dealt the Southern Pacific a serious blow, he said. "It's what sent the SP down."
Under orders from the securities exchange, the united company Catellus divested itself of the Southern Pacific, but kept its land, and profitable resources, he said.
"The Southern Pacific was cut loose in a bad economic time with none of that support," he said.
Mackinson is familiar with those times. He experienced his own extended furlough from the railroad industry, finally securing employment with Amtrak in 1988.
Train enthusiasts, sometimes called rail fans, often speak nostalgically about the Southern Pacific.
An earlier version of the Santa Fe is memorialized in song, "The Atchison, Topeka and the Santa Fe," just as other railroads are commemorated in "The Orange Blossom Special," "The Wabash Cannonball" and "The Rock Island Line." An 1896 public spectacle that ended badly is described in "The Crash at Crush."
"Being a rail fan is about nostalgia," Mackinson said about the fascination some people have with those powerful engines and the cars they pull. "It's about 'the good old days.'"
Railroads' attitudes toward train enthusiasts vary, and sometimes evolve as years pass. The fan-friendly lines sometimes welcomed enthusiasts aboard to look at the equipment. Others considered fans a nuisance, and some took a middle ground, knowing that fans are attuned to anything amiss.
But even the friendliest rail lines had to change practices after the Sept. 11, 2001, terrorist attacks in New York and Washington, and ended in a Pennsylvania field when passengers overcame their hijackers but were unable to save the plane.
Change happen, Mackinson said. "It's a business."
Had the ICC approved the SP and Santa Fe merger, it might have changed parts of Martinez's landscape, Mackinson said.
That tall railroad overpass that's the subject of many rail fans' pictures as well as those by casual observers? It likely would have been abandoned or torn down, he said. "And 10 years later, both railroads merged with others, anyway."
In Martinez, the Union Pacific, which bought the Southern Pacific, runs through the downtown business district, while the BNSF, which takes its name from Burlington Northern Santa Fe, operates to the south, still using that high overpass on the western side of the city.
Mackinson currently is working on three books, some of which will come out next year, and is going through photographs to decide which ones should make the cut.
He tries to put interesting twists to their captions. It can be hard when he deals with others' photographs. One avid train photographer whose collection is available to Morning Sun Books rarely labeled any of his pictures.
That turns Mackinson into a detective, peering closely at images to see if he recognizes a landmark or mile marker that will give him a clue. Sometimes he has no choice but say the photograph was taken at an undisclosed place.
Of course, he has his own library of slides – he uses digital cameras on vacations, but usually shoots film in either a Nikon F or a Pentax single lens reflex camera for his train photography. It's an effort to get the film he prefers as well as to get it developed, but Mackinson said the quality of images, especially those blown up to large sizes for the books, is worth the effort.
"My feeling about film – I don't want to change horses in midstream," he said. "To me, film is preeminent, and it's what I'm used to. It's my art form."
Mackinson's books are available through Just Trains, 5650 Imhoff Drive Suite H in Concord; The California State Railroad Museum gift shop, 125 I St., Sacramento; most model train stores and through Morning Sun Books, morningsunbooks.com.