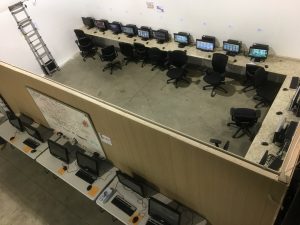 MARTINEZ, Calif. – Detectives from Contra Costa County Sheriff's Special Investigation Unit shut down an apparent illegal casino Wednesday night in the 5000 block of Pacheco Boulevard between Arnold Drive and Blum Road, Jimmy Lee, public information officer, said Thursday.
One man was taken into custody and 37 computer terminals and some cash were seized, he said.
The man placed under arrest was identified in Lee's announcement as Vinson Anies, 48, of San Mateo, although no charges were provided and jail records for Anies were not available by press time.
The sheriff's office started its investigation of the possible illegal gaming operation after receiving a citizen's tip that a casino was operating in that area, Lee's statement said.
During that investigation detective corroborated the citizen's information, and were able to obtain a search warrant for the site, Lee said.
That warrant was served Wednesday night, and deputies said they found 37 computer terminals that offered slot machines, video poker and other games of chance, the statement said.
The sheriff's office is seeking additional information and is welcoming calls at the Investigation Division, 925-313-2600. Those with information also can call the anonymous tip line at 866-846-3592 or email them to tips@so.cccounty.us.