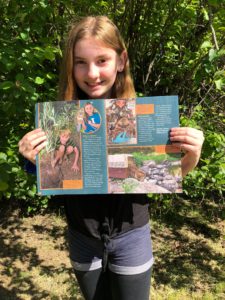 MARTINEZ, Calif. – When children across the country open their May copy of the National Wildlife Federation's "Ranger Rick" magazine, they'll learn about Martinez beavers.
Writer Hannah Schardt shared how towns once tried to keep beavers out of nearby rivers and streams, but now have decided to leave the animals alone, or go farther by welcoming them.
Martinez wasn't the only city that became alarmed when beavers began building dams in waterways that could result in flooding of low-lying areas.
Beavers cut trees, eat the leaves and twigs, then use branches to build the dams that block waterflow to form ponds where the aquatic rodents can live safely, Schardt wrote.
"Unfortunately, a beaver dam may cause the water to rise so high that it floods nearby streets," she wrote. "So for many years, people tried to keep beavers out of their towns and away from their homes."
That was the case about 11 years ago in Martinez, when a family of beavers built a dam in Alhambra Creek. That alarmed business owners who regularly hope that sandbags and other water blocks would prevent flooding inside their storefronts during winter rains.
Some felt so strongly about the matter, they wanted the beavers removed or killed.
But not everyone agreed.
Heidi Perryman became the face of Worth a Dam, a grass-roots group that sought to protect the beavers. And the organization sought others who supported their viewpoint that beavers were integral parts of an aquatic ecosystem.
Fortunately, scientists had been researching the impacts of dams and had learned how they keep waterways healthy, Schardt's article explains. Those beaver pools also become homes for fish, birds and other wildlife while filtering pollution out of the water.
Besides advocating protecting trees by wrapping them with wire or coating them in a sandy mixture that discouraged beavers from chewing them, scientists began crafting devices that could shift some water back into a creek once the water level in the beaver pond reaches a certain level.
The beavers feel they live in a safe lodge, but neighboring streets, sidewalks and buildings don't get flooded.
As a compromise between Martinez business owners and the beaver advocates, one of those devices, called a "beaver deceiver," was installed at Alhambra Creek.
"But the people of Martinez, California, go even further to welcome beavers to their town. They plant beavers' favorite food trees along the banks of the local creek! For 10 years, a beaver family has made its home in the creek," Schardt wrote.
The article also mentions the annual Beaver Festival, which this year moves from Beaver Park on Alhambra Avenue to Susana Park.
The article has several photographs, by Suzi Eszterhas, including one of April Ludlow, who made a paper bag beaver puppet and recently helped Worth a Dam during the Earth Day celebration.
In fact, it was Eszterhas's interest in beavers that led to the article, Perryman said.
Eszterhas is the resident photographer of the Ranger Rick magazine, and she likes photographing animals with their babies. She also is a fan of beavers. While she spends much of her year photographing penguins in Antarctica, African wildlife in Kenya, she spends her summers at her Petaluma home. During that time, she seeks out local stories about beneficial nonprofits.
In 2014, she attended the Martinez Beaver Festival, and in 2015, she decided to visit Perryman and the Martinez beavers. "We just sat with her and hung out while she took pictures of the family," Perryman said.
Perryman heard about the time Eszterhas was bitten by a cobra. "She's done amazing things, and we got to see our beavers being wonderful and adorable," Perryman said.
"She also looked at other places where they have beavers," Perryman said. The photograph of a rehabilitated beaver was taken in Washington, and the beaver shown being released is from Petaluma.
Originally, the writer and photographer team planned to submit an 8-page spread to the magazine. But that was the year the kits died and the adult beavers started seeking a new home.
"We waited, and they readjusted the story," Perryman said.
While they waited, the Martinez beavers were readjusting, too. At one time, some people thought the Beavers were gone for good. There were no signs of beaver activity in Alhambra Creek, which was cleaned out so the water would flow better.
Then, just before the 2016 festival, a pair were spotted mating near the downtown area, kindling hope that beavers would return.
Perryman said last year that while Martinez still had beavers, they had left the downtown area. The festival went on as usual in 2017, but without the customary hikes to spot beaver activity.
This year, Perryman said during a recent Park, Recreation, Marina and Cultural Commission meeting, beavers have been spotted again in Alhambra Creek – near Susana Park.
That inspired a change of venue to Susana Park, which also led to a change of date for the 11th annual Beaver Festival. It will take place June 30.
This year, festival goers will be able to see one of the two known beaver dams – one is visible from the Susana Street bridge. Another is near Martinez Junior High School.
This year's festival will feature a noted Northern California chalk artist, Amy G. Hall, whose canvas will be the center of Susana Park. She will begin work on her chalk painting the day before the festival, and work on it throughout the event. Children and others will be welcome to make their own chalk drawings as well.
Like others who have come to love the Beaver Festival, Hall, too, has an affinity for beavers.
Hall's design will be the picture children use to pick up stickers at various stations throughout the festival. Not only will they complete the picture, the experience will teach them about the importance of beavers to the overall environment
Perryman said the venue change will be good for the festival, which once again is the recipient of a Contra Costa Wildlife Committee grant.
Susana Park has trees for shade, water, electricity and restrooms, amenities the Beaver Park doesn't have. Perryman said she had thought about changing the festival's site. "When the beavers moved, that was a good sign," she said.
The festival received mention in the Ranger Rick article.
"Each year, Perryman's group throws a party for their busy friends: The Beaver Festival! People there – especially local kids – make beaver art, learn about beavers and may even spot the local beaver family in the nearby creek," Schardt wrote.
She concludes by describing how some people have saved beavers that have become sick, injured or orphaned, by taking them to rescue groups that restore the animal back to health and reintroduce it to the wild while making sure the animal doesn't get comfortable being around humans.
"The best thing article does? It's a national magazine, so it's in every single state and Canada, and there will be kids that read this," Perryman said. They'll learn that beavers can be tolerated in urban creeks and that communities can install devices that help the animals and people coexist.
"Back when Martinez did it, it had never been done," she said. "Now everyone knows. That's my greatest joy about it."
The National Wildlife Federation, which publishes Ranger Rick Magazine, sprang from the idea of a Pulitzer Prize-winning political cartoonist, J.N. "Ding" Darling had in 1936. He encouraged President Franklin D. Roosevelt to convene a meeting of 2,000 conservationists, whom he urged to unite to address depleted populations of ducks and other wild animals.
Those conservationists went home to form grassroots organizations in their home states, then those became affiliates of a country-wide organization.
First known as the General Wildlife Federation, the organization changed its name to the National Wildlife Federation, with the purpose of uniting sports hunters and outdoor enthusiasts and inspiring them to become conservationists to protect wildlife through conservation.
Darling was the first head of the U.S. Biological Survey in 1934, which became the U.S. fish and Wildlife Service, a post he left to devote more time to forming the wildlife federation.
The National Wildlife Federation's cartoon mascot was created by another executive, J.A. "Ash" Brownridge, to appeal to children.
Ranger Rick's magazine regularly brings children stories about wildlife, and this edition also has information about humpback whales, nesting birds and zebras. Another story tells children how different types of animals use their noses. Other sections have games, jokes, videos, activities and craft projects.
The article can be read online at https://rangerrick.org/ranger_rick/leave-it-to-beavers/.