MARTINEZ, Calif. ­­– Main Street Martinez has a change of leadership, although longtime executive director Leanne Peterson hasn't gone far.
Peterson has joined the Martinez Clippers as its director of Community Partnerships, and joined the ball club June 1.
"I have a lot of respect for the Clippers' owners, and I love the idea of the professional ball team in Martinez," Peterson said.
"I've had the opportunity to work on three to four community events at the ballpark, such as the back to school promotion and the dog adoption event. I hope to expand the events next year to have a full calendar of fun, community events with the Clippers."
She said she is looking forward to working with owner Paulette Carpoff to bring in business as team and meal sponsors as well as backers and participants in special events at the ballpark.
"We will definitely have more contests, more giveaways," she said. "And you'll see the team making more public appearances as well."
She said the reaction by businesses and the community to the club has been "very positive."
Peterson continued, "The experience of the game and the pride in the team is growing with each game. The games are affordable, family-friendly and fun. Event marketing is a great way to not only get thw word out about a business in a unique way, but to also support the community as well.
"I absolutely love how people have embraced the Clippers," she said. "It's fun to see people at the game, cheering their team. I'm sad the season is almost over and can't wait until next spring to do it all again!"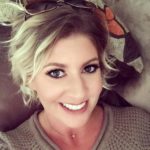 Stepping into her shoes at Main Street Martinez is Kara Johnsen, whose first day in her new position was Aug. 27.
She's a six-year veteran of Livermore's Main Street program, which like Main Street Martinez is part of a community revitalization endeavor launched in the 1970s to combat the decline of cities' downtown shopping districts when shoppers flocked instead to mall stores.
Johnsen is a product of the Bay Area, attending high school in Livermore before attending college in Long Beach. She stayed in Long Beach for about five years after earning degrees in graphic design, studio art and marketing. But she longed to return to the Bay Area.
Joining Livermore's Main Street program, Johnsen "did everything." She handled its events, social media, graphics design and artwork.
One of her innovations was a two-year program that offered downtown gift cards endorsed by several of Livermore's businesses. "I did the artwork for the card," she said. Both the program and the card's art were well-received, she said.
Johnsen also overhauled the agency's website, (http://www.livermoredowntown.com/behind-the-brilliance/).
It's now a bright series of web pages, with pictures of people enjoying Livermore outdoor activities, and a concise explanation about the city's Main Street program.
The page has tabs with menus for those interested in moving to the area, its shopping opportunities and special offers and its activities in the downtown and Livermore Valley.
Others have guides to wedding and event planning, live entertainment, outdoor activities, trip planning, accommodations, transportation and dining opportunities. Subscriptions to the newsletter as well as a free visitor guide are available from the first page on the site.
Johnsen said she has lived in Martinez previously, and her boyfriend's son attends middle school here. She currently lives in Danville. "We'll see where this takes us" she said about her new position.
She said she sees some similarities between Livermore and Martinez from a Main Street perspective. She said Martinez has "a quaint downtown," and she likes that.
"I see the same hometown quality and the sense of community," she said. "That attracted me from the beginning."
She said there's a lot of opportunity in Martinez's downtown. "A lot of businesses have opened up or have been redone," she said. In the spots available for lease, she said, "there's potential for businesses."
Johnsen has met with members of the Martinez Community and Economic Development Department, and they've shown her there's plenty on which Martinez can capitalize. One possibility is the prospect of a ferry coming to the Martinez Marina. "That's a huge opportunity," she said.
Another benefit she sees is the Contra Costa County Court House, because it draws people from throughout the county. "I'd like to see that utilized more – to get information (about Martinez) into people's hands."
Johnsen said she admires the Main Street program. "I love the small-business relationship," she said. She also likes its four-point approach: Organization, Promotion, Design and Economic Vitality.
Organization refers to establishing consensus, collaboration and cooperation through partnerships in the commercial district.
Promotion involves creating a positive image to inspire community pride and confidence in the commercial district.
Design calls for getting a downtown into a top physical shape that also is a safe and appealing environment for shoppers, employees and visitors.
Economic Vitality focuses on strengthening a downtown's existing economic assets while diversifying its economic base through retaining and expanding successful businesses as well as attracting new companies.
She said a Main Street organization can reach out, can provide a sense of community and can help local businesses collaborate to find answers to questions or to address common concerns.
"I love the small-business relationships," she said.