By JOHN STEVENS
Contributor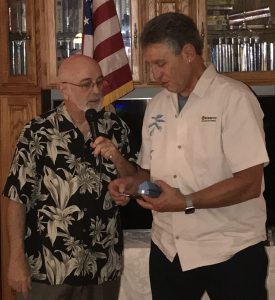 In September, the Martinez Kiwanis Club installed its officers and board members for the new year.
David Gerson, who has served as the President Elect, took the helm as President from his predecessor Denis Smith. Other officers include President Elect – Bob Braun, Secretary – Sandra Hall and Treasurer – Patty Winsor
In addition, new and returning board members include Migs Carter, Lorena Castillo Connie, Chapman Maureen Cowger, Maury Huguet, Donald Pallotta, John Stevens and Jon Sylvia.
The Martinez Kiwanis Club, as a service club, features various speakers at its weekly lunches. These bring knowledge out of diverse fields, from professional to historical to personal.
Future lunches will include a number of speakers of note. In the month of October, Kiwanis will host the following:
Marie Knutson with Republic Waste Management presents on October 10, New Guidelines for Recycling. Manjit Sappal, Chief of Police will speak on Policing in Martinez at the October 17 lunch. The club will finish off the month with Crazy Hats and Halloween Garb.
The public is invited to attend Kiwanis lunches which are held every Thursday at noon, 750 Allen St, Martinez.
For additional information about Kiwanis and its activities, contact: John Stevens. MartinezKiwanis@gmail.com.