By JOHN STEVENS
Contributor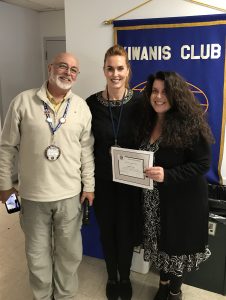 Martinez Club learned more about adult services offered by the nonprofit Choice In Aging from Debbie Toth, president and chief executive officer of the organization.
Choice in Aging has evolved significantly since its inception in 1949, when its primary focus was to serve children who had been disabled severely by polio.
The current mission remains the same, to "promote dignity and independence of people with disabilities and special needs," Toth said. But the organization's services have evolved. Now they include two adult day care programs.
Through Choice in Aging's services, families and other caregivers can continue with their jobs or other activities while the organization provides needed day services. Toth said those include "nursing; physical, speech and occupational therapies; social work; transportation; a healthy meal; and a sense of community."
Choice in Aging also provides the Alzheimer's Day Resource Center, for those affected with mid to late stages of the disease or of dementia.
Because of how Choice in Aging administers its programs, it has found costs can be less expensive than with other options, Toth said.
Those interested in learning about the programs and services or to volunteer with Choice in Aging may visit its website, www.choiceinaging.org.
Martinez Kiwanis Club welcomes members of the community to hear future speaker addressing the club's weekly lunches, which start at noon Thursdays at 750 Allen St.
April programs and speakers will be the Martinez Police Officer Association's Mike Estanol, April 4; "Children of Grace," in which Zahara McCoy will talk about her journey from being an orphan in Uganda to being adopted by a Bay Area couple and how she now works with orphans from Uganda, April 11; and The Veterans Administration Hospital, for which Kevon Franklin will speak on patient advocacy, April 18.
The April 25 meeting is a business meeting only, and will have no speaker.
Those interested in the club may email MartinezKiwanis@gmail.com.