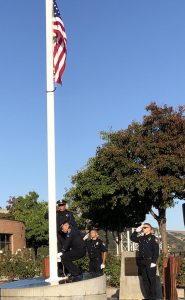 MARTINEZ, Calif. – In a simple, but eloquent ceremony Martinez honored those who sacrificed their own lives to save the lives of others on that crisp, clear autumn day, Sept. 11, 2001.
Almost 3,000 people were killed and 6,000 injured when 19 members of the Islamic terrorist group called al-Qaeda, hijacked four commercial airliners to use as weapons.
Terrorists forced two them to be flown into the Twin Towers of the World Trade Center in New York City, crashed one into the Pentagon in Arlington County Virginia, and the fourth was headed for Washington, D.C. until passengers fought the terrorists, causing the plane to crash near Shanksville, Pennsylvania.
The United States Flag silently rose to half-mast on the Memorial flagpole before the Honor Guard of the Martinez Police Department saluted. Then Mayor Rob Schroder and Police Chief Manjit Sappal shared their thoughts, while standing a few feet from 9/11 Monument located near the Martinez AMTRAK train station, at 603 Marina Vista Avenue.
The monument is centered between two pieces of heavy, twisted steel support beams salvaged from debris of a collapsed 47-story World Trade Center building.
Mayor Schroder described the "The unbelievable reality of the event that took place 18 years ago." Referring to public safety personnel and first responders of all sorts, he said, "Today we honor all those who gave of themselves." Then Schroder recalled the way "our nation stood together," with the undeniable spirit of compassion and patriotism.
Police Chief Sappal said, "The impact of this horrific event rippled throughout the nation…because our very way of life was attacked. They attacked our values of freedom and our sense of safety, but failed to understand our resolve, as a nation."
He asked the audience to consider the power of our connectedness to one another and our community, and how it became a shield against the fear terrorists attempted to instill in U. S. citizens. The behavior of police, firefighters and emergency personnel embodies that connectedness, according to Sappal.
The Chief said to cherish our loved ones, appreciate freedom, remember that family and community are the "building blocks of this great nation."
He remarked in closing, "It (9/11) is a reminder to all of us to have gratitude for all we have, fortitude for all we have endured, and hope for all that is to come."
The final words written by Daniel Chase, and embossed in bronze on the Monument were echoed in their talks, "We must leave a legacy of love, honor, and patriotism to all our children."
Among those standing at the memorial site was Councilmember Mark Ross, whose determination led to Martinez's acquisition of the Ground Zero girders. About three months after the towers fell, he learned that pieces were available.
He began calling, hoping to get something for Martinez, but he had no New York contacts. Those he reached had few answers. About four months into his effort, he got a name, "Maureen" in then mayor Rudy Giuliani's office.
But the woman said the offer was ending in three days, and it would be impossible for Martinez to get any of the remaining pieces.
Out of the blue, Ross got an inspiration. He told the woman that Martinez is the birthplace of New York Yankees legend Joe DiMaggio. And everything changed. The woman had just received a photograph of DiMaggio, her own baseball hero, with the former New York mayor Fiorello H. La Guardia.
With her help, Martinez was able to obtain two girder pieces that once were part of the World Trade Center, hand-picked by New York firefighters, who cared for them until Contra Costa County Fire Protection District Captain Darin Peterson could fly to New York to arrange for their shipping.
Viking Free Lines, a trucking company, handled the logistics until they reached Martinez, where they were taken to Martinez City Hall by fire truck. The packages were opened in a formal ceremony.
Although many suggestions were made about how the girder pieces should be displayed, it was City Engineer Tim Tucker's suggestions that led to the design that was the backdrop of Tuesday's ceremony at 601 Marina Vista Ave. The memorial, built for "the innocent people who perished in the events of Sept. 11, 2001," was finished in time for a dedication ceremony Sept. 11, 2006.
It's been so long since those attacks, a new generation is growing up without a first-hand memory of seeing the images of that day. Instead, they are hearing from those who won't let the stories be forgotten, Ross said.
Comparing the event to an earlier attack that also galvanized Americans, Ross said, "It's like hearing how people remember Pearl Harbor."
(Portions of this story are from a previous story written by Donna Beth Weilenman)