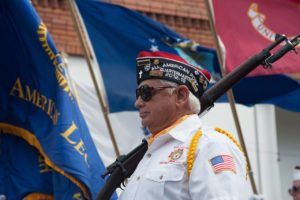 MARTINEZ, Calif. – Martinez celebrated the nation's birthday Wednesday with a larger Home Town Parade and a nighttime fireworks display.
The parade began on Main Street shortly after a flag was raised in front of the Veterans Memorial Building.
"The turnout was much larger than in years past," said Leanne Peterson, executive director of Main Street Martinez. "We had 54 parade entries. Last year was 43."
She said the parade had an "excellent variety of groups this year," ranging from vintage and antique cars, dancers, miniature horses, dogs, Clan Galbraith's archers and whip cracker and several boats, including the Joltin' Joe that carried city officials and was accompanied by Martinez's new professional baseball team, the Clippers.
An anonymous panel of judges selected winners from the parade entries, with Judges Choice going to Rankin Aquatic Center and the Martinez Clippers and the Joltin' Joe earning best float. The Mayor's Choice went to Contra Costa Community Awareness Emergency Response (CAER) Group.
Other winners were New You Dance Company for best dance, InMotion Dance Center for most spirit, Martinez Rotary for best service club, Diablo Regional Concert Band for best musical group, Mini's and Mini's for best car club, Martinez Youth Baseball and Softball for best youth group, Carolyn Hill for best vintage vehicle, American Legion No. 29 and Veterans of Foreign Wars No. 1351 for most patriotic entry, Citrus Salon for best local business and Mini Horses for best animal group.
Besides Citrus Salon, the other downtown business that participated were the Campbell Theater, Del Cielo Brewing Company, Main Street Sweets, the Mud Room, OnStage Repertory Theater and States Coffee.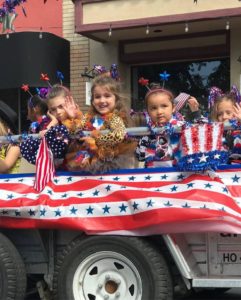 In addition, the Campbell Theater offered a free showing of the 1962 classic movie, "The Music Man," starring Robert Preston as the con man who convinces a town it needs to form a youth's marching band, Shirley Jones as the skeptical librarian and a youthful Ronny Howard as the librarian's younger brother who takes an interest in the music man's plan.
Recreation Supervisor Patty Lorick also attended the parade. "The parade was a lot of fun. It was well-organized," she said.
"Main Street was packed. The crowds thoroughly enjoyed the wide array of floats and groups participating in the parade. I saw nothing but big smiles and waving from spectators," she said.
"It was good to see the Clipper players there, also having a good time," she said. "A group of four pitchers stayed to cheer on the other participants."
She said attendance at the Radke Martinez Shoreline Park for the city's fireworks show was smaller than in past years, said the "nice crowd enjoyed the fireworks."
Lorick said fewer people might have gone to the park because Independence Day fell on Wednesday, the middle of a work week, or because the night was chilly.
"I heard reports of people gathering in the hills to watch the fireworks, so they may have decided to stay close to home or avoid the traffic leaving downtown," she said.
Some viewers used the walkway to the Martinez-Benicia Bridge, and others were able to see multiple displays from the pedestrian pathway on the bridge itself.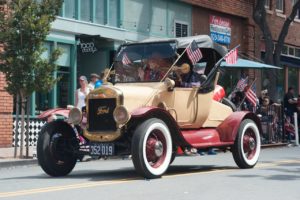 This also appears to have been a safe Fourth of July, Martinez Police Chief Manjit Sappal said. His officers also provided lead and concluding escorts at the parade.
"We did not get any reports of injuries or other major issues involving fireworks," he said.
"We did have plenty of firework-related calls, but even listening to the fireworks being set off, it seemed sporadic – we did not come across people that were shooting off fireworks relentlessly for long periods of time," he said.
None apparently ignited fires, nor were any accidents such as one reported in Newark.
Alameda County fire officials said a 28-year-old man was injured during an accident with illegal fireworks in Newark Wednesday night. As a result of the accident, one entire finger and part of another had to be amputated, they said.
Sappal said his department was determined to let residents know that except for the city's authorized display, fireworks of all types, including the so-called "safe and sane" ones, are illegal in Martinez. Signs were posted on many streets and flashed from highway billboards.
"We also had a significant presence on the streets this year to be more responsive to fireworks calls,' he said.
"We do have a list of locations where we received calls this year, and next year, we will focus on outreach and targeted enforcement to those neighbors," Sappal said. "Hopefully, over time we will get the message out to everyone on how unsafe fireworks can be."
(photos courtesy of Michael Lopez, Ken Mitchroney and Kevin Murray)