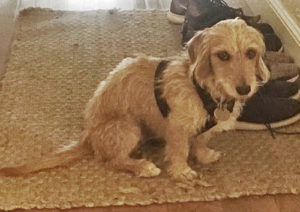 MARTINEZ, Calif. ­­– A Martinez woman was disappointed when she missed the chance to adopt a dachshund named "Petey" from the Dublin SPCA is being sought by the woman who did adopt the dog. Petey's available, if the Martinez woman is still interested.
"I'm trying to find a woman from Martinez," said Siobhan Mulvey, who adopted Petey in July. "We adopted him right before her, but are planning to have our first child, and Petey doesn't want to live in a home with a baby or toddler."
Mulvey said she's a committed dog person, and will try to find Petey a new home with the NorCal Dachshund Rescue, in hopes of doing what's best for the dog. Animal behaviorists who have been helping her train the dog have told her Petey would do better in a home without a child.
They have said Petey, who is in training, is exhibiting clear signs he would thrive in a quieter, calmer home rather than one with a new baby. He has been adapting well to Mulvey's home now that he's away from the animal shelter, but that home life is about to change with the advent of the baby.
"This woman might be perfect for Petey from what she told us that day we met at the SPCA. She was so sad when we adopted him," Mulvey said, adding that she's trying to reunite the dog with the woman who wanted him.
Mulvey said she won't be upset if the woman decides she's no longer interested in Petey. "If she already adopted another dog, that's fine. But I have to try to find her."
If Mulvey can't find the Martinez woman, she will seek a home with only adults or older thoughtful children, especially a family with prior dog experiences, especially with dachshunds or rescued dogs.
"Petey does better in a calm environment with outings in the day to walk. He loves to walk!"
She reached out to the Dublin SPCA, but that agency didn't receive the woman's contact information.
Mulvey said she'll be placing ads with Petey's photograph to help spread the word. "I'd love to see a miracle happen and unite these two," she said.
She described the woman as a slim, middle-aged Caucasian who might be between 45 and 55. She's tan with medium brown hair, and she told Mulvey she's had three dachshunds in the past.
Petey is a tan or wheat-colored wire-haired dachshund-terrier mix who is about 4. He's small, at 12 pounds, and is neutered and microchipped, and is current on his vaccines. He likes to ride in cars, is a quick learner and enjoys being cuddled. He has good manners in stores.
Mulvey has him listed with photographs on the Northern California Dachshund Rescue, a chapter of the Southern California Dachshund Rescue. Its website is https://scdr.org/adopt-norcal/, and Petey is No. 4413 on the list. Anyone who may help Mulvey reach the Martinez woman may email her at siobhan.mulvey@gmail.com.