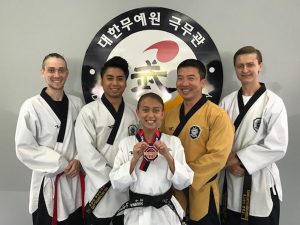 Hanna Lavino, from Martinez, brought home the bronze medal in her division at the 2019 US Taekwondo (USTKD) National Championship held in Minneapolis Minnesota. Earlier this summer Hanna also won the bronze at the California state championship held in Fresno.
Hanna has been practicing taekwondo for over the past six years, training under the direction of Master Joon Tae Kim, owner of Dae Han Martial Arts Center located on Alhambra Ave. in Martinez.
Master Kim has been working with Hanna since she was 3-years-old. Her passion for taekwondo was so great, it eventually became her only sport, slowly increasing her two days a week training to six as she began to pick up additional classes offered at the training center.
A year ago Hanna began to inquire about possibly taking Taekwondo to the next level and giving its competitive side a try. Master Kim worked with Hanna and helped to coordinate competition level training in addition to her regular weekly classes in preparation for her to compete. Taekwondo tournaments can be found all over the United States and is one of the few martial arts sports available for athletes at the Olympics.
The USATKD State Championship is the biggest taekwondo tournament in California. Hanna and her parents, Dr. and Mrs. Lavino, and her coaches were extremely excited she was able to place in the top three in the state and then was able to continue that winning momentum by being one of the top three taekwondo athletes in her division for the entire nation.
Hanna's dedication, hours of daily training, hard work and tremendous support from her coaches in the taekwondo community made this year a huge success for everyone involved. Hanna plans to continue with her training and being a role model for kids of all ages. Her future goal is to become a USATKD team member and represent the USA at the International World Championships and hopefully one day at the Olympics.