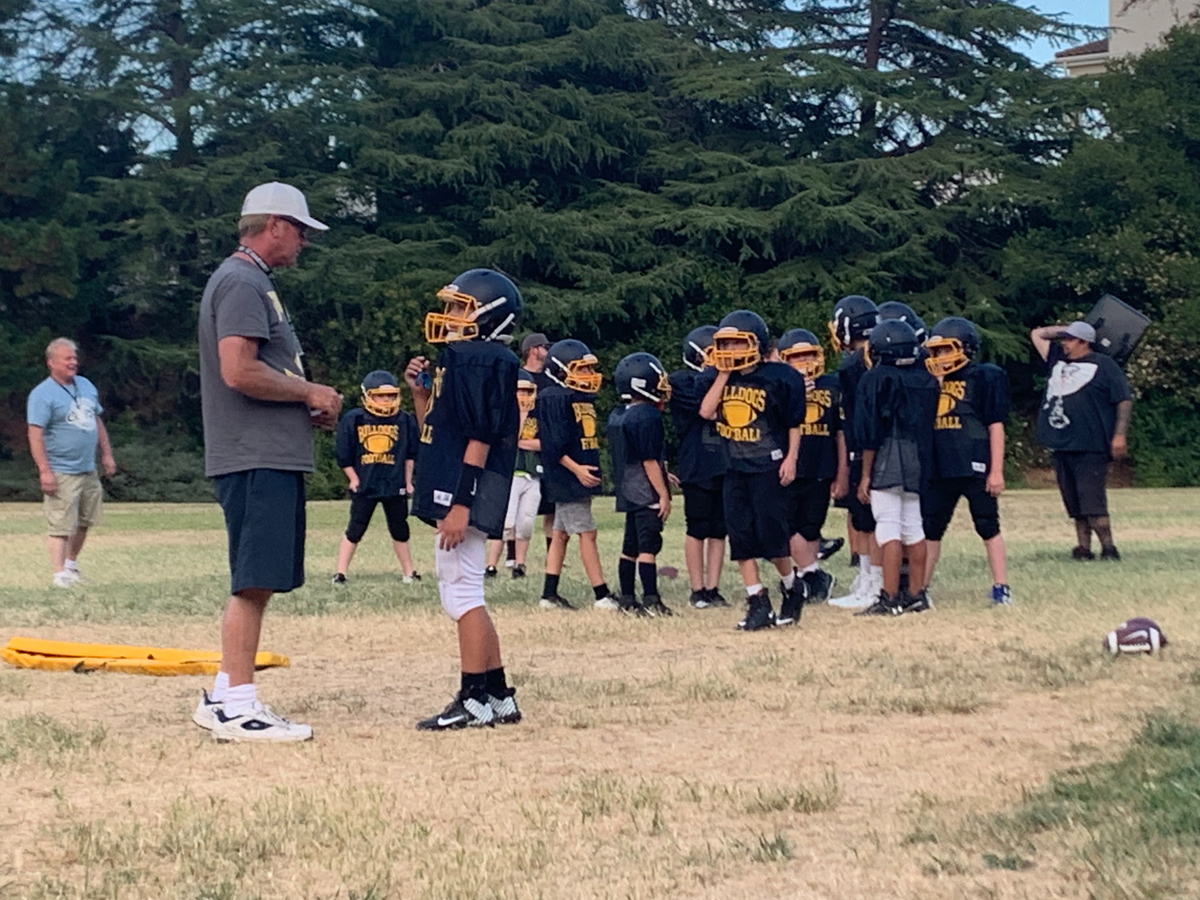 MARTINEZ, Calif. – New coaches, new staff and a new approach to football is restoring and strengthening the Martinez Youth Football (MYF) and Cheers program this year.
On Aug. 8, new MYF Board President Lina Taylor announced the program is still accepting students sign-ups for football and cheerleading.
"They're learning and having fun!" Christy Sherman, "Just a mom," said.
Veteran coaches Peter Graham and Bruce Anderson have returned to the organization that meant so much to their boys growing up on the Bulldogs team.
Anderson said there were rumors that MYF had disbanded. "That is not true!" he declared.
Coaching
At the same practice, Graham said he and Coach Steve Humphrey had coached kids from age seven until they graduated from Alhambra High School. "We build bonds with these kids. They have graduated from college now and are still friends," he noted. "It gives kids a sense of belonging." Anderson said, "They get and identity. (They can wear the uniform to school on Fridays.) It's an opportunity for social growth."
"A boy who started as a chubby fourth-grader, because of his weight he had to play with older kids. He became good player and they accepted him. One of the kids I coached is a star on the varsity football."
They have recruited some talented coaching help, including Alhambra High School, and Diablo Valley College graduate, Dallen Graham, and his son.
"I grew up in MYF," Dallen declared. "It was fun playing football and I learned so much."
When asked for specifics, Dallen said, "Life experience.- leadership, respect, how to listen, and deal with losing and winning."
More than anything, Dallen revealed it is the value of lifelong friendships he made and keeps today. He says he hopes to give that to the young kids who sign up now.
Cheers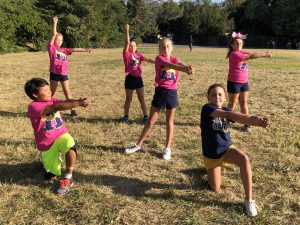 Cheerleading Coach is Jennifer Atz, former AHS cheerleader and an 18-year veteran of teaching young kids to root for the Bulldogs while dancing to music, turning cartwheels and other stunts. The Cheer Team will be competing at Six Flags in October and later in Stockton. They won the Sacramento competition in 2018, according to Atz.
All of the coaches have said that at age seven, learning the game and how to be part of a team is the foundation of success on the field. "On the first day, I told the young kids we are probably not going to win, but we are going to learn how to play and have fun," Anderson said. "But after I saw them on the field, I've been surprised, we might win a game."
Changes
The change in personnel and the culture of the whole organization occurred at the end of last season. "Last year I came to one of the games and saw two of the coaches arguing and swearing in front of the kids, and ignoring the game," Graham reported.
"There was one other coach watching the game and talking to the players in an angry disrespectful way. It wasn't good. I was shocked. I had to leave."
Taylor confirmed she had seen similar situations, and two coaches were asked to leave because they "belittled young players."
It is possible their frustration stemmed from a series of loses. Reportedly, one obstacle to winning was a dwindling number of sign-ups. That made it more difficult to win because there were not enough Bulldog players to rotate them for sufficient rest off of the field. It could have become a sort of cycle that the new crew is determined to change over time.
"As a coach, sometimes your ego gets involved (with winning)," Anderson observed. "These are young kids. This is not a pro game."
Over the summer two of the remaining coaches decided to coach in larger cities where there is a deeper roster. As a consequence, a few of the Martinez players followed them.
Kids who are interested in playing football with MYF will not spend their season on the bench. "We are building a whole new organization," Taylor said. And we have room for more players this year
Jessie Lewis, a father watching the practice commented, "I brought my son because it is a good sport. They can develop a sense of discipline, there is fun and excitement, and it gets them away from Star Wars, or whatever (electronic devices)."