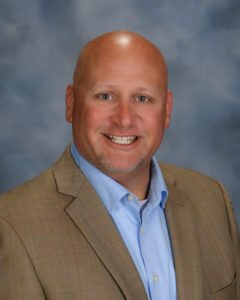 MARTINEZ, Calif. – Matt Chamberlain, who has been principal of San Ramon Unified School District's Venture Independent Study School, will be Alhambra High School's new principal.
He succeeds Tom Doppe, who was hired as the Martinez Unified School District's director of Educational Services.
Chamberlain received unanimous support Monday night from the Martinez Unified School District Board of Education.
The vacancy attracted "a number of qualified candidates," said District Superintendent C.J. Cammack. All were interviewed by panels that included those made up of District staff and parents, as well as Boardmember John Fuller, who was absent Monday.
Cammack called Chamberlain "the clear choice."
A graduate of the University of California, Berkeley, where he earned a bachelor of arts in history with a minor in education and played drums in the Cal Marching Band, he earned his juris doctor degree from John F. Kennedy University, where he received his single subject credential and master of arts in teaching.
He has spent nine years teaching social studies at Clayton Valley High School, and while there he was the school's championship-level swimming and diving coach.
As a school administrator, he has been an assistant principal at Monte Vista High School, Gale Ranch Middle School and Los Cerros Middle School in the San Ramon Valley Unified School District.
From there, he was named principal at Venture, where students attend from across San Ramon Valley Unified School District, either full time or in addition to their studies at one of the district's comprehensive schools.
"Matt's nine years of experience as an assistant principal, four years as a principal and nine years as a classroom teacher make him an exceptional candidate with a wealth of experiences to ensure a successful transition and continued growth for Alhambra High School," Cammack said.
But Chamberlain has other attributes as well, Cammack said. The new Alhambra principal is a visiting member of the Western Association of Schools and Colleges that is responsible for school and university accreditation; is the Association of California School Administrators Diablo Valley Charter Region 6 representative; and he is an Eagle Scout with a history of activities in the Boy Scouts of America.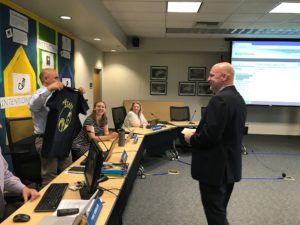 "Matt's work ethic, experience, and training will provide an excellent foundation for leadership at Alhambra High School," Cammack said. "I would like to thank the staff members, board member, and parents who participated in our interview process. Your voices were a crucial part of our dialogue in making this recommendation to the Board of Education."
President Jonathan Wright thanked Chamberlain for his interest in the post, and called Alhambra High School "the keystone of our community."
Wright said Chamberlain soon will see how much revolves around the school's activities, and will experience how Martinez supports its high school homecoming events.
"I'm confident you'll fall right in – but we have high expectations," he said.
Doppe welcomed his successor with a Bulldogs sticker and a Martinez Unified School District T-shirt. He said the district had found "the right person."
"Thank you for the opportunity and your faith in me," Chamberlain replied.
In other matters, the Board heard a presentation from Max Eissler, chief technology officer, about student privacy regarding the Internet and how district vendors and contractors must comply with Assembly Bill 1584 that codifies and simplifies contracts with school districts.
Until recently, vendors had individual contracts, and school districts had to analyze how those contracts might affect student privacy.
But AB 1584 requires vendors comply with six legal acts that protect students' privacy, prevent their information from being shared with third parties, assure that records are secure and are deleted when contracts are terminated, deal with data breach disclosures and prohibit targeted advertising.
The Martinez District has joined the California Student Privacy Alliance, a collaboration of the state's school districts that has set a pattern that has been copied nation-wide so there is a uniform student data privacy agreement, Eissler said.
"It's a great tool with a searchable data base," he said. Teachers can check on vendors to make sure they and their products are in compliance before they make recommendations to their districts, he said.
Many of the District's vendor-supplied products already are in compliance, and Eissler said staff will be negotiating with others to encourage them to sign on, too.
"It's impressive," Wright said.
The Board was not asked to take action on Eissler's report.
It offered comments on proposed revisions in Board policies regarding student overnight trips for athletic playoff games. This year, because Alhambra High School has been involved in post-season sports, the Board had to meet in special sessions to authorize trips.
At times, Cammack said, games played Friday nights determined that students next would be traveling five hours away, and for their safety, the overnight trips were recommended. That led to the recommendation that the district superintendent be authorized to approve such trips.
Vice President Deidre Siguenza acknowledged that the District's legal staff had recommended the changes. But she was troubled with some of the wording, including sentences that said students would be "making" the trip. That sounded as if they were organizing it, she said.
She also asked for clarification of wording that community organizations, but not individuals, would be asked to help defray trip costs of students who could not afford the expense themselves.
Boardmember Kathi McLaughlin and she asked for other sentences to be reworked to make clear that if one student playing a specific sport couldn't afford the trip, none of the team could go.
In addition, they heard Doppe's report on a science curriculum that's been used at Martinez Junior High School.
If the District approves of the curriculum's adoption in three weeks, the vendor, TCI, would provide enough texts for classroom copies as well as some for students requesting take-home books, plus online access to the full texts.
Each teacher and student would receive a subscription account, which lets each child have online access to the textbook and online assignments. Teachers would have access to the curriculum and teacher notes online, and would be able to view and grade student assignments and assessments. The materials, with some modification, are appropriate for special education students, and a Spanish translation would be available.