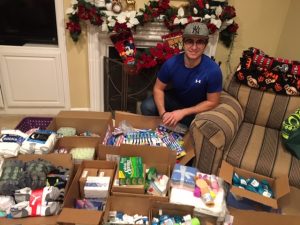 MARTINEZ, Calif. – A Martinez resident is trying to achieve his Eagle Scout ranking through a project that helps those at Monument Crisis Center.
Matt Hall, a Northgate High School senior, is a member of Troop 429, and with the help of Scoutmaster Anita Luttrell and Eagle Coach Matt Chamberlain, Hall is working on the coveted ranking, the highest achievement in the Scouting program.
Only 4 percent of those in Scouting are granted that rank, and they earn it only after a lengthy review. They have to have earned at least 21 merit badges and demonstrate specific qualities before they can be considered for Eagle Scout achievement.
For his Eagle Scout project, Hall chose to gather toiletry and hygiene products for the crisis center.
The Monument Crisis Center, in Concord, provides food, community education and referrals to families and individuals who are experiencing a crisis. The center promotes public awareness and support as it tries to address poverty and the needs of those at risk.
"Matt's goal is to make individual toiletry kits specific for adults, teens and children," said his mother, Debbie Hall.
"He has been collecting travel sized items of soap, body wash, shampoo and conditioner, toothbrush and toothpaste, mouthwash, hand lotion, deodorant, disposable razors, combs, washcloths and socks for the past two weeks."
Donors so far have helped him assemble between 300 and 350 toiletry kits, "many more than he originally planned," she said.
However, the collecting is continuing through Sunday, so more crisis center clients can be helped, she said.
Those interested in giving the items Hall is collecting may text him at 925-222-0708 or may drop items off in a plastic bin at 921 Toulouse Way. Items also may be ordered through an Amazon wish list, http://a.co/doMeACO and mailed directly to Hall at the Toulouse Way address.