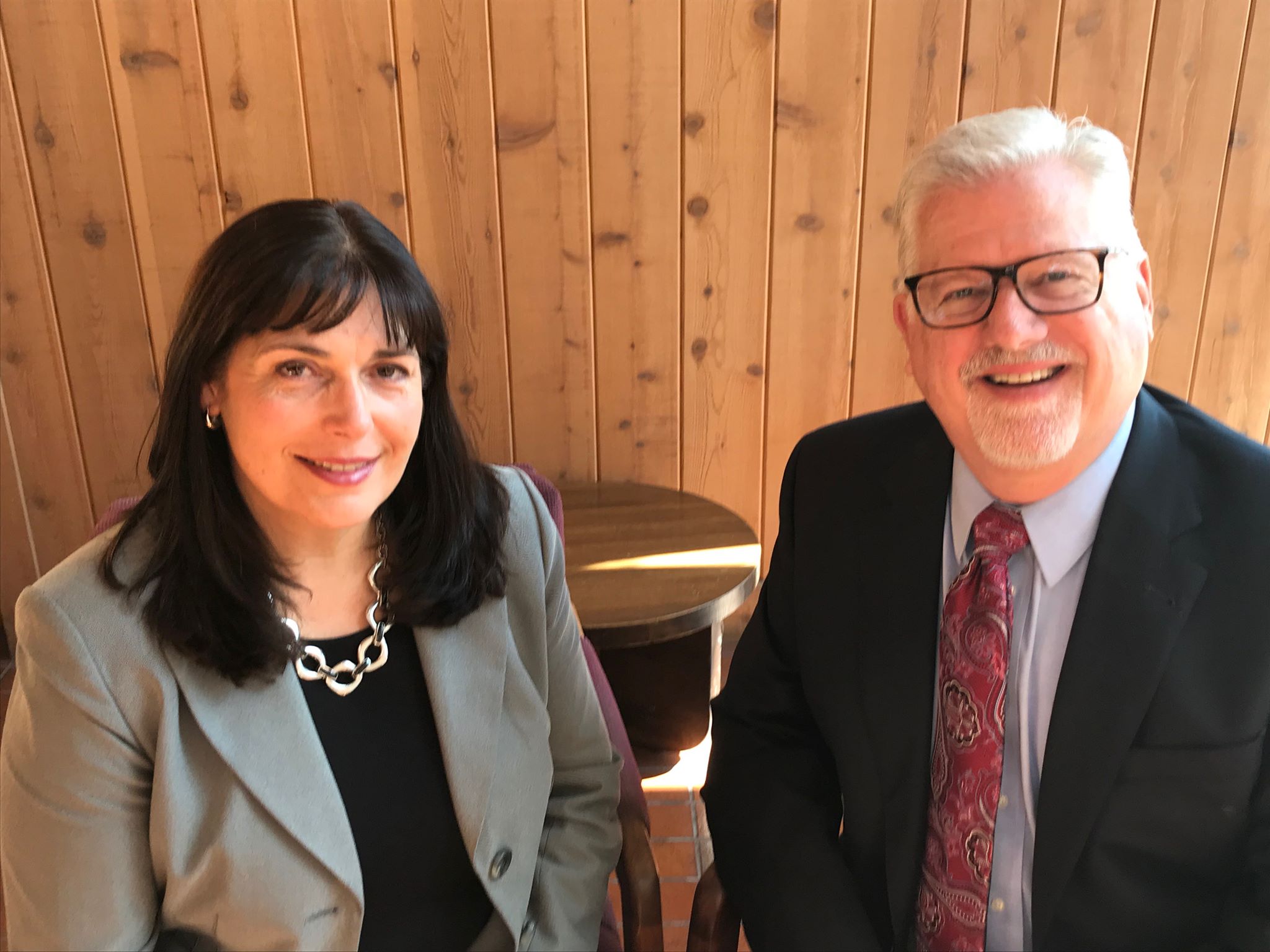 Prior to every election, the Martinez News-Gazette asks local candidates a series of questions to inform voters about how those candidates stand on select issues.
Below are the responses to four of seven questions submitted to Councilmember Debbie McKillop and challenger John Stevens. The pair are facing off for the District 4 seat on the city council.
Also included are answers submitted by Vice-Mayor Lara DeLaney, who is unopposed in the District 1 contest.
Please introduce yourself. Why are you uniquely suited to be a Councilmember in Martinez?
McKillop: Serving Martinez as your current City Councilwoman has been my greatest honor. I'm a true hometown girl and 4th generation resident, descendant of the early Martinez families that came to this country in search of a better life and provide for their children. My relatives lived at Granger's Wharf, fished the Carquinez Strait, worked the canneries and played a little baseball…remember the days of Joltin Joe DiMaggio. There is a stone monument at the marina honoring the names of the early Martinez fisherman that contributed to the commercial enterprises that developed our city. I'm proud of my heritage, and I hope the voters in Martinez, District 4 give me the opportunity to continue to serve, honor and respect those that came before us, while continuing to look forward for ways to enhance and protect the beautiful community we all love.
I am uniquely suited to serve our community, Martinez is my home, it is where I'm raising my twin daughters, MaKayla and Bryanna, along with our dog, two cats and chickens. I am the only Martinez City Council Member that lives South of Highway 4 in the Forest Hills neighborhood at the foot of the Alhambra Hills. I was raised in Alhambra Valley on the Swett Ranch and attended John Swett Elementary School. I had an early interest in government and leadership and served on student council at the Martinez Junior High. I later served as student body Vice President at Alhambra High School, Go Bulldogs, Class of 80! I went on to earn a Bachelor's in Chemistry and Environmental Studies and later a Master's in Public Administration.
As a single parent, I understand life's challenges and I'm able to balance family life, career and community service. I'm a working professional, Local 21 Union Member and serve the greater community in my role as the Forensic Manager of the Contra Costa County Sheriff's Office, Crime Laboratory, where I oversee the county-wide Forensic Services to 24 Law Enforcement agencies and over one million people. As a Forensic Scientist, I have dedicated the past 32 years to public service. I help hold those accountable for their actions or exonerates the innocent; I'm the voice for those that cannot speak for themselves.
I was elected to the Martinez City Council in 2014 and served as Vice Mayor in 2017. I've participated on the Public Safety and Budget and Finance Subcommittees. I'm running for re-election to the Martinez City Council, to retain my seat as Councilwoman in Martinez District 4, so I may continue to listen to the citizens, and use my problem-solving skills to analyze and solve complex issues to enhance and preserve the quality of life in Martinez.
Stevens: My broad experience provides me with a strong background for being a new councilmember with fresh new ideas and understanding of issues significant to our city.
As the former CEO of the Martinez Chamber of Commerce, I oversaw a growth of the organization by nearly 50%, a near doubling of the arts vendors for the King of the County BBQ, and an increase of the Martini Gala attendance to a sellout.
I also engaged with the community to better understand and assist in the needs of Martinez individuals and businesses. That work was enhanced by my years of experience as a business owner that gave me great insight and knowledge.
Having been the owner of a construction and property management company provides me with skills and knowledge rarely found, and much needed, on a city council. Over 50% of the budget is spent on policing. Of the balance, much is spent on construction such as streets, water service, and parks. My experience enables me to know what questions to ask, and think about alternative possibilities.
In addition, I have been the COO of a medical research institute where I dealt with government regulations and guidelines that enhanced my knowledge of external and internal governmental processes.
My participation in community service has resulted in pertinent experience with organizations in helping build and strengthen the community. I have chaired many fundraising events, served on the Martinez Kiwanis Board, founded an organization that repaired the homes of elderly and disable seniors, Chaired the Martinez Dog Park Committee, and served on the board of the Human Rights Campaign. In addition, I have regularly attended city council meetings for years providing me with vast knowledge of the council's activities and challenges.
Finally, I have a Certification in Legislative Studies and a Master's in Public administration focusing on policy and management. That formal learning helped tie together years of experience which will make me an effective councilperson.
I am an independent thinker who is not beholden to other elected officials or any organizations that have funded by campaign. I do not take contributions from entities that would place in question my independence or neutrality when voting as a councilmember.
How do we keep the "downtown renaissance" momentum going? Are there other areas in Martinez where such commercial comebacks are needed? How can that be accomplished?
McKillop: If you haven't been downtown in a while, I invite you to venture out and join your neighbors and friends to explore the wonderful restaurants, breweries, music, performances, retail and professional baseball that have contributed to our "Downtown Renaissance". We all can contribute to the momentum by your patronage of these businesses that invested in our downtown. As your city councilwoman, I have a professional responsibility to ensure that I along with city staff, public entities, private organizations and community groups collaboratively work together to identify our needs, create a vision and establish goals needed to implement an action plan…and get things done!
On the topic of Downtown, there are additional opportunities awaiting a "Renaissance". Our city's waterfront property from the newly completed Waterfront Park to the banks of the Carquinez Straights will undergo a waterfront master planning project in 2019. This project will solicit public input as we identify and target the needs of our community and create an action plan for commercial and recreational growth that is appropriate in scope and self-sustaining. I've heard from many residents that it's time to bring back a restaurant to our marina and a gas pump for our boaters. I say let's think bigger and consider a boutique hotel, community or conference center that would draw professionals to our historic downtown. Visitors that may arrive on Amtrak and explore our historic downtown for shopping, meals or entertainment.
Organizations are always searching for unique locations for retreats, training or team building, so why can't we furnish the venue. Let's continue to think big and bring back two restaurants, one for dining out and one that's family friendly. On a hot summer's day, just imagine yourself grabbing a hotdog, an ice cream, walking the waterfront, playing bocce and maybe taking in a Clippers game. Now envision your friends and neighbors joining you, your children, their classmates, the grandparents, and before you know it the "Renaissance" continues. A new commercial center grows within reasonable limits, businesses are sustained, and residents are happy. To further explore sustaining our downtown commercial core, we should explore developing around our transportation hubs and Amtrak Station with housing options consistent with the public need.
Thinking even bigger, let's posture for ferry service to San Francisco or the Vallejo Terminal. We have a strategically positioned marina that we can leverage for transportation or homeland security funds. If our community suffered a natural disaster, if bridges and roadways were damaged or refineries targeted, the best way to evacuate people or receive disaster relief will be by water transportation. We all have ideas to share and I look forward to hearing yours, as we work together to create the 2019 "Marina Master Plan".
Stevens: To continue the business growth downtown, we need to increase the foot traffic to assure profitability for the business owners.
To do so, we should develop the waterfront with a well-thought-out plan. By doing so, we would give greater exposure to downtown.
I liken this to the floor plans of department stores. The destination departments are upstairs so that shoppers must walk by the departments on the lower levels. One typically finds children and infants upstairs, requiring parents to pass by the typical first floor departments of jewelry, cosmetics, handbags and often men's furnishings.
In the same fashion creating the waterfront as a destination will bring business to downtown.
In addition, a responsible housing in-fill in the downtown core would bolster the number of people using services right in their neighborhood. In doing this, I do not propose removing buildings, but rather building on vacant properties and allowing owners to add to the top of existing structures. This would require strict architectural guidelines to assure that new construction fits in with the existing character of the area. To build over two stories would require that the Downton Specific Plan be altered. I envision this to allow no more than 4 stories with a setback from the street on the top floor. This would allow for more residential structures downtown and keep the rent or purchase price lower than the current limitation of a 2-story height limit. There are. and have been, many beautiful buildings in downtown that have exceeded 2 stories and we can do that again.
Marketing of the city is important. The City needs to promote itself. We see articles The San Francisco Chronicle, and magazines such as AAA and Diablo Magazine that tout other cities. We need to market our city in the same way.
Furthermore, we have many events downtown. However, we should look to produce such events and festivals that have a broader interest spectrum. As examples, those could include family and arts focused festivals.
What does the city need to do to address homelessness? Are there creative approaches within Martinez's authority and other collaborations in addition to the CORE team and 2-1-1?
McKillop: The CORE Team and 211 are part of a greater plan to address homelessness in Contra Costa County. In 2016-17, the County's Continuum of Care (CoC) and the Council on Homelessness came together as leaders in our community to adopt best practices and innovative approaches to combat homelessness. Phase One of their collaboration was establishing the Coordinated Entry System (CES).
The CES streamlines the process for homeless to access services needed to secure the right housing and level of service. Phase One focused on building an infrastructure for the Crisis Response System by creating three dedicated entry points: 211 (24-hour homeless assistance hotline), CORE (Coordinated Outreach referral and Engagement) Teams and CARE (Coordinated Assessment and Resources) Centers that offer enhanced serves such as housing navigation, extended hours and facilities that transform into Warming Centers for the night.
The CoC works to address the needs of the homeless in crisis, but the biggest need in our community is additional affordable housing. Without a steady supply of new affordable housing, it will be nearly impossible to alleviate homelessness. "Homelessness is first a housing issue, and necessary supports and services are critical to help people remain housed" according to the Contra Costa Strategic Plan to end Homelessness. The CoC continues to look for creative and effective solutions for establishing affordable housing opportunities.
I learned of a very creative solution to address the need for housing and support services for the homeless when attending the 2018 League of California Cities Conference. The City of Patterson won the Helen Putnum Award for Excellence for their partnership in the HOST (Helping Others to Sleep Tonight) House Program, a 501c3 non-profit organization dedicated to addressing the homeless epidemic in the City of Patterson. HOST operates a shelter and provides traditional resources to the homeless, but there is more to the story. The shelter is supported by volunteers, local churches and businesses that supply meals and donations, as well as community groups that provide counseling, job opportunities and life skills. The "guests" give back to their community and help keep city parks clean and learn job skills. The shelter operates more like a family community, it's a clean safe environment. The "guests" sleep in beds (not cots), eat communally, watch movies together, and have assigned chores. The "guests" stay for 60 days; the goal is to secure permanent housing during that time, as well as a job. The program is time intensive, but it works and has helped many people to overcome homelessness and despair to become an active member of society.
Several guests have returned as mentors to help others in their community. This model could be studied to determine its viability in Martinez.
Stevens: This issue of homelessness is too big for Martinez to solve on its own.
As we know, much of the homeless population in Martinez is a result of having the jail and County Hospital here. When Doctors Hospital in West County was closed several years ago, the result was more homeless people being brought to Martinez for services.
We need to work with the County to see that services for homeless people are available, not just in our City, so that people can go back to the areas where they have some support system.
We also need to look at collaboration with nonprofits to produce interim housing that would be available for families in transition. Once such organization is HomeAid America. They estimate that 80% of homelessness results from life altering events such as job loss, divorce, abuse, natural disaster, or medical condition.
This organization builds housing in collaboration with nonprofits to develop housing with needed services to help people move to self-sufficiency and away from the street. Simply providing housing is not enough. It is a part of the process. A key to success is providing an avenue to rebuilding people's lives.
Some people worry about city expenditures on contract lawyers, the Social Security settlement and the upcoming increases in payments to CalPERS. What would you do to curb these or other expenses to get or keep the city on a fiscally sound track?
McKillop: Expenditures are a reality when providing public services; they need to be managed, monitored and forecasted. Financial challenges come when expenses are Unforeseen, Unexpected and High Risk, negatively impacting projected budgets. Receiving the 2017 Demand letter from Attorney's Shenkman and Hughes to convert the City to District elections under the California Voting Rights Act is an excellent example of a unique challenge requiring specialized legal knowledge and guidance. Faced with significant legal costs, the city contracted with subject matter experts to ensure we act in accordance with the law.
Another unexpected expense was the Social Security settlement from the dissolution of the Martinez/Pleasant Hill Joint Facilities Agency, which was established in the late 70s to purchase a shared IBM computer to help manage the Human Resources Departments of both cites. Over time the agencies parted ways, but the employment mechanism remained until identified and questioned in an audit. The city's management staff along with subject matter experts negotiated to receive a reasonable outcome, resulting in a one-time city expense. In contrast is the CalPERS rate increases that will impact all California cities. This is an on-going expense not unique to Martinez.
Standard legal representation is an on-going expense; Martinez contracts with the firm of Walter and Pistole that serves as our City Attorney, providing immediate legal guidance to address routine matters. A benefit of contracting for legal services is that the city is not paying for salaries, benefits and retirement, since they are not city staff.
Addressing Unexpected Expenses and managing the overall budget requires an experienced Finance Director to guide the city; we are lucky to have David Glaser on our management team. His expertise and recommendations save the city over the short and long term.
In general, expenditures are not unlike what most people face managing their own personal finances. Revenues and expenses should be balanced, however, having greater revenues to store for unexpected expenses is always referred. When expenses grow beyond revenue streams, some options may be to reduce services (on-going expenses), use stored reserves/savings (usually for one-time expenses) or explore loans.
The council approved the formation of the Community and Economic Development Department (CEDD) to help create new revenue streams. The CEDD collaborates with our business partners, entrepreneurs and community leaders to attract and expand business opportunities and develop commerce in underutilized regions of the city. Enhanced commerce grows revenue streams for the city! In addition, the introduction of infill housing particularly in the area around transit hubs and the Amtrak station will provide much need housing and more patronage of our local stores, restaurants and business. Both options mentioned provide for a realistic approach to increase city revenues with reasonable goals and expectations.
Stevens: To be financially sound we must look at revenue and expenses. Revenue needs to go beyond the repeated tax increases that we have seen. We have other options that are untapped resources in this area.
Our amphitheater is used only about 6-8 times a year and could be a thriving venue for activities such as concerts that would bring people and dollars to our City.
The issue of the waterfront has been brought up for years, yet nothing has been done. It is time to do something to make it a destination in our area. A plan is needed and must be implemented with development to begin soon. A thriving waterfront will be a draw to the area, result in more people coming to it who would discover and spend in downtown.
With the waterfront developed, we could have new activities to highlighting our City such as a kite festival. Such family activities will attract people and bring much needed financial sources to us.
Martinez needs to become active in marketing itself well. We should be giving our City exposure in publications such as human interest and historical stories being pitched to the San Francisco Chronicle, AAA magazine and on social media. The greater our image, the more business activity we will generate.
Expenditures much also be kept in check. Th Social Security settlement was a one-time event and that will not be recurring as the City is now collecting and paying the taxes. We must, though, budget to pay down the $4,000,000 that the council borrowed to pay the Social Security bill for the taxes that it did not pay in the past.
CalPERS has a set rate that we cannot avoid. As we have many long-term more highly paid staff, many of whom will be retiring in the near future, we should exercise control for our CalPERS expense by being cautious in whom we hire and how much we pay.
Overall, the biggest key to our financial success is being aggressive in creating nontax-based revenue.
The second and final part of this Q and A will appear in Sunday's edition.