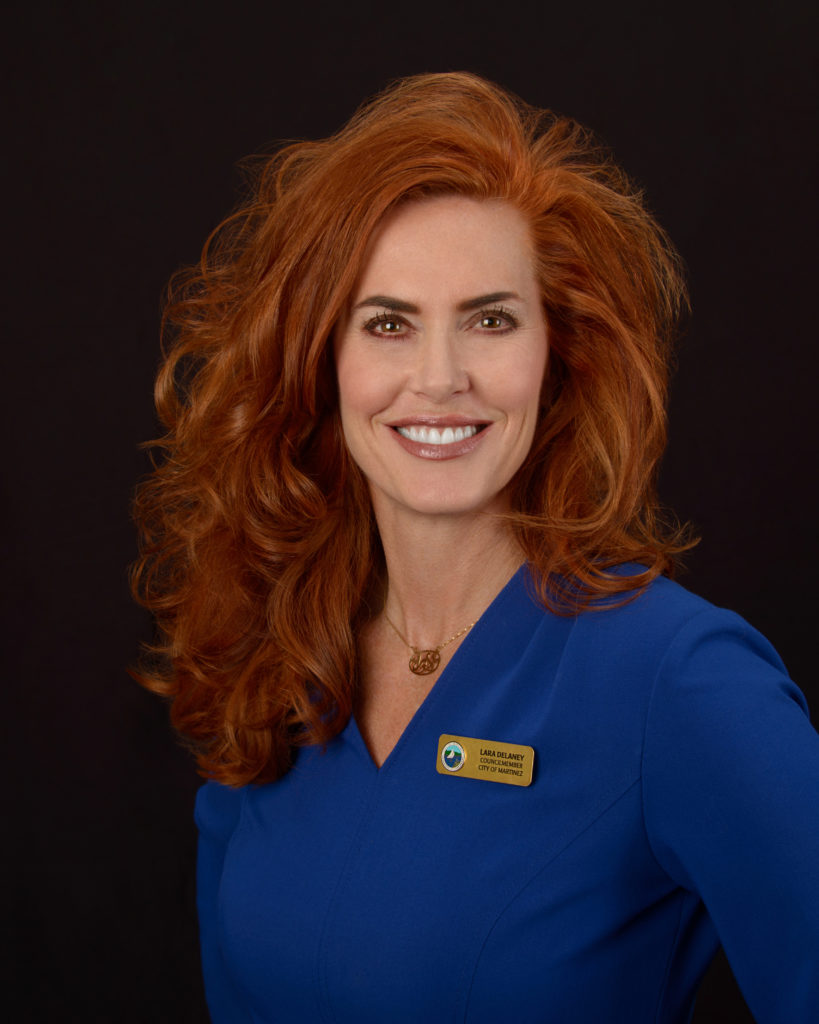 Vice-Mayor Lara DeLaney, who is unopposed in the District 1 contest, answered candidate questions from the Martinez News-Gazette
Please introduce yourself. Why are you uniquely suited to be a Councilmember?
What makes me "uniquely suited to the Martinez City Council," aside from the fact that I am running unopposed to represent District 1, is my devotion to public service; my obsession with public discourse; my passion for making a positive contribution to this planet; and my adoration for my adopted hometown of Martinez and the wonderful people I've met here.
I am a local government administrator with 25 years of experience in the fields of land use and transportation planning, budget analysis, legislative advocacy, and program management. I am employed as a Senior Deputy County Administrator in the Contra Costa County Administrator's Office, where I have worked for the past 20 years, seven of which I performed budget analysis for the County's General Government division. Additionally, I have served as the County's Legislative Coordinator for the past 12 years, staffing the Board of Supervisors' Legislation Committee, performing legislative analysis and advocacy services, and interacting with our state and federal lobbyists and representatives on a vast range of policy subjects. I am also currently managing the County's Office of Reentry & Justice, the mission of which is to reduce recidivism and help return formerly incarcerated citizens to productive, successful lives, keeping our communities safe as a result.
So I am not just an advocate of "good government;" I am a practitioner. I enjoy studying policy issues, seeking public input, finding best practices, and being proactive and responsive. My guiding principle has been to make decisions based only on what I'm convinced is for the betterment of Martinez.
My interest in public service stems from a childhood in Saudi Arabia, where the BBC wafted through the house and world affairs were regularly discussed around the dining table. A politically engaged undergraduate education at U.C. Santa Cruz enhanced my interest in public affairs; I graduated with honors in Literature and followed that with a Master's degree from the University of Chicago in Public Policy.
Not blessed with children of my own, my legacy will largely be defined by my service to the community on the Martinez City Council and through my involvement with both the Martinez Kiwanis Club and the Martinez Rotary. It is my hope that this legacy will include the enhancement of our public safety, infrastructure improvements, economic vitality, environmental sustainability, high-quality recreation and senior services, the preservation of our rich cultural history, and fiscal solvency.
How do we keep the "downtown renaissance" momentum going? Are there other areas in Martinez where such commercial comebacks are needed? How can that be accomplished?
The revitalization of the Downtown that we are experiencing is the result of a combination of factors: a mandatory earthquake retrofit ordinance passed by the City Council, which has resulted in building upgrades and safety improvements that have drawn new businesses to renovated spaces; an economic development program that incentivized retrofit improvements; the investment by the City in a Main Street Martinez program (operated by an indefatigable and innovative executive director, Leanne Peterson) as well as the Martinez Chamber of Commerce; infrastructure investments to improve the Plaza, festoon the streets with festival lights, establish a community theater, and add outdoor dining platforms; the creation of an Economic Development team at the City of Martinez; and perhaps most critical of all, a regional economic upswing that has led numerous first-time (and young!) business owners (many of them women from Martinez, I'm pleased to add) to launch businesses and invest in Martinez.
However, we must not rest on our laurels; vacancies are still of great concern, and with bail reform legislation on the cusp of implementation, more vacancies are on the horizon. We must continue to position the Downtown as a unique retail and dining destination that is benefitting from recent investments, but there is more opportunity to come. With the City's acquisition of "Parking Lot #4," and the County's investment in new facilities in the Downtown, the rejuvenation continues!
Certainly other shopping areas of the city need attention to ensure that tenants are retained and vacancies are quickly filled with the kind of businesses that provide the goods and services our residents desire and require. These shopping centers, including those at Virginia Hills, Village Oaks, Walmart/Home Depot, Nob Hill, are important sales tax generators for the city and critical partners in the community. Outreach and engagement of the businesses owners/managers and property owners is a vital function for City Council and staff.
The commercial areas that I believe are ripe for new opportunity include the Alhambra Avenue corridor, Howe Road, and along Pacheco Boulevard. The city's continuous collaboration with the Chamber of Commerce, business leaders, organizations devoted to economic development, and the community will ensure these areas are explored for their economic potential.
What does the city need to do to address homelessness? Are there creative approaches within Martinez's authority and other collaborations in addition to the CORE team and 2-1-1?
Homeless people are in need of housing and support services that are too often in short supply. California has been experiencing a housing affordability crisis for decades now due, in part, to the supply of housing not meeting the needs. And the funding for supportive services has also been insufficient to address the prevalence of mental health and substance abuse issues experienced by a majority of homeless people. As the county seat for Contra Costa, Martinez is home to the County's Regional Medical Center, Psychiatric Emergency Services, the George Miller Center, the Martinez Detention Facility, Superior Court, and social service agencies including Loaves and Fishes. We also have open space, parks, and transit systems that homeless people utilize, making them more visible to our residents than perhaps our neighboring cities. But just as this problem is not ours alone, the housing and support services are not ours alone to provide. We must continue to collaborate with the County and the social service agencies in the County to ensure that supportive services are there when people are housed, and we must do our part in the provision of housing resources.
Some people worry about city expenditures on contract lawyers, the Social Security settlement and the upcoming increases in payments to CalPERS. What would you do to curb these or other expenses to get or keep the city on a fiscally sound track?
The City has been contracting with Walter & Pistole for legal services for more than 30 years. I believe it is time to consider the idea of having an in-house attorney, as many surrounding cities currently provide. Certainly there are situations that require specialized legal services, which may be obtained for specific cases, but contracting for one firm for so many years without a procurement process speaks to the need for an analysis of the costs and benefits of a City-employed attorney. With regard to the rising costs for pension programs, the City does not have a lot of options when the costs are controlled by other entities. We do our best to maintain a healthy reserve to cushion against cost increases, but when the reserves are insufficient, we must consider all expenditure reduction and revenue increasing opportunities such as Measure X.
The second and final part of this Q and A will appear in Sunday's edition.