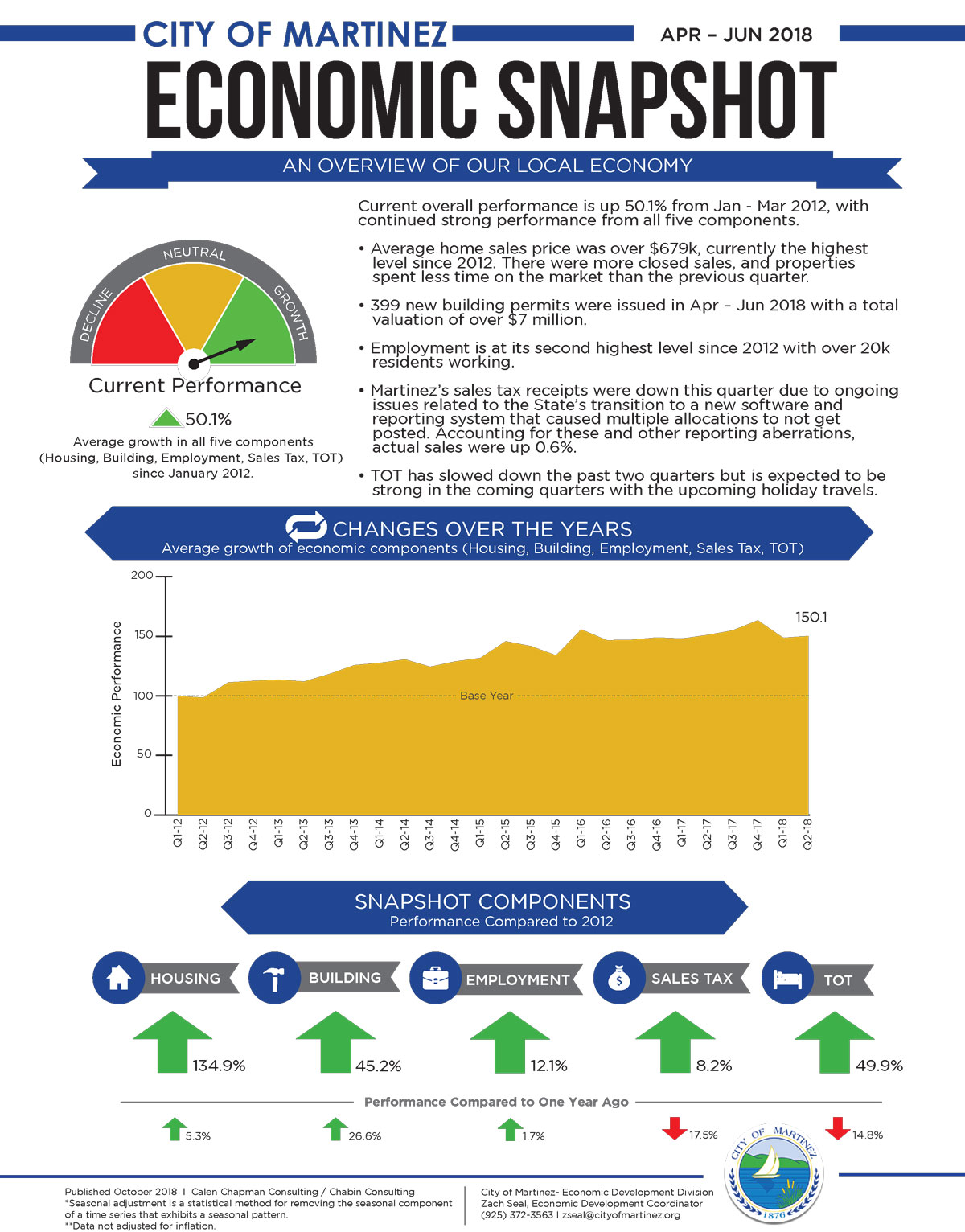 The City is excited to publish its newest semi-annual Business Confidence Survey and Economic Snapshot reports, and our quarterly Sales Tax Summary.
These three reports help the public understand the latest economic trends in the Martinez economy and enable the City to make informed decisions that serve the public and help our local businesses thrive.
The Economic Snapshot tracks Martinez trends in housing, building, employment, sales tax, and Transit Occupancy Tax (a charge paid by hotel guests). These five economic indexes increased by an average of 1.3% over the past 12 months. The true performance of our economy is probably more impressive, but glitches in the State's new software program caused multiple sales tax allocations to not get posted. This error will be retroactively corrected at a later date.
Even so, going back to the base analysis year of 2012, the average of these indexes has increased by a robust 50.1% while inflation has only risen about 12% during the same timeframe. This strong economic performance indicates a thriving and growing Martinez economy.
The Business Confidence Survey measures Martinez business owner and stakeholder confidence in the economy. The results show a strong level of optimism in our local economy with almost half of the respondents expecting to see increases in both sales and profits over the next 12 months, and only 11% and 14%, respectively, expecting to see decreases in sales and profits over the next year.
The Sales Tax Update shows the City's sales tax receipts and the top-25 sales tax generators. While this report indicates that Martinez's sales were down last quarter, sales were actually up 0.6% when accounting for the State's software glitches and other reporting aberrations.
Future Sales Tax Updates will reflect Measure X, the 1/2 percent sales tax passed by the voters last month. Measure X will give the City a new funding source for Martinez's quality of life and essential services, including 911 response times and public safety, maintaining open space and recreational programs, and addressing homelessness.
For more information on Measure D, visit our website here. If you have any questions about the economic data in these reports or would like to find out about resources available to you for opening or expanding a business in Martinez, email Zach Seal, City of Martinez Economic Development Coordinator, at zseal@cityofmartinez.org.
– courtesy of City Manager monthly newsletter
The City Manager's Report from City Manager Brad Kilger is published monthly highlighting the activities of the departments of our city. Previous editions are available on our website at www.cityofmartinez.org/gov/manager/newsletters.asp.