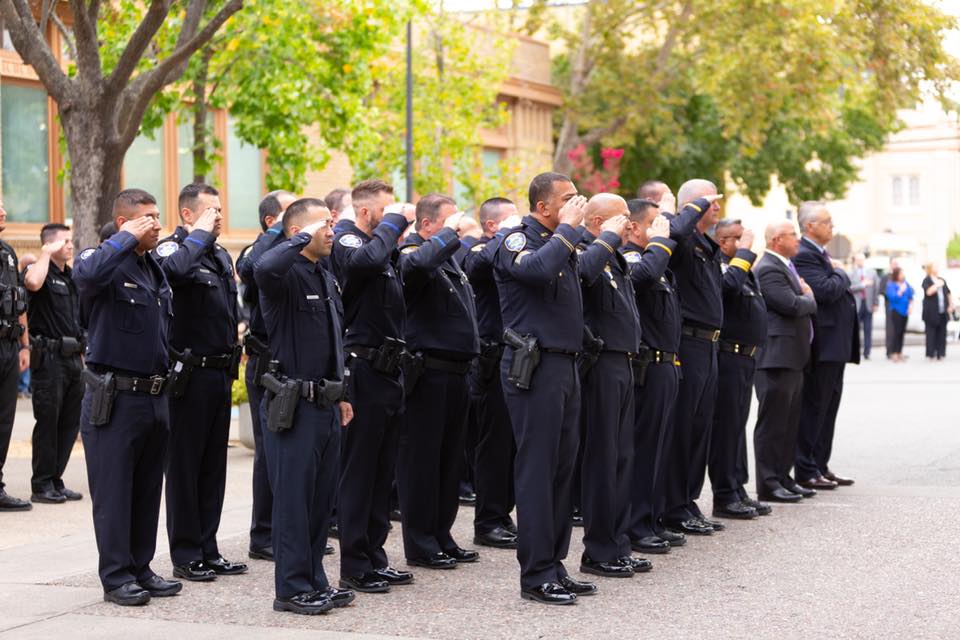 MARTINEZ, Calif. ­­– Between the solemn sound of a bagpipe to the somber notes of "Taps," Martinez Police Sgt. Paul Starzyk was praised Thursday by Martinez Police Chief Manjit Sappal and remembered by former chief, Tom Simonetti, who recalled Starzyk's humor and dedication.
"He made a difference," Sappal said. "He gave his own life."
Ten years ago, Starzyk, 47, was among those responding to the call that an armed man was seeking his estranged wife. He first entered the woman's salon on Pacheco Boulevard, then went into a nearby apartment, where two women and three children were hiding.
As Starzyk followed the sound of women and children screaming, the man shot and killed his wife's cousin, a domestic violence advocate. He then turned his gun on Starzyk, fatally wounding the sergeant.
But Starzyk was able to return fire, striking his assailant, Felix Sandoval, who also was fatally wounded.
Starzyk was survived by his wife, Shannon, and three children.
Each year, Martinez Police conduct a brief service in his memory. This year, members of other area departments attended, as did District Attorney Diana Becton and members of her staff.
Joining Martinez Police Officer Ryan Baillie, Pleasant Hill Police Master Officer James Woehrman and Officer Rishi Negi raised flags on poles in Ignacio Park across from Martinez City Hall.
"He made a tremendous difference," Sappal said to the officers, City Council members and Martinez residents who gathered to remember the fallen officer.
He called Starzyk a hero who ran toward the sound of screams and gunfire and put the safety of others ahead of preserving his own life.
Simonetti described a man who could have had a safe career in banking but who saw the need to help his community after witnessing how the less fortunate are victimized. He started as a reserve officer volunteering his time until he was hired as a professional law enforcement officer in 1994.
It wasn't the words spoken Monday but how Starzyk lived that was his truest testament, Simonetti said.
He was one of Martinez Police Department's most productive narcotics officers, was part of the Special Weapons and Tactics (SWAT) Team.
At one point, as part of the major narcotics task force, he was instrumental in bringing down one of Northern California's major drug dealers who had been recruiting 18-year-olds into his gang and who became involved in kidnapping and extortion.
Yet Starzyk also had a joyful personality, his former chief said. When working the day shift, he would call out to Simonetti, "Tommy!" Then he'd add more respectfully, "Good morning, Chief!"
Dana Filkowksi, the domestic violence supervisor in the Contra Costa County District Attorney Office, prosecuted the drug dealer and was impressed that Starzyk attended proceedings even when he wasn't required to testify.
Even so, he didn't lose his humor. When jurors asked whether he had ever seen a more fortified compound than the one used by the defendant, Starzyk replied, "Only on TV."
She said Starzyk is remembered in the classes she teaches, particularly about strangulation. That's because 50 percent of law enforcement officers' deaths come at the hands of men who have strangled their female partners during domestic violence incidents.
The man who killed Starzyk was known for his attempts to strangle his estranged wife, who had filed for divorce and had obtained a restraining order against Sandoval, she said.
"Paul's memory lives on. We talk about him at each domestic violence training" Filkowski said.