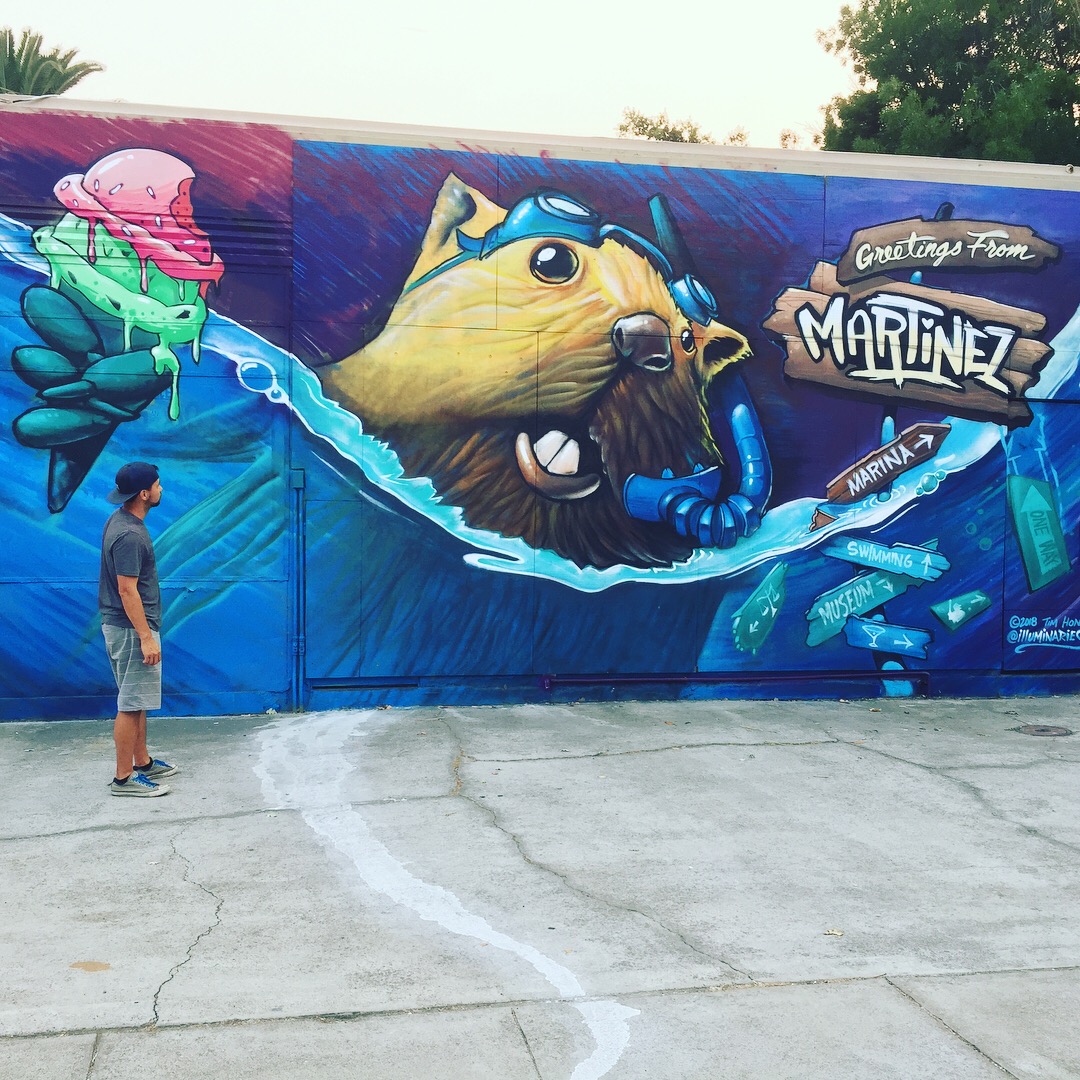 MARTINEZ, Calif. ­­– When artist Tim Hon made his first stroll of Martinez's downtown area a few years ago, he was impressed. Little did he know the walk would lead to his creating a popular mural on the side of one of its businesses.
And the owner of the business that bears the mural hopes it will help extend the downtown Martinez "renaissance" well past Main Street.
"I was really impressed with how quaint it was, and had so much character compared to surrounding areas," Hon said about his exploration of his new home town.
Hon is familiar with a place with character. He moved to Martinez from Berkeley, which has a strong vibe of its own.
But Hon's first trip to Martinez's downtown took an unexpected turn. "I randomly stumbled upon the beavers in the creek!" he said.
"It was such an amazing experience. I just stood there on the bridge watching them work for a few hours. It was just incredible how they could be here amidst this 'urban' area," he said.
He discovered another about his new home town, something that pleased his creative side.
"As a mural artist, I notice art everywhere, and noticed that Martinez seemed to be a mural-friendly place, compared to most suburbs," he said. "I really wanted to put something up."
He spotted a former service station, and realized one wall might be an ideal location for a mural.
Bradley Bernard, who has opened his Freedom Heating and Air Conditioning in the former Union 76 station, was amenable to the mural and agreeing that a depiction of a Martinez beaver would be ideal subject matter.
"My understanding is Tim did have murals in Oakland and Berkeley," said Bernard, who began leasing the former station at 741 Green Street a few months ago.
While Bernard originally wanted to put a vintage arrow or hand directing people to Main Street – similar to some signs he's seen in Santa Cruz – he entertained the idea proposed by the artist who rode up on an electric mountain bicycle and asked about painting the building's side.
Hon's suggestion fit in with what Bernard is trying to do with his business's building and in the Green Street area.
He originally wanted to restore the building to its bright orange, blue and white Union 76 colors until some suggested more muted colors might better suit its surroundings.
Bernard has decided to bring back a deck and picnic table the building had up to the 1980s, when the old service station's owner welcomed neighbors to barbecues each Memorial Day.
He's also put some furniture out front for passers-by. "We're trying to become part of the community here," Bernard said.
Nearby businesses also are doing their part to become part of and to expand on the downtown shopping district renaissance, he said. New tenants either are considering Green Street buildings or are preparing to open.
"I think we have a bright future for the downtown," Bernard said. "When that's done it will bring changes.
He added, "This is the new Green Street. We're trying to improve it, boost what's happening downtown with remodeling and new places – spreading the zone out a little bit."
When Hon sent Bernard some mockups of his painting ideas, Bernard showed them to his landowner, who said, "Do whatever you like." So Hon got the green light for his painting.
The mural is not a commissioned piece, Hon said. "It was done out of my own accord," he said. Bernard helped out by purchasing the needed materials.
Because the building's surface of metal and glass wasn't ideal for a painting, Bernard put up plywood paneling on which Hon could paint.
Those panels serve a dual purpose, he added. "We weren't sure if the city would accept it or try to remove it," Hon said. "So we put it on panels in case we needed to move it."
"I didn't want to gamble with the painting," Bernard said.
As Hon was doing preparatory plans for the mural, he learned about the Martinez Beaver Festival June 28 in Susana Park, which highlighted the work of Napa street painter Amy G. Hall, who made a sidewalk mural of a beaver pond in the center of the park.
Hon met with Heidi Perryman, whose Worth a Dam organization started the festival to let residents express their support for the aquatic dam builders that originally were controversial but have become unofficial mascots of the city.
The more Hon learned about the beavers and their festival, the more he wanted to coincide the timing of his mural with the celebration. "So I actually started that mural the day before the Beaver Festival," he said.
Hon's background is as a graffiti artist. So his medium is spray paint. But not just any can of paint woill do for this type of work.
"It is a special mural spray paint imported from Spain, called Montana 94," he said.
"I grew up doing graffiti and getting into trouble as a kid," he said. But that early work gave him a foundation in the art form, and he adapted the skills he learned from the streets and turned them into an appreciated art form.
Bernard is among those who appreciates the mural's style, Hon said. "He gave me all the latitude I wanted, and is actually a big street-art fan who has been taking note of all the cool murals that have been going up around Oakland."
Some of the Oakland murals are by Han himself. He painted a 100-foot tall elephant and is responsible for the Golden State Warriors murals. Other Hon murals can be seen throughout the bay as well as online at www.illuminaries.net.
The artist often gets to meet his admirers while he paints, and sometimes observers give him suggestions he incorporates into his works.
"I was not sure what was going around the beaver," he said of his Martinez mural. "But I wanted it fun and a little surreal, so after talking to people who were passing by, I decided on the ice cream cone and the signage. The signage was something I put in, just to help represent the city a little bit."
The paint and the panels are pretty weather resistant, Hon said, and the mural should remain bright for the next five to seven years.
What about those concerns someone might order the mural removed?
"It turns out it's unanimously beloved by everybody," Bernard said. He said Martinez Police's answer to the lip-synch video challenge may incorporate the mural. He's heard the painting praised by members of the Martinez Council, and said Mayor Rob Schroder notices it on his daily walks past the building.
And for the artist?
"It was a fun experience, interacting with the public and watching people's reactions," Hon said. "And that is really why I do it. Kids especially were so amazed and got so happy."