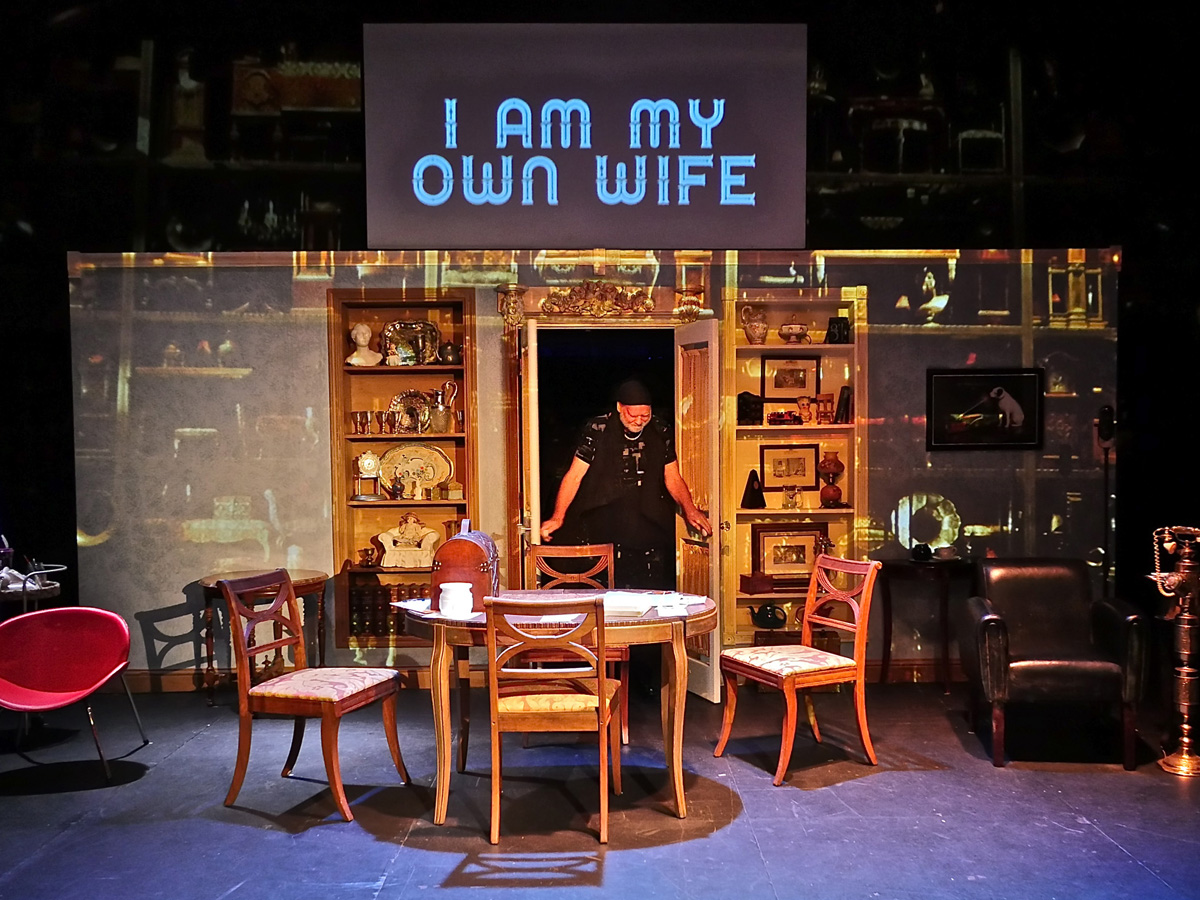 By SCOTT BABA
Art and Entertainment Editor
One-person plays are always a little hectic, and "I Am My Own Wife," Onstage Theater's newest play at the Campbell, is no exception. Actor Randall Nott wears a single costume throughout the play, and while the set has a number of distinct locales, they shift fluidly from one to the next, sometimes from sentence to sentence.
Nott bounces from character to character and scene to scene, and for the first few minutes, before the voices have settled into distinct personalities and time and place assert themselves, it is all a little disorienting. But after a few moments the chaos retreats, and out of it emerges the fascinating story of Charlotte Von Mahlsdorf, the real-life antiquarian, museum curator, and one of the most celebrated transvestites of the 20th century.
Charlotte was born Lothar Berfelde in Berlin, Germany, in 1928. From a young age Charlotte felt like a girl trapped in a boy's body. Over the course of her life she managed to survive as an open transvestite under both the Nazis and the East German communists. While living under the communists, she gathered household items from bombed out houses and the belongings of those who had fled to the west, creating a historical collection of every-day items. Her collection eventually evolved into the Gründerzeit Museum, which she curated until she left Germany in 1997.
Charlotte's life story is interesting enough in and of itself, but the play is framed as something of a story-within-a-story, with the playwright Doug Wright inserting his own experience discovering Charlotte at the Gründerzeit Museum in 1993, and his decision to write about her.
Wright – a self-professed gay man from the Bible belt – is astounded and moved by Charlotte's history of flourishing as an LGBT outsider under the most adverse of circumstances, and telling her story becomes his obsession. But even as Wright finds himself more and more invested in Charlotte's story, cracks begin to appear in her narrative about her own life, and Wright – both as character and writer – must wrestle with ideas of truth and trust and where the greatest value of a story lies.
The play flits between narrative styles, from written correspondence to conversational dialogue to storytelling direct from Charlotte to the audience. This mixed bag of narration allows Nott to show his range as he dances between 36 different characters in a variety of different circumstances, depicting their stories in a variety of different ways.
Of the many characters, Charlotte is the most distinct. Nott plays her with a restrained vulnerability, carefully riding the line between feminine and masculine. Wright is played as a young man, idealistic and excited. Also standout is John Marks, a world-weary journalist and mutual acquaintance between Charlotte and Wright.
Director Helen Means said that the way the play was written, it was all up to Nott to give life to all the different characters.
"You can't use a lot of costuming or anything to separate the characters," said Means. "It's written for you to really use your voice, or a slight prop. Besides [Charlotte] there's only one other costume. You have to work on the different varieties of voice, and the speed."
Nott said working out those details was one of the most interesting parts of doing the play.
"The biggest challenge is coming up with a unique voice for each character – or at least semi unique. A lot of the soldiers and officals sort of blend together, because they're all almost – you might even say they're Hogans Heroes type sterotypes on those little small roles, because you just have to make a quick impression, and figuring those out and trying to keep them separate is the challenge."
"I Am My Own Wife" won the Pulitzer Prize, as well as the Tony Award for Best Play, but Nott said he'd wanted to do the play before it had won any accolades.
"I'd actually seen the play on Broadway when it first moved there before all the awards came out, and I knew it was something that I wanted to attempt at some point in the future," said Nott. "It's just one of those actors roles that's a real challenge. And it's got a great story, and a lot of potential to play with it."
Nott added that he also wanted to do the play to explore Charlotte's story.
"I like how it deals with outsiders and how they have a voice and have survived in the most dangerous times," said Nott.
Nott also said he thought it was important that the play explored the more complicated side of Charlotte's history.
"When Doug Wright was writing it, he basically got halfway into writing this play, and he had this whole plot line in his head about Charlotte as a hero," said Nott. But when the darker aspects of Charlotte's story came out, "he suddenly realized that life is pretty complex. And we should show that too. And that's [a theme] he talks about too, how things should be preserved how they are. And that's life."
Ultimately Nott's myriad performances combine with Charlotte's strange uplifting empowering discomfiting life story, creating a memorable and powerful performance well worth watching.