By HARRIETT BURT
Martinez News-Gazette Contributor
Editor's Note: One of the sources for this column and an upcoming one on Don Ignacio Martinez on whose land grant Martinez was founded, was a great granddaughter of the Don himself. In 1963, Kathryn Burns Plumer prepared a 12-page summary of Don Ignacio based on a longer piece on the family written by a great-great granddaughter in the 1940s. The County Library made it available in mimeograph form to the Contra Costa County History Center. Another new source for Our Town is a three-part series of articles on Colonel William Smith, written for the Martinez News-Gazette in the summer of 1971 by Monty Lindstrom just after graduating from Alhambra and before entering UC Santa Cruz. Appreciation as always goes to the late Charlene Perry for her great work in starting the organized and accurate preservation of Martinez history.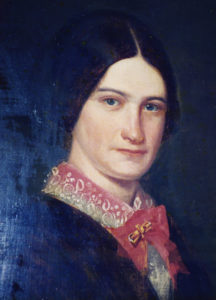 Susana Martinez Hinkley Smith Merle is an appealing figure of early Martinez history even though we don't have a lot of details about her life. She was one of nine daughters and two sons of Don Ygnacio Martinez who owned the Rancho El Pinole land grant – nearly 18,000 acres stretching from present day Pinole to the western bank of what is now called Alhambra Creek.
After his death, his son, Jose, provided the land to carry out brother-in-law William Smith's idea in the middle of the Gold Rush to establish a town on the Carquinez Strait shoreline. Susana, who had married Smith in 1848 after the death of her first husband, became an enduring figure in the first three decades of the town's history through personal tragedy and good fortune. She is one of the few if not the only one of the 11 Martinez family heirs to retain until her death the fortune she inherited.
She and her twin sister, Francesca, were the seventh and eighth of the eleven children born to Don Vincente and his wife, the former Dona Maria Martinez Arellanes. Dona Maria's parents and an older sibling had been members of the party of 250 settlers brought from Mexico in 1776 to settle Alta California so as to keep other European countries from encroaching on the Spanish empire's holdings.
Don Ygnacio was so excited at the birth of the twins, according to Charlene Perry, that "he felt the need of expressing his joy. Thus, he ordered the Presidio cannon fired, sending a cannonball out towards the Golden Gate.
"The captain of a British vessel, just then rounding the south coast of the Gate, assumed he was being fired upon. He ordered his deck cannon fired in retaliation. Don Ignacio, assuming the ship was returning his salute in honor of his twins, sent an emissary to greet the ship and to thank the captain for the honor done for his daughters, and to invite the gentleman to dinner. One wonders about the captain's reaction."
Presumably, Susana's childhood was uneventful in a large household with many children and a busy father who commanded the Presidio. That changed when Susana, described as 'one of the most attractive of the (nine Martinez) daughters', after a short courtship, married Captain William S. Hinckley, a colorful figure in pre-Gold Rush San Francisco which was filled with such men in 1842.
From Boston, he was a smuggler even while maintaining a friendship with Governor Juan Alvarado. Serving as the elected Alcalde (mayor) of San Francisco in 1844-45, Hinckley became a naturalized citizen of Mexico and spoke openly against the Americans who conducted the Bear Flag revolt in 1846, calling them "fools for not at once capturing the same amount of Americans." Two days later, just before he was to be arrested as a Mexican official, he was thrown from a horse accidentally and died. Enemies described him as "'more Mexican than the Mexicans themselves".
Left with one child, she withdrew from society for a time before meeting Colonel William M. Smith from Georgia. Also a rather colorful figure, he had spent his early years in San Francisco as a circus performer and black face entertainer known as Jim Crow Smith, a characterization the southern-born Smith had developed as a vagabond entertainer in Mexico where he ended up for a period of time after running away from home and school in New Orleans sometime around 1840. He arrived in San Francisco in 1845 spending his first months as an entertainer before turning over a new leaf by collecting hides and tallow for William Liedersdorf before becoming a partner with J. E. Ward in what became one of the City's leading mercantile stores. Located one block away from the Bay at number 3 Montgomery Street, just north of Clay, the site is now 10 blocks away due to the use of fill along the waterfront.
Monty Lindstrom in his three-part News-Gazette series on Smith, notes that the business sold supplies to the U. S. occupation forces in the period after the end of the Mexican War and also was active in organizing relief for the snowbound Donner Party. Ward later became one of the investors in Smith's development plan for the town of Martinez in 1849-50. Ward Street is named after him.
Research by Lindstrom indicates that the Colonel may have met Susana at a ball. In any case they were married in 1848 and moved to her father's hacienda in the Pinole Valley. Don Ygnacio died also in 1848 at the age of 74. By that time, the Gold Rush was underway. There was an on-demand ferry between what was the Martinez land grant and the new town of Benicia organized by an agreement in 1846 between General Mariano Vallejo and Robert Semple, a member of the successful Bear Flag Revolt. Part of the agreement required that the town they were founding be named after one of the General's wife's given names….Benicia. The other requirement was the ferry to Contra Costa, the 'opposite coast'.
As the Gold Rush became larger, the seldom used ferry dock at the end of what is now Berrellessa Street suddenly had as many as 200 people a day lined up to take the short cut from San Jose and Monterey to the Sierras. Smith convinced the Martinez family that it was in their best interests to have the land surveyed and to build a town. By the end of 1849, a hotel, a general store and some houses were built. Smith meanwhile became co-owner of the rancho and attorney for the heirs. Lots were sold not only to Ward but also to other San Francisco business friends, Henry Mellus, William Howard, Talbot Green and others who contributed their names to the city's maps. (Howard, however, later lost his street when it was changed to Marina Vista.)
Unfortunately, Smith, within a year or two, had pushed the family too hard and went behind its back to file a quick-claim to 30 acres of wetlands without including them. He went to New York apparently with some big ideas, and he worked hard to entice the Pacific Mail Company, California's largest steamship lines, to locate its repair works and a foundry at Martinez. When the family members found about his plan, they reneged on it and Pacific Mail moved its shops to Benicia.
Smith was enraged. In deep financial problems, he began drinking heavily again and by October 1, 1854, his anger, despair and depression was so overwhelming that he shot himself. He was 39. Susana was now twice a widow before she was 30.
There is no known documentation of her response. But her life then and going forward, raising her children and running their home, is a testament to her admirable strength and courage and good sense, except perhaps in choosing husbands.
In two years, Susana married another suitor, the French trader, Benoit Vassera Merle. Although the marriage lasted and produced five children, Susana was no pushover. Her first husband was outspoken and a controversial political troublemaker, her second was a salesman, a dealmaker and an alcoholic and her third was 'a gambler of no mean talent' which can only mean he lost somewhat less than others.
According to a descendent, in one game he lost a San Francisco property that she had inherited from Smith. She refused to sign the deed for title exchange, so the property in the Financial District where the Russ Building has stood for many years, remained in limbo, and title was still clouded in 1982.
Charlene Perry, who compiled much of what is known about the early history of Martinez, felt that Susana was "one of the most interesting of our city's early women" even though she mainly focused on her family and her property.
Despite all the tragedy, despite a gambling third husband, despite the general feeling of the time that women were not effective at business, Susana Martinez, possibly because she paid attention in her two earlier marriages to astute businessmen, had done what none of her siblings had been able to do. As Perry points out, "she hung to much of her inheritance as shown by the 1884 tax books which detail property ownership in the city. They revealed that at her death in 1881 at age 57, she left more than ninety pieces of property within the then city limits."
Susana lived in the house she and Smith built in the early 1850s until her death. Between E and F Streets, on the east side of Alhambra Avenue, the two-story home was surrounded by three blocks of garden and orchards. It was here she raised her children: the two Smith daughters and the five Merle children, two of whom were twins as was she.
The old house was torn down in the 1940s but the family, through the Higuera branch, owned it through all that time. For years, the property was referred to by the family and perhaps by townspeople, as belonging to "Susana of the Rancho".
No obituary could be found in the May or early June 1881 copies of the Martinez Gazette but a hand-typed copy of one was found in the Martinez Historical Society files.
Written in the emotional style of the time, one sentence stands out:
"If unselfish devotion to others, domestic affection, beneficent friendship and charitable deeds do denote the charms of the Christians, she was one in an eminent degree."
Sources:

Martinez family files at the Martinez Museum

Monty Lindstrom, "The Man Nobody Knows," a three-part series on William Smith published in the summer of in 1971 undated copies of clippings from issues of the Martinez News Gazette.

Charlene Perry; Martinez News-Gazette columns September 1982

Kathryn (Burns) Plummer, "Don Ignacio Nicanor Martinez", typescript prepared by the Contra Costa County Library, September 1963. In the County History Center collection.