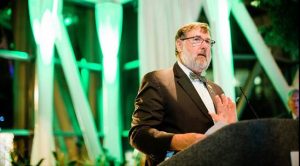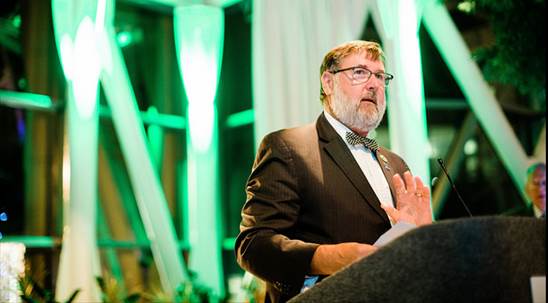 On September 26, 2018, Robert E. Doyle, East Bay Regional Park District's General Manager, received the 2018 Honorable Cornelius Amory Pugsley Award medal. Selected by the American Academy of Park and Recreation Administration, the award honors champions of parks and conservation. It is the most prestigious award given for work toward the promotion and development of public parks, recreation, and conservation in the United States.
Doyle's career with the Park District began as a park ranger. He moved up the ranks through Planning & Design, and eventually served as assistant general manager for Land Acquisition and Planning for 21 years. Both positions resulted in major improvements for EBRPD, including a first of its kind Regional Trails Master Plan, and the greatest expansion of park and trails in the District's history. Doyle has led the District as general manager since 2010.
Doyle was nominated for the Pugsley Award by former East Bay Regional Park District General Manager Pat O'Brien, who received the medal in 2003 during his tenure at the District. Doyle's nomination was supported by letters from former Congressman George Miller and former National Park Service Director Jonathan Jarvis.
Upon receiving the award, Doyle shared that he was honored to be recognized along with the long list of previous honorees with ties to the District. "This is a very special award for me," Doyle said. "Not only because many of my park heroes are on this list, but also because there is a connection to the leadership lineage of the regional parks."
Duncan McDuffie, former Sierra Club president and chair of State Park Commission who had a role in creating the Park District in 1934, won the first Silver medal in 1928. Frederick Law Olmsted, Jr., developed the first East Bay Regional Park District Plan with his brother, and National Park Chief, Ansel Hall. Olmsted, Jr. received the award in 1953. Former Park District General Managers William P. Mott (1972, 1982, 1988), Richard Trudeau (1990), and Pat O'Brien (2003), and former Board members Carol Severin (2000) and John Sutter (2016) received the award as well, making East Bay Regional Park District the most recognized regional park district on the award recipient list.
During his acceptance speech, Doyle thanked those who had a vital role in pushing him toward a life of advocacy and leadership within the parks. "I did not do any of these things by myself," he said. "I did it with mentors who pushed me, leaders who trusted me, and generations of park champions. To be the stewards of these wonderful places where kids can play, where all are welcome; that I can know we have places where the birds sing and flowers bloom year after year is a great reward."
The 2018 Pugsley Award ceremony took place in Indianapolis, Indiana during the National Recreation and Park Association Conference. Doyle accepted the award there, along with William C. Salzo, named a Pugsley award recipient for his work with Maricopa County Parks and Recreation in Arizona.
Doyle is a resident of Walnut Creek, where he lives with his wife, Tina Batt. He has two adult children, two adult step-sons, and two grandchildren.
The East Bay Regional Park District is a system of beautiful public parks and trails in Alameda and Contra Costa counties east of San Francisco Bay, established in 1934. The system comprises 121,000 acres in 73 parks including over1,250 miles of trails for hiking, biking, horseback riding and nature learning.