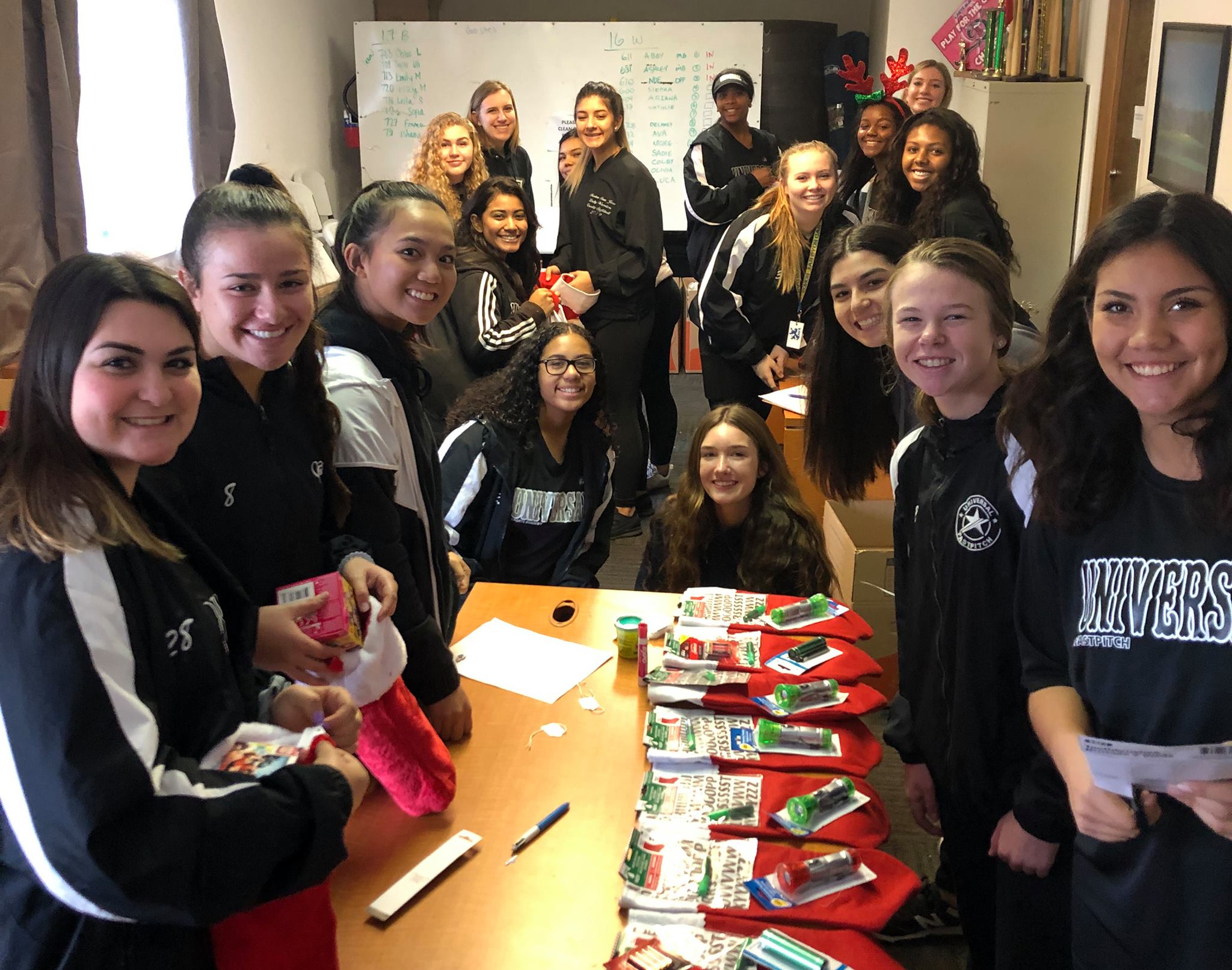 By KEVIN MURRAY
Special to the Gazette
We had a great Passion to the Streets Stocking Stuffing event on Sunday, where a group of about 25 young women and parents from a Universal Fastpitch 16U team volunteered to stuff 100 stockings at Universal Sports Academy in Martinez. These stockings were all delivered to Christmas for Everyone, to be handed out by Santa on Christmas Day.
Contributions have been raised by Passion to the Streets at www.gofundme.com/stocking2018
This event was arranged by one of the parents Rachel Caranza, with Coach LaShawn Wells and Team Mom Toni De Alba, along with other parents and the Universal Sports Academy Staff organizing and making it work. Rachel and her daughter Justine met me an hour before to get the room set-up. Most of the team was there early and jumped in right away on the project.
The 16U team is made up of young ladies who aspire to play collegiate softball. While walking the path, these ladies use their time to study and play hard but also give back to others. They sure did on Sunday, doing a great job at organizing all the pieces and making up 10 categories of stockings from toddlers to teens in boys and girls stockings at each of 5 age ranges.
Universal Fastpitch was founded in the spring of 2015 by Tommy Sparacino, who was there for the Stuffing Party, and has quickly risen to the top of the Norcal Softball Scene. In only three years this program has become one of the most recognized programs in California.
The team has also raised in the neighborhood of $400 for the cause, and the Sports Academy wants to make this a regular annual event.
You can help with contributions: www.gofundme.com/stocking2018
We now have over 200 stocking made-up and delivered. We'll be making 300 more between now and Monday.
(photos by Toni De Alba)