Paul Thomas Delevati
Nov. 10, 1955 – Jan. 27, 2018
Resident of San Francisco, Calif.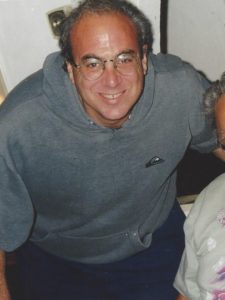 Born to Kathleen and Richard Delevati November 10, 1955, in Martinez, California. Paul was taken home to our Father on January 27, 2018, surrounded by his loving mother and siblings.
Paul was a member of Martinez Little League and a member of the Boy Scouts of America. He attended St. Catherine of Siena grade school, and later graduated from Alhambra High School. While attending Alhambra High, Paul played football for the Alhambra Bulldogs and was a long distance swimmer for the swim team.
Paul graduated from California State University Chico with a B.A. in Philosophy and went on to earn a Master's Degree in Religious Studies from the University of St. Louis. Paul also received his Master's in Philosophy from San Francisco State University. Paul was a lifelong learner and had a great love for education.
His love for the Lord guided him to become a Jesuit priest. While serving as a priest, Paul felt compelled to leave the order and return to his love of learning and teaching. Paul began teaching at San Francisco State University, where he taught courses in critical thinking. He taught for over 30 years and was a member of the Philosophy Society. Paul's passion for learning and education is a testament to his life.
Paul had a deep love for family. He taught us that family can flourish only in an atmosphere where individual differences can be appreciated, where mistakes are forgiven, where communication is essential, and where rules are flexible. Most importantly, Paul taught us that love is unconditional. Paul was the voice of reason, and a teacher in the home.
Paul was also an accomplished musician. He was self-taught reading music, and played the piano and guitar. Paul composed music and lyrics and had a love for singing. Paul had a great love for music, which he often shared with family and friends.
Paul tended bar in his spare time. His uncanny knack for listening and providing sound advice from the heart is an example of Paul's compassion and love for people. He was known for helping those in need and always being there for advice, or just a listening ear. His genuine caring nature was felt by all who knew him.
Family and friends fondly remember Paul's warm, embracing hugs, his ability to make the best Thanksgiving gravy, his appreciation for good food, and his passion for knowledge and the sharing of wisdom.
Paul was, in essence, the definition of humble, willing to pass on knowledge, love and goodness to all who knew him. God's light shone through Paul. He had a profound understanding of life. In a culture of distraction, Paul always strove for a deeper understanding of what is important in life.
No words can describe our loss of a beloved and loving son, brother, nephew, uncle, cousin, great uncle, brother-in-law, and professor.
He was preceded in death by his father, Richard Delevati. He is survived by his mother, Kathleen Delevati, siblings John, Kathleen, Joseph, Lorraine, David, and Peter. He was uncle to 11, and great-uncle to 12.
Services will be held at Saint Catherine's church, 606 Mellus St. Martinez CA, on Saturday, February 24, at 9:30 a.m.