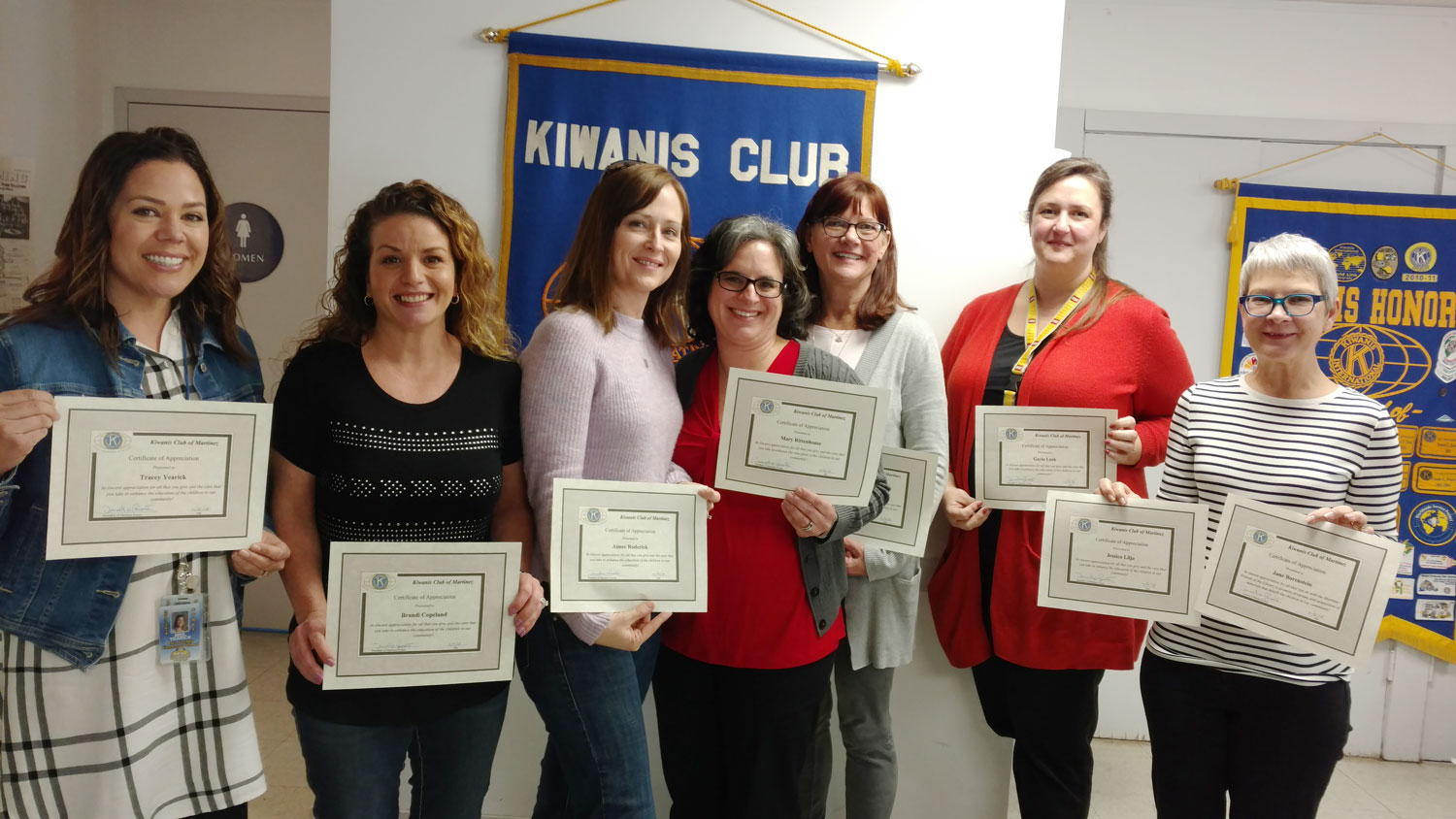 Left to right: Tracey Yearick- Las Juntas, Brandi Copeland- John Swett, Aimee Roderick- Alhambra HS, Mary Rittenhouse- Librarian for MJHS and Alhambra HS, Karen Warnecke- Martinez Jr. HS, Gayla Lusk- Morello Park, Jessica Lilja from Martinez Branch Library (certificate only unable to attend), Jane Borenstein Pres Friends of Martinez Library not pictured was Suzanne Ruiz from John Muir. All are Library Assistant except where noted.
By Donna Beth Weilenman
Martinez News-Gazette Reporter
In recognition of its weekly speaker program, the Kiwanis Club has made donations to libraries at local schools and other sites, Donald Pallotta, president, said.
Earlier this month, the club gave $200 to the libraries of John Swett, John Muir, Las Juntas and Morello Park elementary schools, Martinez Junior High School, Alhambra High School and Vicente High School/ Briones School, as well as to the Martinez Community Academy, the Juvenile Hall Auxiliary and the Friends of the Martinez Library.
The combined donations reached "a grand total of $2,000 to support community literaqcy," Pallotta said.
The money buys between 10 and 20 new books for each library annually, he said.
"The club makes this donation in coordination with its weekly speaker appreciation and recognition program," he said. "A book is donated in each program speaker's name to one of the libraries. A label is placed in each book purchased with the Kiwanis donation, acknowledging Kiwanis and the speaker."
While Kiwanis Club provides the money, library staff chooses which books will be bought, he said. Then the libraries give the club a list of the books that those funds provided.
"The Kiwanis Club of Martinez is proud to recognize its weekly program speakers by providing local school and community libraries with ongoing funds to support literacy in the community," he said.