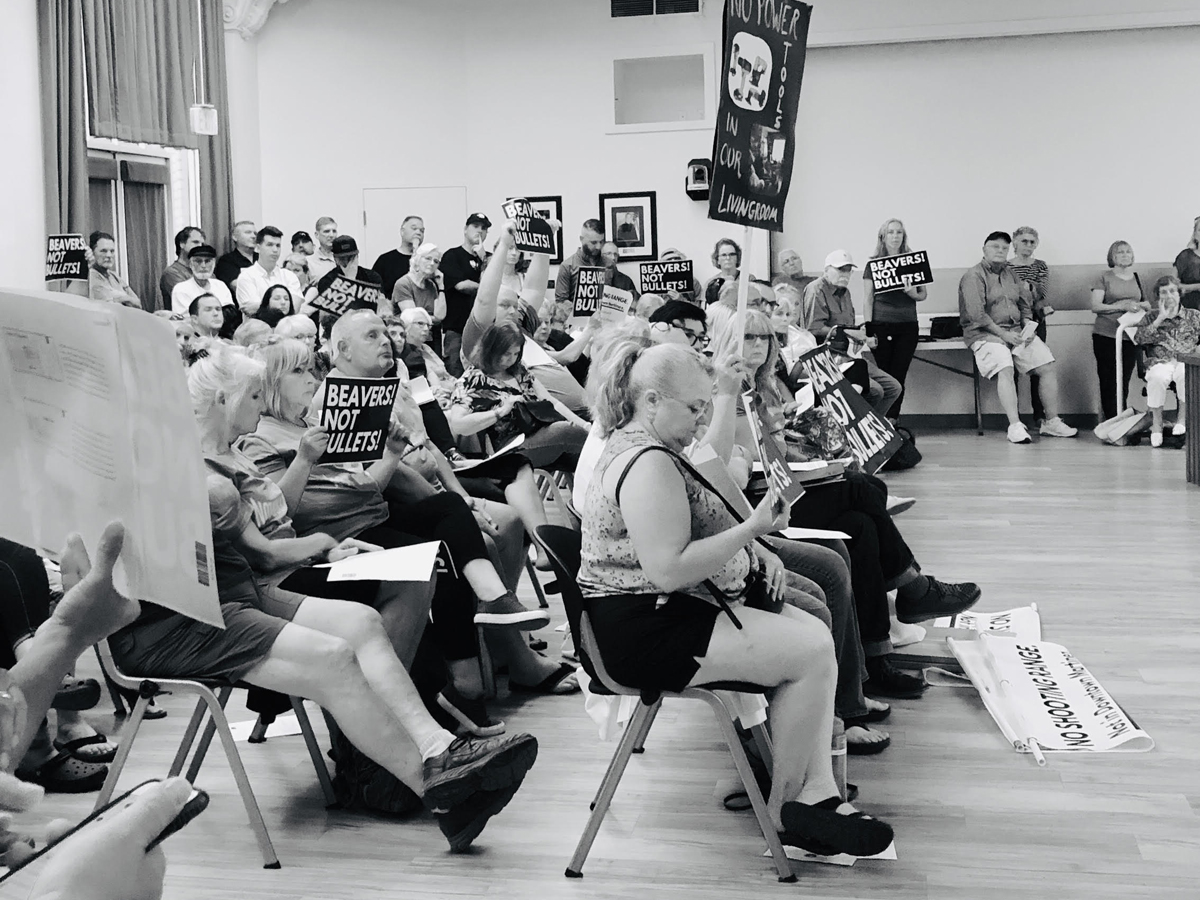 MARTINEZ, Calif. – People opposed to guns downtown filled the usually empty seats at the Planning Commission meeting, July 23. The reason is Brandon Varise's proposal for Off Trail, a "flagship sporting goods store" at 604 Ferry Street would have a shooting range in the basement. Not all of the people who came to give public comment were against it, and both sides made cogent arguments.
City staff had recommended approval of the plan that breathes new life into the large, old building. However, Planning Commissioners unanimously voted not to accept the approved zoning amendment for the shooting range portion of the business. They instructed staff to come back to the next meeting with a proposal that did not include it, so they can compare the two.
Many opposed to the plan carried placards, but their demeanor was generally courteous, with just a few commission reminders, and they were the majority.
Proposed
A long-time Martinez resident, Varise said he built a successful GPS business and with the proceeds purchased two downtown buildings. Many buildings have been vacant, and more so since an earthquake retrofit requirement that went into effect several years ago. The business community and city leaders are eager to bring it back to life.
If successful, a large sporting goods store with a custom-built 10,000 gallon aquarium, indoor casting pool to test rods and reels, rock climbing with a view, a gun range for practice, rooftop shopping with Marina views, and the tag line, "Escape to nature" could form a destination for hunters, fishermen, climbers, hikers and other outdoor enthusiasts.
It could also dovetail with improvements to the Marina that are still in the planning stages.
Touting his record for business success, Varise stated that against all odds and predictions, he had turned his small GPS business into a million-dollar enterprise, bought a building on Main Street that was days away from the wrecking ball, and successfully rented it to popular viable businesses.
Opposition
In a series of comments, those opposed to the project, and the shooting range in particular, expressed fears about safety. There is no designated parking for the building. People with firearms could leave guns in the car, and there would be break-ins and noise. Some are concerned about a drop in property values and damage to the city's reputation, of others it is diminished air quality due to the use of lead in ammunition.
Proximity to St. Catherine of Siena Parish Elementary School on Mellus Street and Vicente Martinez High School/Briones on Susana Street was an issue, and general incompatibility with downtown residential uses was another.
Some who disapprove said they might be afraid to bring their children and guests downtown. Kathy Macomb said, "I am horrified…"
One person who threatened to vote commissioners out if they approved the proposal. They were informed that planning commissioners are not elected.
In Favor
Roger Sargent said the project is a good idea and people should check other indoor ranges. A local female gun owner who now drives to Dublin and San Leandro to practice talked about gun safety protocols and existing laws.
She said the indoor ranges could not be heard outside and noted that police and families could use a local indoor range for gun safety classes. "There are guns downtown now, you just don't know it," she remarked. Another gun owner confined her statement and said he had been to the indoor range in downtown Honolulu and in Sacramento, where he saw families at the range together.
A third person said, "There are hundreds of guns going up and down the streets already and he had never heard of a gun being stolen out of the back of a car."
There were others, but after more than two hours of public comments the last person was James Dean, the "former owner of a gun shop in town for years." He said, "There are guns everywhere. People who come to court, their bullets are jacketed." He claimed that hundreds of law enforcement people who go to a Marsh Creek range to qualify could come to Martinez.
Accurate shooting is a perishable skill, according to Dean.
There are federal, and stricter California State laws regulating gun licensing, types, transport, use, ammunition and more. Details of those were not discussed.
In written comments, Varise emphasized the separate entrance to the range and named NRA range master and instructors with too many certifications to list, who would be responsible for safety. He said he is already permitted to sell guns and air quality concerns would be mitigated by modern filtration systems. Varies said the store would be a healthy outdoor-themed family environment. The schools are not within limits set in city ordinances.