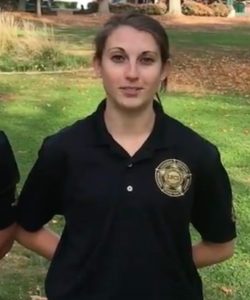 A hometown vigil for Officer Tara O'Sullivan will be held on Saturday, August 03, 2019, from 6:30 – 7:30 pm, at Martinez City Hall (525 Henrietta Street).
O'Sullivan, 26, was shot and killed in the line of duty on June 19 while responding to a domestic violence call in Sacramento.
The vigil will be a casual gathering. So please dress comfortably. There will be a message box at the vigil for you to drop a card/letter to the family, or share your favorite "Tara Tale" for the family to read at a later time, which we encourage you to do. This event is open to the community.
Tara was born and raised in Martinez and graduated from College Park High school. It is only fitting that we honor her memory here, at home.
Any questions regarding the vigil can be directed to Sgt. Fred Ferrer, at 925-372-3446, or by email fferrer@cityofmartinez.org.