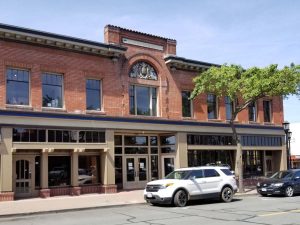 Martinez Planning Commission met Tuesday and unanimously approved an annexation request for 10 acres owned by the Dunivan Family Trust and also unanimously approved a conditional permitted use for an indoor shooting ranges in the Central Commercial zoning district.
The annexation request is for a narrow parcel at 1030 Vaca Creek Road that is bounded on three sides by the city limits, although it's currently in unincorporated Contra Costa County.
The county has zoned it as Agricultural Lands, and it likely would have Alhambra Valley Agricultural District zoning if it's admitted into Martinez, according to a staff report.
The land has a single home and road access, the report said. In addition, receives city water service.
Before the property could be annexed, the Contra Costa Transit Authority must approve the Urban Limit Line adjustment, although the Authority has said the change would comply with its Growth Management Program.
Once the Planning Commission decides whether to recommend the annexation, the City Council will decide whether to approve the Annexation General Plan Amendment, pre-zoning and Urban Limit Line amendment after the public gets a chance to comment during an open hearing.
If that happens, city staff will work with county officials on a tax exchange agreement, the file an annexation application with the Local Agency Formation Commission (LAFCo) which will conduct its own public hearing prior to rendering a decision.
Should the application clear those hurdles, Martinez staff will make the changes to city map.
The other main agenda item was Off Trail/Brandon Varise Flexsquare LLC's request to put a shooting gallery in an enclosed building at 604 Ferry St., creating an experiential sporting goods store, providing an all-weather place to practice and become proficient with firearms.
To accommodate this request, the city would need to consider a zoning text amendment (ZTA) to add the definition for "shooting gallery within an enclosed building" and to allow those ranges as a permitted use in any Central Commercial (CC) District in the city.
Brandon Varise can a short presentation to the Commision and explained his idea for a retail sporting good store for downtown Martinez. Varise own several properties in downtown Martinez, including 718 and 724 Main Street.
"An indoor range within a large flagship retail store will immediately contribute to the revitalization of downtown Martinez," Varise explained to the Planning Commission. "With an extensive in-store product catalog spanning several categories, including fishing, boating, camping, clothing/footwear, and hunting, it will draw customers from all over the Bay Area to downtown Martinez.
"It will also benefit other downtown businesses by attracting a significant cross-section of the shopping public to the city center. Shopping districts with anchor stores have consistently outperformed those areas without them, and have been proven to attract other retailers to the area. Brick and Mortar retail has been on the decline in the US for several years. Amazon has made it easy to shop without ever leaving the house.
"We believe that by offering an experience that customers are not able to get anywhere else, it will bring customers from surrounding cities to downtown Martinez."
Varise commented the store would employee 20-25 people and hours of operation would be 7 days a week from 10 a.m – 9 p.m., although he was willing to close at an earlier time.
Currently, there are two CC zones in Martinez, one along Arnold Drive and the other in the downtown business area.
According to a staff report, the city allows shooting galleries within an enclosed building by right in Commercial Recreation areas, and outdoor shooting galleries are conditionally-permitted uses in the same zone.
While shooting galleries aren't common in central Contra Costa County, the Martinez Gun Club is an outdoor club on 900 Waterbird Way and another outdoor club, United Sportsman Inc, is in Concord.
There isn't an enclosed shooting gallery nearby, the report said.
Martinez Police Department said it had no objection to the shooting gallery, nor did a building official. However, an application to have an enclosed shooting gallery as a conditional use in the Service Commercial District was denied in 1999, the report said, because of concerns raised about noise and proximity to residential areas.
The report noted several considerations. Among them is general safety, although the Building Code has specifications that apply that would require barriers to make sure bullets wouldn't escape the enclosed space and requirements for the business operation to assure safety of those inside the building.
The operator would need to require that all patrons have licenses for their guns, and noise canceling headphones would be needed by those in the building.
Varise told the panel that "noise concerns related to an indoor range would be mitigated by the implementation of concrete with noise absorbing baffles as well as Dura-Panel products, and would result in an internal building noise level equivalent to 60 db or less which is the average volume inside of an office. The average street noise in a residential neighborhood is 70+ db. There will not be a noise disturbance to pedestrians or other businesses in the area."
Because firing weapons indoors can reduce air quality, a study would be needed to assure the building's ventilation system would be adequate before any permit would be issued, the report said.
Still the indoor shooting gallery would be "within the parameters of acceptable uses of the CC district, the report said.
Varise commented that he had spoken to nearby business owners. Noise was the main concern expressed to him. "People are supportive, no one has come out against it," Varise said. "(The Martinez downtown area) needs a stronger retail presence."
Commision chairperson Sigrid Fallentine noted that "all we are doing is changing the zoning, a lot more has to be done before this comes back to us again. Noise and air, all those concerns will be addressed."