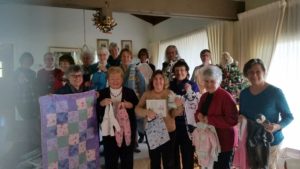 At their Annual Layette Shower, the Pleasant Hill-Martinez AAUW (American Association of University Women) branch generously donated baby gifts to the Hillcrest Congregational Church in Pleasant Hill Social Service Program. So many beautiful items were received — hand-made quilts, afghans, receiving blankets and hats, and adorable baby clothes — sleepers, newborn outfits, sweaters, and booties, as well as diapers.. They sent a big pile of newborn necessities for happy babies and grateful Moms.
Hillcrest Church packages up complete layettes for boys and girls. They are picked up by Contra Costa Health Services public health nurses and given to new moms when the nurse visits their home to assess their needs and the health and needs of the baby after they return from the hospital.
AAUW is a national organization, which advances the equity for all women and girls through advocacy, education, philanthropy and research. The Pleasant Hill-Martinez branch also gives college scholarship and Tech Trek camp awards to students from local schools.
To learn more about the Pleasant Hill-Martinez branch of AAUW, please visit their website at www.aauw-pleasanthill-martinez.org.