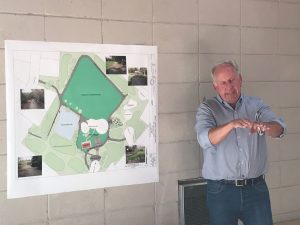 MARTINEZ, Calif. – Martinez has been working hard on its parks in the past several years, the Park, Recreation, Marina and Cultural Commission Parks and Waterfront Subcommittee heard Wednesday.
Next area of focus will be the Golden Hills Park, a neighborhood park that will be getting an extensive overhaul.
The items will come before the full Commission in the future.
Conversations with the public to get feedback during a community workshop at the park and with Martinez Police about making lines of sight clearer refined early proposals for the park's improvement.
The largest change will be demolishing the existing odd-shaped community building and replacing it with a rectangular one that not only should look better aesthetically but also should function better, according to current plans.
Because of citizen input, the building will have an extended shade area.
But other amenities will be improved, too, City Engineer Tim Tucker told the subcommittee.
A big problem has been the park's tennis courts which historically has a problem with cracks. After observing the success of an approach used at Nancy Boyd Park, Tucker said, the city is considering applying a slip seal on those courts. "I'm confident it will solve problems," he said.
"This is exciting," Commissioner Richard Patchin said.
Highland Park is another neighborhood park, and its basketball half-court also is in line to be improved. Also to be added are permanent four-square and hopscotch game markings. The horseshoe pit won't be affected, and picnic areas and trash cans are expected to remain unchanged. Its play equipment is expected to provide entertainment for children from toddlers to 12.
Extraneous vegetation has been removed from John Muir Park, Commission Chairperson Dylan Radke said. Tucker said declining equipment there is expected to be replaced. A sandbox is being converted to a native plant garden.
Where the parks have damaged sidewalks, Martinez may be able to use gasoline tax to make repairs, the subcommittee heard.
Alhambra Park, which has worn other, more derogatory names, is getting a new moniker that honors the city's first elected mayor, John Sparacino, who often has been called "Mr. Martinez."
While the Council approved the change, the Park, Recreation, Marina and Cultural Commission had recommended waiting until the city had put a naming policy in place. Patchin, noting that it is a passive park, wondered if naming the area colloquially called Main Street Plaza after Sparacino might not have been more appropriate.
The park is among those that need sidewalk upgrades.
Tucker said he's applied for grants to assist in connecting a regional trail at a gap that is near the Union Pacific Railroad. He's spoken with the railroad about its specific concerns, as well as with the East Bay Regional Park District, which has an easement there.
The Commission has six projects it has suggested for city Capital Improvement Projects listings in the next budget. They are the completion of the Susana Park interpretive panels, a decision on the municipal pool's concession stand, installing a larger play structure at Cappy Ricks Park, construction of new Hidden Lakes Park restrooms, the Golden Hills Park tennis court repairs and improvement to Waterfront Park Field 5.
Money should be available soon for the Susana Park panels, and Patchin said general conversations about panel topics are the watershed, history and the park as a performing arts area.
Radke noted that the park has a cork tree that predates Western selling of the area, although it's not a native California tree.
Modifications have been made to provide easier access to Waterfront Park's Field 5, Deputy Director of Administrative Services Michael Chandler said.
Patchin urged using the field for softball, since Field 3 has been changed to a professional-level baseball field on which only those 14 and older may compete. Field 3 also is where Martinez's professional baseball team, the Clippers, play.
Martinez may get at least $200,000 in state grant money that doesn't require matching funds and which can be used for certain types of park projects, Chandler said. Applications must be submitted early in 2019.
But that money couldn't be used on the Hidden Lakes Park restrooms, which could cost $350,000 to renovate. That figure shocked Boardmember Victor Baker, but Radke and Chandler assured him it was valid.
"I'm blown away right now," Baker said, comparing that cost to that of a house.
Chandler recommended the Commission stop pursuing work on the pool's concession stand and instead continue letting patrons bring in their own food. Some concessionaires have looked at the site and said they wouldn't be able to make money operating it.
Chandler said it's not in the best location at the park.
The space could be used for storage, he suggested, although Patchin said he didn't want the item taken completely off the table.
Tucker said it could be considered a "future project," which means it wouldn't be forgotten even though it's not being pursued actively.
The subcommittee also saw a concept for an improved sign that would mark Joe DiMaggio Fields in Waterfront Park.
Although several commissioners advocated for an archway, and while Chandler agreed to provide the Commission with information about such a sign, he said the type of equipment that needs to get through the area to maintain the fields couldn't be accommodated with an archway.
Instead, he suggested an on-the-ground sign that would resemble but be slightly smaller than the sign marking Waterfront Park. That sign is estimated to cost $4,500, and wouldn't interfere with repair equipment.
An archway would cost far more, he said.
Another consideration is weight and the type of ground that is in the park. Its light poles had to be set 40 feet deep, Chandler said. However, an archway is a distinctive design, he admitted. "It's a cool entrance."