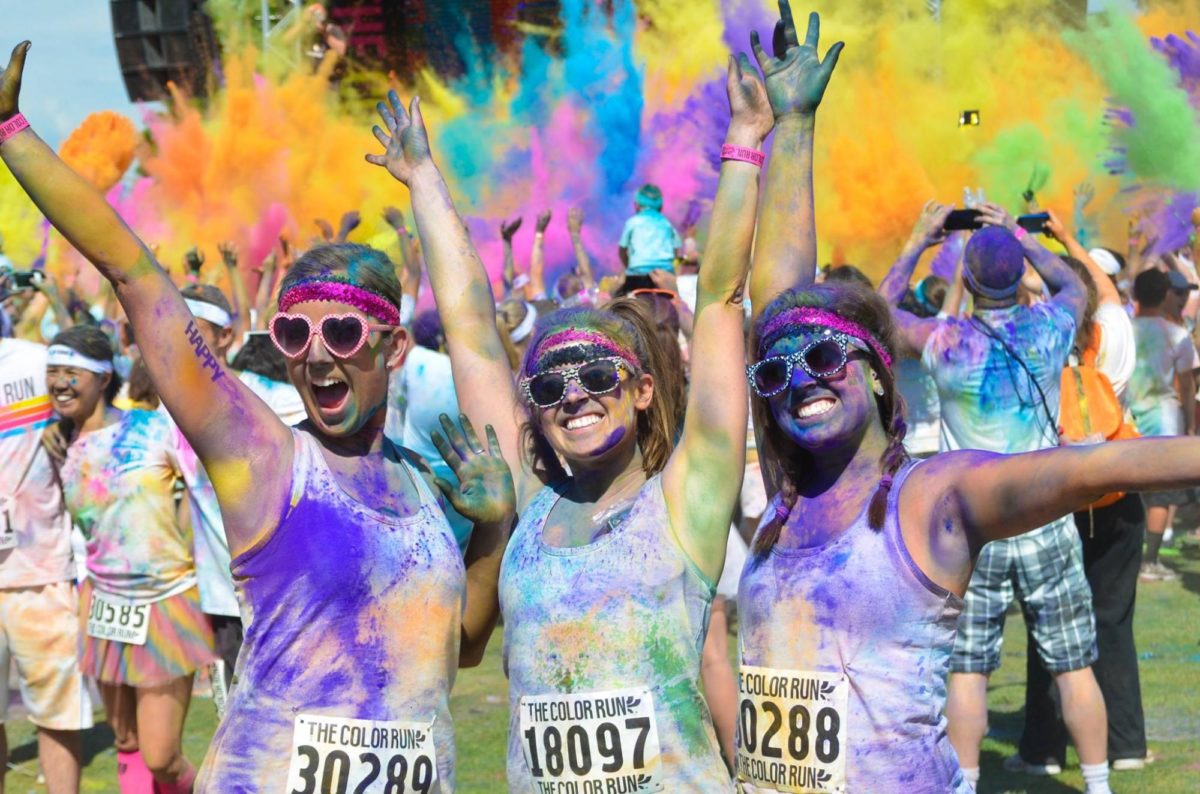 The Hidden Valley Elementary Parent Faculty Club will be able to use Hidden Valley and Hidden Lakes parks and nearby open space next month for its 5K Color Dash, the Parks, Recreation, Marina and Cultural Commission has decided.
The unanimous vote came Tuesday after representatives of the Mount Diablo Unified School District school club described the event.
The 5K run is a fundraiser for a $40,000 school camp, and the money will pay for scholarships so less fortunate students may attend, they told the Commission. Money will be raised by entrance fees.
It's called a "Color Dash," because during the run, participants who start off in white clothing get doused with nontoxic cornstarch pigmented with food coloring.
Runners will take two laps around the course starting at 8 a.m. April 28, and most of the color stations are at the elementary school's parking lot, with one station near the soccer fields.
The club's website is http://hvpfc.com/.
The Commission also heard a fees report from Patty Lorick, recreation supervisor, and the panel endorsed sending her recommended increases to the Martinez City Council for its approval.
These increases primarily are to help cover continuing increases in the minimum wage in California, and to prevent increases in the city's subsidy of its recreation program subsidies, she said.
Admission at Rankin Aquatic Center varies, depending on ages and whether it's a single admission or part of a multi-day pass. Lorick recommended keeping the free admission to those 2 and younger if they are accompanied by a paying adult.
Daily admission for those 3 to17 would increase 50 cents, from $3.50 to $4. Ten-punch swim cards would cost $32 instead of $28; 20-punch cards would be $56, up from $49; residents' full-season passes would be $72 instead of $63; and non-residents' season passes would be $80, up from $70.
Those 18 to 54 would pay $6 instead of $5.50 for daily admission; $48 instead of $44 for 10-punch cards; $84 instead of $77 for 20-punch cards; $138 instead of $126.50 for a resident's season pass; and $152 instead of $139 for non-resident's season pass.
Those 55 and older would pay $5 instead of $4.50 for daily passes; $40 instead of $36 for 10-punch swim cards; $70 instead of $63 for 20-punch cards; $115 instead of $103 for a resident's season pass and $127 instead of $114 for non-resident's season pass.
A daily family pass for up to five people would rise from $18 to $20.
The pool would continue to be available for parties for two-hour periods Saturdays and Sundays, and those fees would be increased, based on how many are expected to attend the party and the amenities those attending would expect the pool to provide.
Parent/tot swimming lesson prices would increase from $21 to $23 for residents and from $24 to 26 for non-residents. Group lessons for those 4 to adult age would rise to $33 from $31 for residents and $36 from $34 for nonresidents. Private lessons would be $25 each or $90 for four.
The cumulative increases are expected to bring in another $21,000 in revenues, Lorick said. That is needed, because the pool operates in the red. In 2015, it took in $228,437 but spent $313,568; in 2016, revenues were $249,880 but spending was $340,980; and in 2017, revenues were $257,852 but spending was $353,565.
Projections for this year indicate that the gap between the two is shrinking, from more than 27 percent to about 25 percent, Lorick's report said. However, the expected income of $278,852 that fee increases would help bring won't match the anticipated spending of $371,565.
Lorick also is recommending increasing fees for ballfield use.
She is suggesting no changes in Field 5 of the Martinez Waterfront Park, and suggested modest increases in the hourly rates for other fields: a dollar increase to $10 for Golden Hills; an increase from $16.50 to $20 for Hidden Lakes' two fields; an increase from $9 to $12 an hour for each of the two fields at Hidden Valley; and a cost of $10 an hour for Holiday Highlands.
The cost to use Mountain View Borman Field would go from $9 an hour to $12; Mountain View's grass field rental would be $10 an hour; rental of each of the Morello Park Elementary School fields would be $12 an hour instead of $9 as would the Nancy Boyd Park baseball field; and Tavan Field would cost $20, not $18, an hour to rent, with an additional cost of $32 for lights.
Refundable security deposits of $150 for Field 5 and Tavan Field also would be required.
Of the other Waterfront Park fields, residents, non-residents and commercial groups have been paying $16.50, and that would rise to $25 for residents and $35 for non-residents and $40 for commercial interests. Light fees would go from $32 to $35.
Field preparation would be $40.
The Waterfront Park picnic areas currently rent for $66 for residents using the 125-capacity area. Non-residents pay $132 and commercial interests pay $187 for the same site. Residents pay $105, nonresidents pay $259 and commercial interests pay $303 for the 250-capacity area.
In the east picnic area, those accommodating up to 40 cost residents $60, non-residents pay $80 and commercial groups pay $120. Areas accommodating 80 cost residents $120, non-residents $160 and commercial groups $240, and areas accommodating 120 cost residents $180, non-residents $240 and commercial groups $360. Deposits also are required.
The west picnic areas that accommodate up to 60 cost residents $90, non-residents $120 and commercial groups $240 to rent. Two group areas with capacity of 120 would rent to $180 for residents, $240 for nonresidents and $360 for commercial groups. Areas with 180 capacity would rent for $270 to residents, $360 to non-residents and $540 to commercial groups. Again, deposits also would be required.
These are the first proposed increases in two years, Lorick told the Commission. Compared to fees assessed by surrounding cities, she said, "We're not the lowest; we're not the highest."
In other reports, the Commission learned from Michael Chandler, deputy director of Administrative Services, that trail cameras and signs announcing them as well as improved lighting are reducing vandalism in parks where taggers had been painting obscene graphics.
Chandler also told the Commission that the city's agreement to let the Martinez Clippers use Field 3 in Waterfront Park has been signed. Opening Day will be May 31, when the Clippers will face the Sonoma Stompers.
Both teams are part of the Pacific Association of Professional Baseball Clubs, (https://www.pacprobaseball.com/), an independent league based in California.
The Martinez Clippers, whose name echoes the nickname of native son and baseball legend Joe DiMaggio, the "Yankee Clipper" when he was center fielder for the New York Yankees, is one of two expansion teams added this 80-game season.
Owners are Jeff and Paulette Carpoff, who also own DC Solar, which has been sponsoring the holiday ice rink in the Martinez downtown area.
The other expansion team is the Napa Silverados.
Martinez was in line to get a team a few years ago, but that was before the city was ready to renovate Martinez Waterfront Park, and that team became the Pittsburg Diamonds.
Other teams are the defending champions Vallejo Admirals and the San Rafael Pacifics.
The Clippers have a logo with a ship's wheel framing a circle of Yankees-style pinstripes and a green C at the border, with a stylized M in the center.
Pacific Association tryouts will be at 9 a.m. April 21 at Albert Park, San Rafael, where the Pacifics play. Registration for tryouts is available on the website www.pacificsbaseball.com and those interested may call Heather Luna at 415-485-1563. The league's schedule is available online at https://pacproclubs.squarespace.com/new-blog/2018/2/7/2018-league-schedule-announced.