Saying it did so under protest, the Martinez City Council has authorized a $30,000 payment to Shenkman and Hughes, the legal firm that accused the city of violating the California Voting Rights Act (CVRA) through its at-large elections and demanded a change to by-district voting.
Kevin Shenkman, the Malibu attorney who wrote the demand letter to Martinez, is limited by California law Assembly Bill 350 to reimbursement of $30,000 from cities that agree to change to by-district voting under the protection of that same law, as Martinez City Council has done.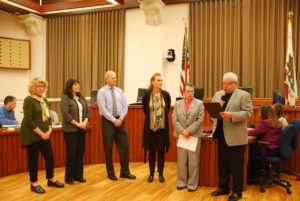 Other cities have paid far more, from Palmdale's failed three-year court battle that cost the city $7 million in court fees and another $4.5 million plus interest in legal reimbursements. Other cities have settled their cases for hundreds of thousands of dollars up to a few million.
Although the law strongly encourages it, the CVRA doesn't mandate by-district voting and allows at-large systems if by-district elections would reduce the electoral voice of protected groups and minorities in local races. However, no municipality or other elected agency has successfully challenged a Shenkman demand letter.
The Council expects its first by-district election to take place in November.
Before voting on the payment, the city received Shenkman's assurances that neither he nor his demographics consultant would seek additional compensation from the city, although the attorney said he spent more than $30,000 in preparing his letter to Martinez.
"A full fix for the CVRA needs to be contemplated," said Councilmember Mark Ross, who has been outspoken in his objections to the city's hands being forced by the attorney, whose stated client in the matter didn't come from Martinez, but instead is a San Antonio, Texas, organization.
He also objected to a move by some residents to use the situation as an opportunity to overturn two elections that established and reinforced the city's elected mayor and give Martinez a rotating mayor from among elected Councilmembers.
Ross said during Wednesday's meeting the CVRA's authors corrected injustices in Watsonville and other cities where elected panels didn't match their population demographics.
But in some cities, such as Martinez, by-district votes can't help minorities, he said, and he feared unintended consequences, including segregation of voters, who now vote only for a Councilmember candidate in their district, and parochial thinking among those who win seats on the panel.
Mayor Rob Schroder called the situation "a waste of taxpayers' money," as well as staff time and the cost for consultants. He said he is committed to working with state legislators to modify the CVRA.
Vice Mayor Lara DeLaney, who has voted against past motions in the election conversions, joined the rest of the Council in approving the expenditure.
"It's a financial obligation we have to pay," she said. Otherwise, Shenkman has promised to sue for even more money, she said. However, she said she was casting her vote under protest.
The Council also agreed to proceed toward the purchase of 821-825 Escobar St
The building is surrounded by a parking lot, and the structure would be demolished in order to provide more parking in the downtown shopping district.
The 3,000 square foot building is home to three businesses. The What Not Shop is owned by one of the sellers, and the other two are a dog grooming business, Canine Designs, and Sal's Kitchen, restaurant owned by the Garcia family.
Canine Designs representatives said their personal property in the building include two grooming tables, four crate banks, two counters, two water heaters, two grooming carts, a bath tub, a washing machine and dryer, four dog dryers, plastic shelves and storage units, a wood shelving unit, a wood cabinet, a wood table, a turquoise cart, a small refrigerator, grooming tools and other personal items.
The Garcias said they own three freezers, a two-door refrigerator, a refrigerator preparation table, an ice machine and storage bin, a refrigerated sandwich preparation table, 42 dining chairs, 13 dining tables and several other tables, two booths, five counter stools, five dry storage racks, a hand sink, a grill, a fryer, a meat slicer, two toasters, two microwaves, a coffee machine, a dishwasher, four high chairs, a booster seat, two ladders, pictures, cameras, other kitchen supplies, an oil dispenser, a register, a credit card machine, toys, and a variety of containers, cleaning supplies, utensils, dishes and other items.
The Council and the building's owner, James Davis Revocable Trust for which Sharon Ellsworth is acting trustee, have agreed to a price of $560,000.
However, there is more work to be done before the city enacts the purchase. While the property owner will handle The What Not Shop's relocation, Martinez is required by government codes to assist the other two businesses in vacating the building.
After voting its concurrence with the purchase terms, the Council heard that Garrett M. Dowd, right of way consultant with Associated Right of Way Services of Pleasant Hill, will be in discussions during the next two months with the two tenants about their moves.
In other matters, Schroder on behalf of the Council issued two proclamations.
One, handed to Brianna Griffin, a junior at Alhambra High School, recognized March s Prescription Drug Abuse Awareness Month.
Prescription drug abuse killed 51 people in Contra Costa County in 2016, and a quarter of those prescribed opiate drugs become addicted to them.
People who want to deter such drug abuse can turn in their expired or unwanted prescription drugs during Take Back Day, April 28 Martinez Police Department, next to City Hall, 525 Henrietta St., or at the Contra Costa Regional Medical Center, 2500 Alhambra Ave., Griffin said.
"It's imperative to do something," she said.
Another proclamation declared March as American Red Cross Month, and was handed to Marcelle Indelicato, senior emergency planner in the Emergency Services Division in the Office of the Sheriff.
The American Red Cross collects 40 percent of the blood supply that helps disaster victims, she said. It helps people affected by a variety of calamities, such as the Northern California fires, teaches lifesaving procedures and provides help to veterans, she said.
"It's a humongous collaboration in times of need," she said.