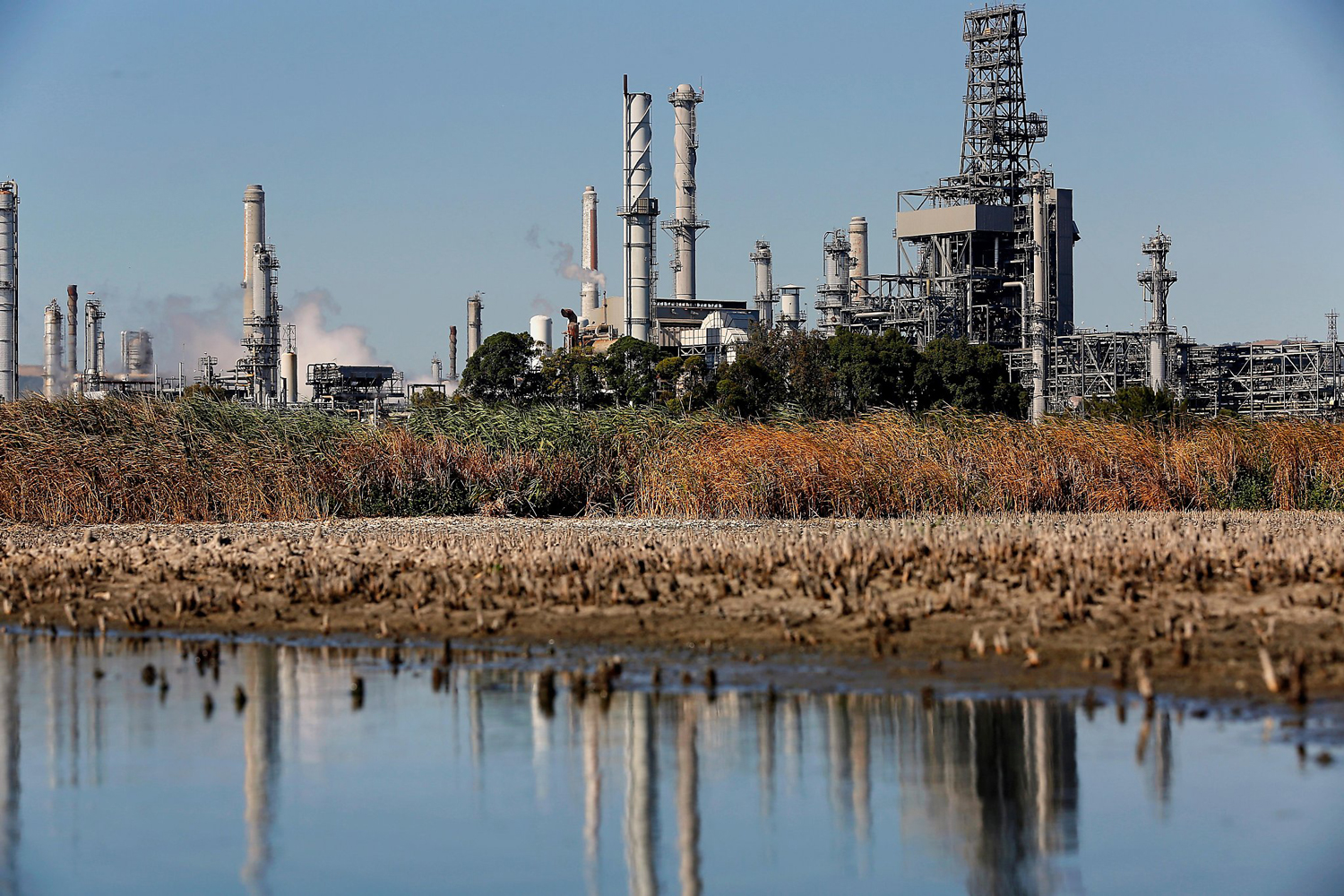 Equilon Enterprises, doing business as Shell Oil Products US, has agreed to sell the Martinez Shell Refinery to PBF Holding Company for $1 billion and other adjustments, the two companies announced Tuesday afternoon.
The refinery has been operating in Martinez under the Shell name since it was completed in 1915 as Shell's first in the United States.
Both Shell and PBF said most of the refinery's employees will be offered positions once its ownership changes hands. This includes Jeff Harris, named earlier this month as the Shell Martinez Refinery general manager to succeed the retiring Tom Rizzo effective June 17.
"Right now, our plan is to offer jobs to everybody at the refinery who is eligible to join us," said Michael Karlovich, vice president of Corporate Communication at PBF Energy. "We'll offer jobs to everyone that we can."
He declined to provide additional details about who is qualified to stay. But he said PBF has "a high regard for the work force."
The new owners also expect to continue the refinery's community partnerships, he said.
Karlovich said PBF has a saying, "We have to earn the right to operate in the community host," and recognized what he called Shell's "robust relationships" and "impeccable reputation" for supporting Martinez Education Fund and its Run For Education and for supporting multiple other Martinez nonprofit organizations, activities and events.
Another area Karlovich addressed was safety. "We have the same dedication to safe, reliable operations," he said. In addition, PBF will continue the refinery's Community Advisory Panel, he said.  
While rumors of the refinery's sale have waxed and waned for some time, Karlovich said PBF began "off and on" talks in December 2018. "They became more earnest lately," he said.
As far back as in 2016, a Reuters news article out of New York, citing three unnamed sources, said Royal Dutch Shell had retained Deutsche Bank to help find a buyer for the Martinez refinery as part of Shell's divestment plan.
At the time, Mayor Rob Schroder said, "Martinez has been the home for Shell for 100 years. Generations of families have worked for the organizations." He said his own family has three generations of Shell employees.
"At one time, Martinez was a company town," he said. While the city has developed a more diverse economic base, it still depends on the refinery. "We have a close relationship with Shell management. It has a good reputation and a culture of safety," he said.
A company statement at the time said most of its 700 employees as well as former workers live in Martinez. Active employees are given 18 hours of work time to commit to volunteer activities, that statement said, and have used that time to paint the library, build picnic tables, wired school computers and participate in the Run for Education and Martinez Community Appreciation Day.
Besides the $1 billion consideration, the sale price includes the value of the hydrocarbon inventory, crude supply and product offtake agreements as well as other adjustments, according to Tuesday's announcement.
The transaction is for the sale of the refinery and adjacent truck rack and deep-water marine and product distribution terminals and product storage, but Shell's branded fuel businesses, aviation terminal and area catalysts business won't change hands.
The transaction is subject to conditions and regulatory approvals, and should be complete before the end of this year, the companies said in their statements.
"This divestment aligns with Shell's strategy to reshape refining efforts towards a smaller, smarter refining portfolio focused on further integration with Shell trading hubs, Chemicals, and Marketing," said the announcement..
"This deal is another step in our transformation to high-grade and optimize our portfolio to drive resilient returns," said Shell Downstream Director John Abbott.
The sale also was announced on the Shell Refinery in Martinez Facebook page, which confirmed Shell told the local refinery Tuesday of the sale.
Shell and PBF will enter in crude and products agreements to supply branded businesses and customers with Shell fuels, the statement said.
The purchase increases PBF's total throughput capacity to more than 1 million barrels a day, and its refining system a consolidated Nelson Complexity Index of 12.8, a calculation that compares the secondary conversion capacity of a petroleum refinery with the primary distillation capacity.
The local refinery was told of Shell's divestment plans Tuesday as well, according to the Shell Refinery in Martinez Facebook page, which promised transparency with both employees and the community.
"The refinery has called Martinez home for the last 104 years and every day we work to minimize any impact to our neighbors," the posting said, and provided the refinery's environmental hotline, 925-313-3777 and off-work-hours number, 925-313-3601.  
PBF Energy is one of the country's largest independent refiners, with operations in California, Delaware Louisiana, New Jersey and Ohio. Like Shell, the company counts as its mission the operation of its campuses in "a safe, reliable and environmentally responsible manner, provide employees with a safe and rewarding workplace, become a positive influence in the communities where we do business and provide superior returns to our investors."
PBF's announcement said it and Shell have agreed to a joint exploration of building a proposed renewable diesel project to convert existing but idle Martinez refinery equipment into a renewable fuels production plant.
That endeavor is "forward-looking," Karlovich said, but he  promised the refinery's new owners would share more information later, after PBF and Shell start their reviewing process.
Shell also will be underwriting direct and indirect turnaround costs and certain other capital expenses during the first quarter of 2020, according to PBF's announcement.
"The acquisition of the high-complexity, dual-coking Martinez refinery is a significant strategic step for PBF as we expand our West Coast operations and increase our total throughput capacity to more than one million barrels per day," said Tom Nimbley, PBF chairperson and its chief executive officer. "Martinez is one of the most complex refineries in the country and a top-tier asset.
"We look forward to welcoming Martinez's highly-motivated and professional workforce to the PBF family, and are committed to continuing their tradition of safe, reliable, environmentally responsible operations, as well as their outstanding community partnership."
He, too, spoke of welcoming the Martinez refinery's employees into his company, and promised to continue "their tradition of safe, reliable, environmentally responsible operations, as well as their outstanding community partnership."
John Stevens is a member of Shell's Community Advisory Panel (CAP). "At last night's Shell CAP meeting, our members were not told of this, no doubt as it was not yet made public," he said Tuesday.
"However, PBF is known to have its own CAP and be involved in local communities with volunteerism, philanthropy, and environmental stewardship as well as cultural arts and school programs," he said." It will be important for us to reach out to them to assure that these continue in Martinez."
"Today was the first time I was contacted about the sale of Shell. I was made aware, as were many members of our community, through a communication sent by Shell.," Martinez Unified School District Superintendent C.J. Cammack said Tuesday.
"Additionally, although I have not had a chance to speak with the individual, PBF contacted my office today in hopes of setting time to talk," he said.
"Shell has been such an incredible partner for MUSD and all our students as well as our community has a whole. As superintendent, I am committed to nurturing that partnership with PBF to maintain an important relationship for our schools, our students, and our community," he said.
The refinery is on 860 acres strategically placed in Northern California. It can convert 157,000 barrels of crude oil daily into multiple products and is a dual-coking plant.
According to Shell's announcement, as the sale nears completion later this year, the refinery will remain committed to its Goal Zero safety program while supporting employees during the transition.
Harris has described the Martinez refinery as having "almost legendary status throughout Shell," especially for its care of employees and community commitment.