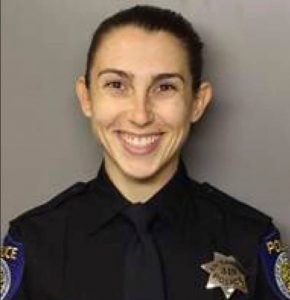 A 26-year-old Sacramento Police officer who was slain Wednesday while responding to a disturbance call had ties to the Martinez area.
Officer Tara Christina O'Sullivan was a graduate of College Park High School, which is in the Mt. Diablo Unified School District, a part of which covers Martinez. She was involved in soccer while in high school.
She also was involved in Police Explorers, one unit under the supervision of Martinez Police and later in the joint program with Martinez and Pleasant Hill Police.
Sgt. Fred Ferrer advised O'Sullivan for several years, starting in 2008 when she entered the program that lets young people assist in city events, such as parades, work with children and assist in traffic control. "They learn about law enforcement," he said.
O'Sullivan rose to the position of Explorer Sergeant, in charge of a five-member squad, he said.
From the beginning, O'Sullivan showed strong leadership and decision-making skills, he said.
"She was fearless, not afraid to try anything new," he said. When learning of new assignments, O'Sullivan would be the first to raise her hand, asking to give it a try, he said.
"She was really personable," Ferrer recalled, and said her personality allowed her to interact well with any group of people, from children to adults.
O'Sullivan was in the Explorers program when Martinez and Pleasant Hill Police, in a joint effort, expanded the participants' training. That let the Explorers work on assignments in both cities.
O'Sullivan enrolled in Diablo Valley College, Pleasant Hill, before transferring to Sacramento State University, where in December 2017, she was one of four students honored as the first group to finish the university's Law Enforcement Scholars (LECS) program.
It's described as a "first of its kind in the nation" program that can lead directly to a career either as a member of the California Highway Patrol or a Sacramento Police officer.
O'Sullivan received a bachelor in arts degree in child development from Sacramento State May 2018.
She had been with the department 18 months, initially hired as a Community Service Officer before entering the Sacramento Police Academy as a recruit. She was graduated from the academy Dec. 20, 2018.
O'Sullivan was one of seven women in her graduating class at the police academy, and would have been on patrol on her own in a few weeks.
According to an account released by the office of Sacramento Police Chief Daniel Hahn, the department initially received a call at 11:43 a.m. Wednesday about a disturbance between a man and a woman.
At a home in the 3700 block of Esperanza Drive, officers met the woman who was involved with the disturbance.
At 5:41 p.m. the same day, officers accompanied that woman to a home in the 200 block of Redwood Avenue and waited while she retrieved some belongings, the announcement said. O'Sullivan was among the officers who were there.
The officers heard shots at 6:10 p.m. and learned that one of the officers had been struck. But the shooter kept firing, preventing officers from rescuing their injured colleague until about 6:54 p.m., when more officers arrived with an armored vehicle that could reach her safely.
By 6:59 p.m., the injured officer was on her way to a local hospital, while others set up a perimeter to prevent the suspect from escaping.
The shooter fired sporadically at the remaining officers, several of whom returned fire. Other police helped neighbors evacuate the area.
Members of the Sacramento Crisis Negotiation Team arrived and spoke with the shooter for several hours.
Finally, at about 1:54 a.m. Thursday, the man surrendered and was taken into custody. At that point, the area was secured for evidence processors and detectives, the announcement said.
The suspect has been identified as Adel Sambrano Ramos, 45, who is described as having a history of domestic violence and battery against women since 1995, including threats to blow up his family. He also has been involved in incidents of theft, drugs and driving while intoxicated.
Ramos has been charged with a single case of murder.
O'Sullivan, the injured officer, died after reaching the hospital, the announcement said.
"We are heartbroken for the loss of Tara O'Sullivan, an officer who served our community and the Sacramento Police Department with honor, integrity and commitment," said Howard Chan, Sacramento's city manager. "Our hearts and thoughts are with her family, friends and colleagues during this tragic time, and we at the City of Sacramento share in their immense grief."
Sacramento Mayor Darrell Steinberg said, "To Tara's parents and family, and Tara's fellow officers, I am so sorry. As a father I am grieving with you. As mayor of the city she swore to protect, our city is heartbroken and we are here for you every step of the way."
Governor Gavin Newsom has ordered flags at the capitol to be flown at half staff. California Association Highway Patrol has created a memorial fund for her family, and donations may be made online at cahpcu.org or by mail to the Officer Tara O'Sullivan Memorial Fund, P.O. Box 276507, Sacramento, Calif., 95827.
Ferrer said he learned of O'Sullivan's injury and subsequent death through a call from Sacramento Police. His number was among her emergency contacts.