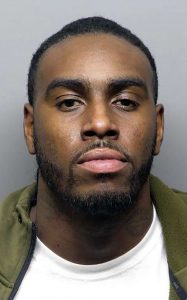 MARTINEZ, Calif. – A Martinez man who was charged with illegally possessing a gun and linked to the investigation of the Halloween night shooting in Orinda that left five people dead pleaded not guilty Monday morning, officials said.
On Sunday, the Contra Costa County District Attorney's Office filed two felonies against Domico Michael Dones of Martinez for felon in possession of a firearm and felon in possession of ammunition. Dones has a prior felony conviction for second degree robbery in Santa Clara County.
Dones, 29, of Martinez was arraigned Monday in Contra Costa County Superior Court in a quick proceeding. He was represented by the public defender's office and is expected back in court Dec. 10.
On November 21 Dones was arrested by the Sheriff's Office for being in possession of a Glock 22. 40 Caliber handgun with a laser scope and ammunition in his possession. The Bureau of Alcohol, Tobacco, Firearms and Explosives (ATF) San Francisco Field Division also assisted in the arrest of Dones.
Dones was not one of the five suspects arrested in connection with the Orinda Halloween shooting last week by the Contra Costa County Sheriff's Office. Due to the sensitive nature of the Orinda investigation, no further details will be released regarding Dones in connection with the incident.
Frederick Johnson, 29, of Vallejo, also was arrested as part of the Orinda investigation, but he has not appeared in court. Both men were originally booked into Contra Costa jail in Martinez on suspicion of murder and conspiracy. However, prosecutors wound up charging the men with being felons in possession of firearms and ammunition. Johnson was hit with an additional count of child endangerment.
At around 10:50 p.m. on Oct. 31, gunfire erupted inside a home on Lucille Way that had been rented for an Airbnb "mansion party" with an estimated 100 people in attendance. The bloodshed left residents of the tranquil community in shock.
The investigation into the incident is ongoing. Anyone with information about the case should call the Sheriff's Homicide Unit at 925-313-2600.