The Malibu-based lawyer threatening a lawsuit against the city and school district was recruited to Martinez by former Martinez Councilmember Anamarie Avila Farias.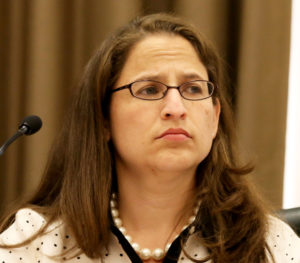 Multiple independent sources, who spoke on the condition of anonymity, said a small group of former candidates, led by Farias, met in the spring with one of the goals being to shake up the Martinez City Council through voting methods.
"You know the old rule about vampires, they can't come in unless you invite them…she's (Farias) the one who let the vampire in," one source said.
After talking to sources, who are community leaders or local political activists, the Gazette compiled a timeline:
Early in 2017 Farias, Courtney Masella-O'Brien, John Stevens and Ryan Apperson formed a group that began discussing strategies and recruiting others to reform Martinez politics before the 2018 election cycle. Sources said it was "apparent early on the crux of the meetings was to target (Mayor Rob) Schroder, (Councilmember Mark) Ross, (Councilmember Lara) DeLaney and the Martinez political establishment" by altering election practices.
A lawyer from Walnut Creek with experience in voting rights issues, Scott Rafferty, advised a focus on a community-inclusive approach to change how elections were conducted. This approach, educating the public, would work with cities without using the force of law. This grassroots strategy was preferred by Stevens, who was a key member of a group that successfully lobbied the city for a downtown dog park. According to sources, Farias wanted a more aggressive approach that would net a speedier outcome.
In late August or early September Farias told the group she had found a lawyer, Kevin Shenkman from Malibu, that specialized in the California Voting Rights Act and was quickly able to force cities to alter their elections from at-large to district-based.
The city of Martinez was sent a demand letter from Shenkman & Hughes dated October 18. The Martinez Unified School District was sent the same demand letter on October 18.
Sources say the inclusion of the MUSD in the demand letter was "completely unexpected" because it had never been discussed with the group.
Farias did not respond to multiple requests for comment.
"If there's one word I would use to sum this up, it is sad," remarked a source. "There was an opportunity to galvanize the community.
"It's forcing change with a gun to your head and no one feels good about that."
The San Diego Union-Tribune reported that cities who are making this change after receiving the demand letter from Shenkman are spending up to $110,000 to implement the switch from at-large to district voting.
The paper quoted Mary Azevedo, a political consultant from Oceanside, CA, "It's just a money-making scheme. It's not for the betterment of any city or group of individuals."
Farias served on the Martinez City Council from 2012 to 2016, earning the most votes for council in November 2012. She decided not to run for reelection, opting instead to challenge Federal Glover for his District 5 Supervisor seat, where she was rejected at the polls. Newcomers O'Brien and Stevens both had unsuccessful campaign runs in the 2016 Martinez City Council election. Incumbent Mark Ross and newcomer Noralea Gipner both won spots with O'Brien coming in third and Stevens fourth. Apperson, a Walnut Creek lawyer, lives in Mountain View.
Shenkman, who has targeted cities in southern California, had not sent a  Contra Costa County city a demand letter before Martinez.
With each letter Shenkman mails he will recover $30,000 in fees from each city or school district. To date, he has sent a letter to over two dozen cities, according to media reports.
Shenkman's tactics, including labeling Martinez tolerant of racism, have caused concern among residents. Chief among those concerns are would a city the size of Martinez (pop. 38,000) benefit from a change to four- or five-district system, and that the city council has been diverse with Farias the top vote-getter in the 2012 election.
Specifically, the letter claims Martinez's at-large system "dilutes the ability of Latinos (a 'protected class') – to elect candidates of their choice or otherwise influence the outcome of Martinez's Council elections."
The letter said voting within the city is "racially polarized, resulting in minority vote dilution, and therefore Martinez's at-large elections violate the California Voting Rights Act (CVRA) of 2001."
There is confusion surrounding a local group that is asserting they initiated the action from Shenkman.
A story published Friday, November 10 detailed the contents of the letter, a few hours after publishing the Gazette received a press release from a group named, Reform Martinez –  District Elections Now which stated, "this effort was initiated by a nonpartisan grassroots coalition from Martinez. Shenkman & Hughes Law Firm legal services were solicited by the Reform Martinez – District Elections Now coalition."
The October 18 letter the city received from Shenkman makes no mention of a Martinez client. The client listed by Shenkman is Southwest Voter Registration Education Project, of San Antonio, Texas.
The Gazette made repeated attempts to reach members of the Reform Martinez group, specifically asking who the members were, and received the following from spokesman Rob Parolek, "I have passed this list of questions on to our group. We may have to wait until we can get together and write out answers to these and any other questions."
This week a map of Martinez with hypothetical district lines overlaid was posted on social media. The map highlighted that four of the five council members reside near one another. Schroder, Ross, Gipner and DeLaney all live in the downtown corridor.
In the demand letter, Shenkman wrote, "given the historical lack of Latino representation on the City Council in the context of racially polarized elections, we urge Martinez to voluntarily change its at-large system of electing Council members. Otherwise, on behalf of residents within the jurisdiction, we will be forced to seek judicial relief."
He told the city to advise him no later than Dec. 7 whether it would be discussing "a voluntary change" to its at-large system.