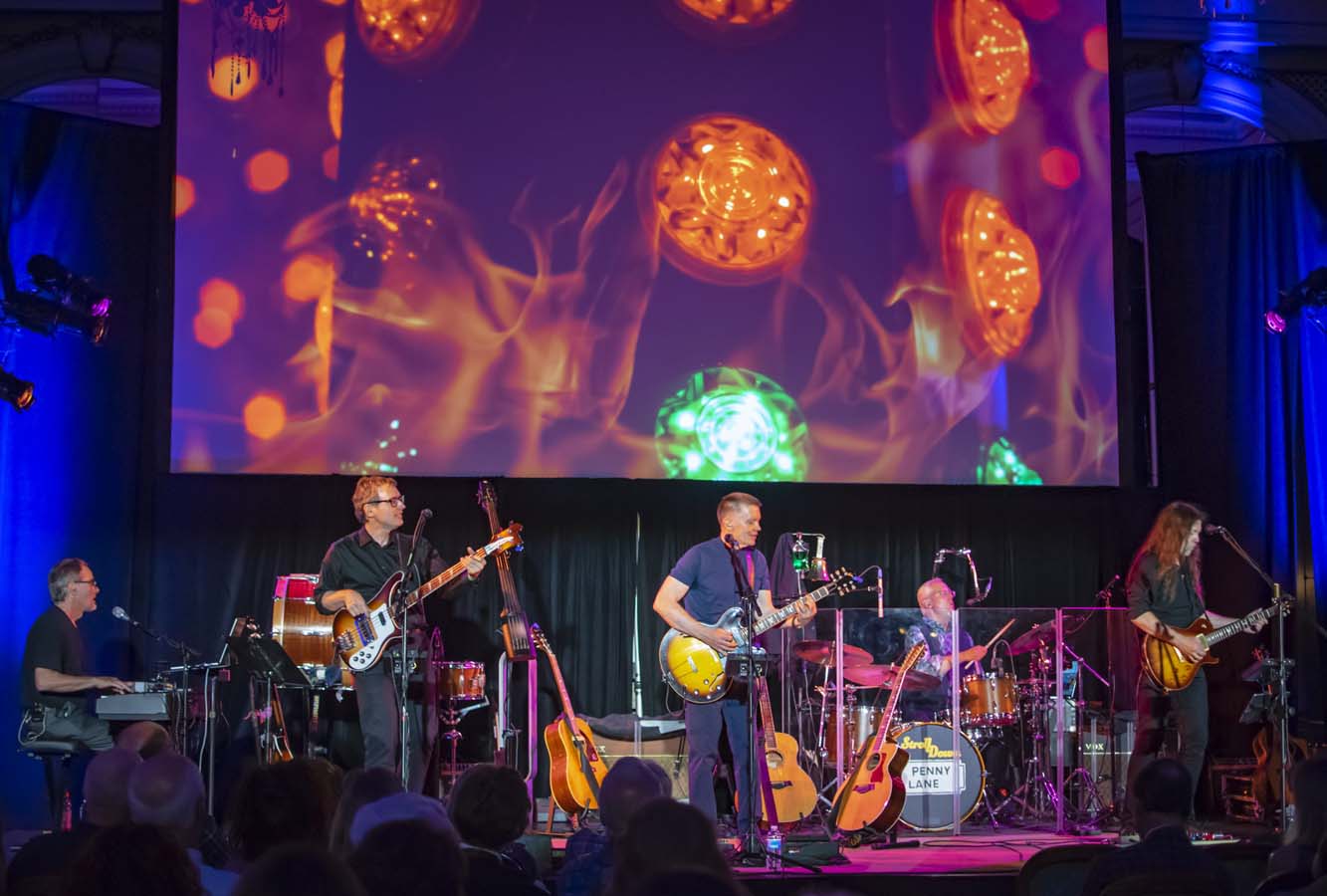 By JONATHAN FARRELL
Contributor
Fairfield's own crown jewel, The Downtown Theatre is where the music and the spirit of Paul McCartney will be highlighted and celebrated in a multi-media extravaganza "Stroll Down Penny Lane" on May 11.
Live, in concert; experience McCartney's music and influences, from early rock and roll – like Little Richard – until now, spanning sixty years of music. Explore the ballads – a form McCartney adopted when he was a teenager. He became its acknowledged master – no one else in the world can compare.
"Stroll Down Penny Lane" A Paul McCartney Tribute is the creation of Joe Anastasi. Last year's debut performances were a smash-hit to sold-out crowds.
At the heart of the show is an amazing band paying tribute to some of the most amazing and beloved music of Paul McCartney. The musical experience is enhanced with stories, evocative images, a musical education of sorts, and animation.
A forensic accountant by profession, Anastasi's vision of this unique-one-of-a-kind show was four years in the making, requiring painstaking research. Taking his skills and application of his own writing abilities, Anastasi sought to explore what makes these songs of McCartney so special.
Going in deep, Anastasi utilized this obsession of McCartney and his music, to seek out everything he could find about his idol.
With a voice that sounds uncannily similar to McCartney, Anastasi wanted to do more than simply sing McCartney songs, he set out, from scratch, to create a full show to share. And not just any show, a multi-media extravaganza.
Anastasi assembled an outstanding band of musicians, an animator, and a video artist to create a very unique and distinctive concert experience.
"Stroll Down Penny Lane" band members are: Joe Anastasi (on lead vocals and rhythm guitar), Winter (also on lead guitar and vocals), Mike Sugar (bassist, electric cellist, melodica, synthesizer, and vocals), Mark Abbott (on drums and vocals) and Matt Twain (on Keys and vocals).
Avi Ofer is the animator and Eric Pomert is the creative consultant and video editor of the media and film aspects to the show. In addition to being a live performance, Anastasi points out there are 24 beautiful accompanying films of the music of the most iconic songwriter of our era, who is Paul McCartney.
"I wanted to tell the stories about McCartney's songs, said Anastasi. My original idea was to tell the stories in a narrative way telling the stories in-between the songs. And then, have the films accompanied by the live musical presentation. That then gave me the opportunity to link it all together, by threading a little bit of narrative in between the songs to entertain the audience."
Anastasi went on to say…"The stories in the films explain, for example, the actual girl who served as the brain wave for Paul's masterful song, 'She's Leaving Home.' Other films in the show, said Anastasi explore how the collaboration between Paul McCartney and John Lennon actually provided the spark for the creation of discrete elements of a song."
Even with lots of inspiration and skill at Anastasi's command, this endeavor presented logistical obstacles. "If you're writing a novel, it has maybe 60,000 words," Anastasi explained. "On the other hand, short stories typically contain possibly 5,000 words. But for this show, I'm limited to maybe 200 or 300 words, because we only have two to four minutes to tell the story," Anastasi said.
"So this represented a real constraint," he added. "But the benefit of this limitation is that it forced me to sharpen the focus and pare the stories down to their most interesting elements. The key then was to string the 24 films together into a show," Anastasi explained.
One reviewer has accurately describes Anastasi's role in threading the whole thing together in-between the songs as: "acting as a colorful raconteur."
The show illuminates the creative process, musical tricks of the trade, the social climate of the times and McCartney himself. Running through it all is the sheer enjoyment of the music.
The past performances have delighted audiences. They sang along, were mesmerized by the films, they laughed, they cried. They were transported to the origins of the songs and were transported to their memories associated with the music.
The films and other video content connect with fans on an emotional level. "It's been very consistent," Anastasi says. "One person, for example, has seen the show twice. And she's told me that she cried at each show — and that she cried during the same three films, at each of the shows."
Even the most die-hard Beatles fans attending the show discover something they had not known before. "You will learn a little about the history of some of the songs," says Anastasi. "And, in addition to what was McCartney's favorite, we will tell you about the one song that made Paul come to tears and have to leave the room."
"We even tell you, noted Anastasi a little bit about music theory — and why a song is so unique. And," he added, "we provide this medicine of music with a spoonful of honey, so you will be happy to hear about it."
With over 22,000 square feet and all state-of-the-art, The Downtown Theater at 1035 Texas Street is ideal for this one-of-a-kind, unique multi-media experience.
Show starts at 8 PM, doors open at 7. General seating admission is $35.00. VIP tickets includes special seating are $60.00.
For more information visit: www.strolldownpennylane.com