Joining thousands of teenagers across the nation, Alhambra High School students left their classrooms at 10 a.m. Wednesday for a brief program to remember 17 slain last month during an attack on a Florida high school and to tell civic leaders they need to take action to address gun violence.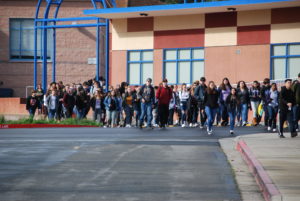 Before the crowd that gathered on Knowles Field were 17 chairs, empty except for flowers placed on each seat. Each represented those killed Feb. 14 at Marjory Stoneman Douglas High School in Parkland, Fla. Three were staff members who died trying to protect the students in various ways, and the rest were students ranging in age from 14 to 18.
"This is not a Florida issue," but affects all students, said Jonathan Hernandez, a senior who helped organize Wednesday's program.
Nor was it just a student concern.
As students filed out of classroom buildings, adults gathered on the sidewalk next to the school's entrance, carrying signs and receiving support from honking motorists driving past.
Lee Schwartz was first to arrive. "Students are dying – and what for?" A participant in the 2017 Women's March and a member of the Brady Club that seeks anti-gun legislation, he expressed his distaste for the public to own military-style weapons.
Pamela Lear, who lives near Alhambra High School, wanted to show her support of the students' march. "Martin Luther King Jr.'s Birmingham campaign wasn't effective until it recruited students," she said. "Everyone has to be in on the march."
"Something feels different," Justin Gomez said about the mood after the Parkland shootings. He credited student-led conversations, because youth who have seen dead classmates don't want others their age to witness such tragedies. "Enough is enough," he said.
"I hope we all have had enough," Senior Harmony Soffer told her classmates during the walkout, explaining the issue was neither a Democrat nor Republican one, either. "It's a human issue."
After the murder of 20 children and six adults in 2012 at Sandy Hook Elementary School, Newtown, Conn., lawmakers talked about ending shooting violence, she said. They also talked about making changes after subsequent school shootings as well as the 2016 killing of 49 and injuring of 58 at the Pulse nightclub in Orlando, Fla., and last year's slaying of 58 and injuring of 851 at a Las Vegas concert.
"It's time to hold them to their word," she said, adding, "No one else can do this for you."
Nor should students wait until they reach the voting age of 18, the student speakers said. Organizers offered a supply of letters they could send to elected officials, and they urged students to sign and send those letters.
Reminding her audience that they had been taught not to bully each other, Soffer said, "We will not condone 17 dead children."
Students kept silent for 17 second to honor those who died Feb. 14.
Then Niki Amini, the only junior among the organizers, sang John Lennon's "Imagine," as she stood with Hernandez, Soffer and other planners Phoebe Tang, Dhzyia Ford, Kate Wohlford and Juliet Stephenson, whose duties include being the student representative on the Martinez Unified School District Board of Education.
"The tragedy four weeks ago was preventable," Stephenson said. She urged students to write messages to adults in authority. And about school shootings, she vowed, "Never again."