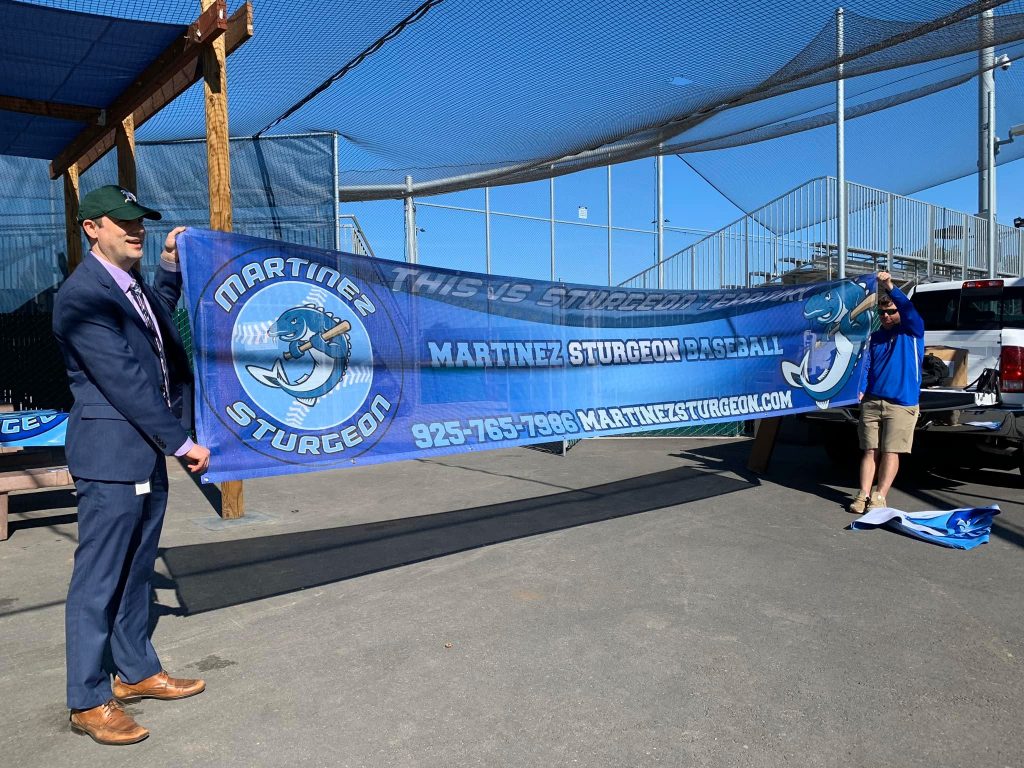 (Zach Seal, Martinez coordinator of community development, left, and Andrew Dunn, Pecos League Commissioner, unveil the Martinez Sturgeon banner Saturday at Waterfront Park's Field 3. Photo by Ken Mitchroney)
Pecos League commissioner Andrew Dunn visited Waterfront Park Tuesday morning. At the city's annual State of the City breakfast Dunn revealed the Martinez teams new nickname – the Sturgeon.
"The name fits perfectly with the fish related historical names of the Pecos League – Amberjacks and Pupfish," Dunn said. "After several months and over 85 potential names Sturgeon fits best. The will be called Sturgeon, singular not Sturgeons. Other Pecos League teams feature singular names –  the Garden City Wind, Santa Fe Fuego, Wasco Reserve, Santa Cruz Seaweed. "
The Sturgeon colors will be Royal Blue, Sky Blue and White. The teams website is http://www.MartinezSturgeon.com
The name was decided by the Martinez City Council baseball sub-committee which has been vital in bringing baseball back to Martinez for the 2020 season," Dunn said. "Originally the team was going to be named the Martinez Mackerel, but the name was objected due to references in the Urban Dictionary."
The ballpark sits on the edge of the Carquinez Strait which is a body of water were Sturgeon fishing is common.
The season begins on May 22. Tickets can be purchased at www.martinezsturgeon.com or call 925-765-7986.
(photos by Ken Mitchroney and Donna Beth Weilenman. State of City photos by Charlie Jarrett)