On August 29, 2019 at 12:37 pm, Martinez Police Department (MPD) officers responded to a call of a man with a shotgun in the 1000 block of Arnold Dr. A passing motorist saw an unknown adult male subject pointing a short barreled shotgun at an unknown adult female.
Arriving officers contacted the female near the parking lot of The Home Depot (1037 Arnold Dr., Martinez). The male subject fled from officers on a bicycle into The Home Depot holding a dark duffle bag.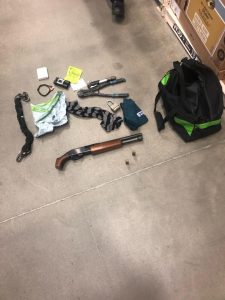 Several Martinez Police Officers (MPD) made entry into the store and began to evacuate customers. During the evacuation process, the suspect attempted to flee from the officers out the front door. A concerned citizen and a Home Depot employee alerted officers to the subject and he was placed into custody after a brief struggle with their help. During the struggle, the suspect assaulted a Home Depot employee by throwing his bicycle at him. The employee was not injured. Officers later conducted a search of the store and located a duffle bag containing a loaded short barrel shotgun.
The suspect was identified as DRYDEN, James Lee (33 years old, Martinez). He was arrested and booked into the Martinez Detention Facility (MDF) for 22215 PC (Possess Short Barrel Shotgun), 245(a)(1) PC (Assault w/Deadly Weapon), 25850 PC (Carry Loaded Firearm in Public) and a probation violation. He is being held on a $100,000 bail.
The female was uncooperative and provided a conflicting statement of the events. She was subsequently released.
There were no injuries reported during this incident.