By BILL SHARKEY III
Martinez News-Gazette Columnist
FOOTBALL SEASON is upon us. With it comes some controversy, as is usually the case each year. But, does it not add to the excitement we feel for our favorite teams, high schools, colleges or pros? However, there are those who create problems…money or egoes. Many are highly paid professional athletes who are paid more than their mental capacity warrants. But, they do not get paid on IQ's. The signing bonuses, contract and performance bonuses are signed upon performances in college or other NFL teams.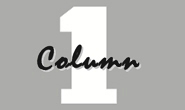 Four outstanding past performers, one of whom just retired at age 29, have been high on my list of admired athletes, academically, performance on the field and as members of society. They are John Elway, Jim Plunkett, John Lynch and Andrew Luck. I have followed them more closely than others because we shared the same college.
John Elway was sought for both baseball and football contracts in their respective drafts. He chose football which led to an All-pro and Hall of Fame career on the field with the Denver Broncos, and as an NFL team general manager which he still holds. He was an All-American at Stanford.
'Big Jim' Plunkett, also a Hall of Fame member, was All-American at Stanford before going professional. During his pro career he was a Raider in later years leading them to a pro bowl championship and being named as the MVP of the game. An emotional part of his career was that all of his football field achievements were performed without being seen by his parents, both of whom were blind.
John Lynch, general manager of the 49'ers, was also an All-American at Stanford before turning pro where he was a several-time All-Pro. A great citizen, he may become a Hall of Fame member one day.
Andrew Luck, who retired this past week at age 29 after nine injury-plagued seasons with the Colts, was the first pick overall in the 2012 NFL draft. His outstanding performance for the Colts earned him contract extensions and bonuses worth millions for leading the team to playoffs in his first three seasons, and to the AFC title in 2014. Several of his playing years were accomplished with a lot of pain from injuries, followed by on-going rehab. The pain finally got too much, thus retirement at age 29.
The Colts owner told the media that Andrew had the potential to earn about $500,000,000 during his career had he not retired. He will keep several of his bonuses, the owner stated.
All four men were strong in academics down on 'The Farm', outstanding athletes, have gone on to be admired professionals in the NFL, and fine citizens.
MEANWHILE, close to home, our community will be cheering for one or more of our local teams. We have Alhambra, College Park and De La Salle students and supporters in our midst. We will be following each of them with pride and wishes for success.
Then, of course, we have the Old Blues of UC Berkeley and the Cardinal supporters of Stanford (and their stupid Tree!) And, the promised successful seasons for the Raiders and 'Niners with new expensive players will hold our attention, of course.
Standby for season kick-offs!
EMPTY WHITE CHAIR seen around the globe via the media covering the G7 meeting in France, tells a terrible story. The world now has seen, in real life, where the leader of the United States places climate change on his priority list. It's not on his at all! The empty white chair at the conference table reserved for the president of the United States is so discouraging to those trying to save the planet. It is also totally disgusting for we Americans who must continue to endure the whims of a totally inept leader. For the rest of the world, those who still look to the U.S for guidance and support, it must be discouraging, and confusing. With the earth's greatest scientists all calling for immediate action to preserve the planet, how could the U. S. leader not be a participant in the international discussions on climate change?
As the White House staff tried to cover for their boss, apparently 'he had previous appointments with two delegates". As later reported, the other two were in the conference. Go figure! Call it "The White Chair Mystery?"
Another 'mystery' is the press conference statement the Oval Office Occupant made concerning trade dealing with China. "We've had two phone calls with China recently which were very productive," he said. Fact-checkers following up with China' trade-dealing folks could find no one who had made any calls. As has been asked many times since January 20, 2017, "Has lying become a new norm for a U.S. presidency?"
Also asked at the press conference was why the president called China's leader a bad name one day, then complimented him as a strong leader the next day. "That's just the way I negotiate," he responded.
Speaking of saving the planet, the horrific fires in the Amazon rain forests have received only less-than-urgent concern and interest from the autocratic president of Brazil. Offers of help have come from many sources, but were rejected by him until very recently. As someone who has been noticed and approved of in comments from the White House, the Brazilian leader has been dubbed 'a mini Trump'. A compliment?!?
LOOKS LIKE a real estate proposal idea for the purchase of Greenland got shot down quickly by Greenland and by Denmark which holds the deed for the huge island. And, as sometimes happens in such deals, bad words were expressed causing a diplomatic flap between two very good allies.
As we write this column, the latest is the big sales pitch by the White House occupant to held the next G7 at his Doral Club in Florida, a great place with a bed bug history and declining business. However, the deal would violate the federal regulations regarding presidents making money off their properties. Oh, well, what else inappropriate is new?
Looks like the multi-levels of inappropriate dealings are piling up on the leader of the world's greatest nation. Every day it is something new.
HAPPY TIMES do occur. Ask Rory McElroy, golfer from Northern Ireland and a top world player, who won the FedEx cup and tour tourney last weekend with $15,000,000 to stash away somewhere. A good young man and a credit to golf. The luck of the Irish??
CHEERS for Labor Day 2019, the 125th celebration honoring the greatest workers in the world, the American worker. It will feature celebrations, public and private, political speeches and rallies, picnics and barbecues and a last shot at summer outings. Happy Labor Day 2019.