By ANNA MARIE BEAUCHEMIN
Martinez News-Gazette Columnist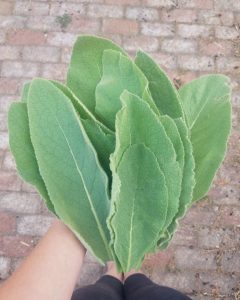 In light of the smoke-filled skies we've been experiencing in many parts of California, I decided to put this month's column out a few days early to offer some herbal info related to the fires. These past few weeks have been a challenge: refinery fires, wildfires, evacuations, power outages, closed roads, air quality, and of course – the growing concern for what feels like the new normal in California this time of year. All these things combined to make for a physically and emotionally stressful couple of weeks.
Though herbs may not be a cure-all for the potential damage that smoke and trauma can have on our bodies and lives, there are certainly a handful of plants that I turn to whenever these unfortunate events take place. Below you can find my go-to herbal remedies for support during fire season.
Adaptogens
Adaptogens are a class of herbs that are thought to help the body better modulate stress. Fire season, especially with the addition of massive power outages, can be an extremely stressful time, and it's in times like these that we can all probably use a lil' extra help. The two adaptogens listed below are my favorites to use when there is smoke in the air.
Reishi (Ganoderma lucidum)
We briefly touched on Reishi mushroom in last month's Hometown Herbalist column and it's coming back for round two. Reishi is an adaptogen that has historically been used to help the body better modulate stress while simultaneously nourishing the immune system. Reishi has also traditionally been used to help support the bronchial system, making it one of my favorite choices for autumn and particularly for times like these. It can be made into a tea using dried slices or taken as a powder.
Tulsi (Ocimum tenuiflorum/Ocimum sanctum)
A lovely adaptogen that has historically been used to help calm the nervous system. Traditional use of this herb also includes protecting the body from toxin-induced damage and bronchial support. Tulsi can be taken as a tea and can be found in a variety of pre-made blends available at the grocery store. My favorite brands are Organic India and Traditional Medicinals.
Fire Tea
When the air outside gets smoky I immediately brew up a big batch of what I've started calling fire tea. This blend contains herbs that have traditionally been used to help boost the immune system, calm the nerves, support the respiratory and nervous systems, and protect the body from toxin-induced stress.
Ingredients
1-2 tablespoon dried elderberries
3-5 slices fresh ginger root
1 tablespoon tulsi leaf/flower
1 tablespoon mullein leaves
½ tablespoon thyme sprigs
Directions
Add elderberries and ginger to a small pot and cover with 5 cups of water. Bring to a simmer, cover partially, and cook on low heat for 20-30 minutes. Turn off the heat and add the tulsi, mullein, and thyme. Cover and steep for 10-15 minutes, then strain and enjoy.
I make sure to strain this blend extra well, as the fine hairs on mullein can irritate the throat. I use the finest mesh strainer that I have, which in my case is the same bag I use to make nut milk, but you can also use a coffee filter. You can find many of the herbs mentioned in this blend at Harvest House in Concord, Five Flavors Herbs in Oakland, or Herb Folk Community Medicine in Petaluma. You can also order them from Mountain Rose Herbs online.
Don't have access to the herbs listed above? Peppermint and chamomile tea bags – which are available at most grocery stores – sweetened with a little honey, can go a long way as well.
Interested in learning more? Check back on the first Sunday of every month for the Hometown Herbalist column featuring local, seasonal, and regional botanical information.
Note: This information has not been evaluated by the FDA and is not intended to diagnose, treat, cure, or prevent any disease. This information should not be used as medical advice and is for educational, historical, and research purposes only. Always consult with your physician before adding herbal supplements into your diet, especially if you are pregnant, nursing, or on medication.
Author Bio:

Anna Marie Beauchemin is a trained clinical herbalist, biologist, educator, and writer. Born and raised in Martinez, California she is passionate about sharing her craft with her community and helping people find balance and increased wellness in their lives. She offers private herbal consultations and herb-based workshops, locally. For more information visit her website at eastbayherbals.com or follow her on Facebook and Instagram @eastbayherbals

References Cited

Winston, David, and Steven Maimes. Adaptogens: Herbs for Strength, Stamina, and Stress

Relief. Healing Arts Press, 2019.

Rogers, Robert Dale. The Fungal Pharmacy: the Complete Guide to Medicinal Mushrooms and Lichens of North America. North Atlantic Books, 2011.

Cohen, Marcmaurice. "Tulsi – Ocimum Sanctum: A Herb for All Reasons." Journal of Ayurveda and Integrative Medicine, vol. 5, no. 4, 2014, p. 251., doi:10.4103/0975-9476.146554.

Metzger, ByJane. "Creating a Local Materia Medica: Holy Basil." Herbal Academy, 10 Jan. 2018, theherbalacademy.com/creating-local-materia-medica-holy-basil/.