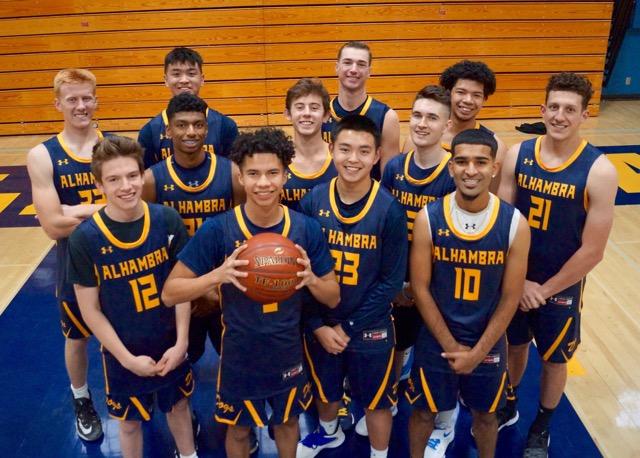 Front row : Connor Gray, Jalen Shepard, Anthony Wong, Ekbir Purewal
Middle row: Lorenzo Fonseca, Thomas Major, Bobby Turnquist, Brody Eglite
Back Row: Jackson Hilton, Joshua Palmer, Wyatt Hammer, Iverson Suisala
(photo by Amy Hammer)
by Matt Sieger (Special to the Gazette)
Alhambra High School's third-year varsity basketball coach, Chris Petiti, likes the look of his team this season.
The Bulldogs open the 2018-19 season Wednesday, November 21, at 5 p.m. at their home gym in a non-league contest against Armijo of Fairfield.
AHS is coming off a 13-15 record overall last season, posting a 4-6 mark in league and reaching the quarterfinals of the North Coast Section Division III playoffs.
The starters for Wednesday's contest will be seniors Jalen Shepard, Wyatt Hammer, Bobby Turnquist, Brody Eglite, and junior Anthony Wong,
Eglite led the team last year in points (9.4 per game) and rebounds (7 per game). Shepard dished out the most assists (1,1 per game) of any returning player.
Coach Petiti says Shepard is "our team leader, a hard worker, team player, and our most consistent shooter from last season." Hammer is a third-year varsity starter who can score both on the perimeter and close to the basket and who, says Petiti, "is sure to have his share of highlight plays this season." Eglite is also in his third year on the varsity and, as Petiti notes, "a tenacious player who truly embodies the spirit of our Bulldog mascot."
AHS plays in the Diablo Athletic League-Valley Division, which Petiti expects to be competitive.
"We have a cohesive group, both on and off the court," he says. "Team chemistry should help us achieve great things this season. We look forward to measuring ourselves against consistently successful teams on our schedule (Campolindo and College Park) and taking our shot at the probable league champion (Berean Christian).
He adds, "Our expectation for this season is to be the best team that we can be, and to be playing our best basketball in February at the end of the season. I believe our team is ready, able, and eager to finish in the top half or third of our league standings. This team is also capable of earning a third straight playoff appearance, and we hope to make some noise in a crowded, challenging NCS D-III field."
Petiti hopes the fans will come out and also make some noise this Wednesday for the home opener.