By JEFF ROUBAL
Martinez News-Gazette Columnist
Like most other American families, the Roubals spend Thanksgiving Day cooking, cleaning, and preparing for the holiday – which we celebrate on the Friday after Thanksgiving. As it turns out, Friday is the best day for our family to gather. Our children, nieces and nephews have grown into adults. Now we must share the kids with their friends and their new in-laws.
Fifteen years ago, we gave up trying to have Thanksgiving on Thursday. Friday is much more relaxed and enjoyable. The only other thing happening on that day were the Black Friday sales which we enjoyed immensely..
As the thick newspapers and mailers arrived before Black Friday, the kids and I would scan the ads, develop a route and schedule, lay out our clothes, pack the snacks and energy drinks, and fill the car with gas so nothing was left to chance.
Vivian went with us only once. She decided that cooking was a much better use of her time than running around with frenzied crowds before dawn. She has stayed home ever since.
The kids and I would head out of the door at 3am to go shopping for five hours while Vivian cooked the turkey. Our dinner guests would arrive at 2pm. By the time the last guest left at 6pm, we were ready for bed.
I called my mother to ask what we did when I was growing up. "They did not have Black Friday," she told me. "We stayed home on Friday and ate leftover turkey." On Thanksgiving Day, mother would put the turkey in the oven to cook and we would watch the Macy's Parade for hours until it was time to get dressed and set the table.
I remember that, during the last half of grammar school, teachers used to load us up with homework for the four-day weekend. Big projects were always due on the Monday after Thanksgiving. As kids, we would goof off on Friday and Saturday then study after church Sunday until late at night.
The years blend together but I remember well a Black Friday fifteen years ago. The kids and I arrived at our first stop, Circuit City in Concord (where Seafood City is now), at 3am to find a line of shoppers that wrapped most of the way around the building. As we waited together in temperatures close to freezing, I could not help but marvel at the hundreds of people waiting in line for deals. It is amazing what lengths people will go to for a bargain.
The people in front of us had just moved to Pleasant Hill from Australia. They were amazed too. Apparently, people in Australia don't put up with nonsense like Black Friday Sales. During our hour in line, we learned about their business and their children. We told them where to find the best fresh produce and auto service. It was a lovely conversation.
The line moved quickly when the doors opened. The kids and I scored a half-price digital photo frame that Vivian unwrapped on Christmas morning. Next, we hit the mall for our free gifts at Penneys and Macy's. After a few more stores, our last stop was at Staples to pick up a 100 pack of blank DVD for $1.99 – one per person!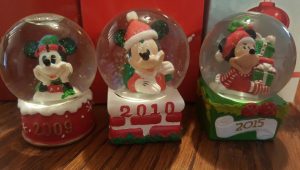 In 2001, my daughter and I arrived at JCPenney and were greeted by an elf handing out little boxes – a miniature Disney-themed snow globe. I brought it home for Vivian and she loved it. The next year I received another snow globe from Penneys…and again the next year. I was going to stay home the following year, but my daughter said "We have to go get our snow globe!" The quintessential Black Friday souvenirs were miniature Disney-themed snow globes from JCPenney. I have a complete set from 2001 to 2011.
People ask me if the snow globes and other tchotchkes were worth all the effort. The goodies are certainly not worth much in monetary terms. Entrepreneurs have the same globes for sale on eBay at $3.99 each. One enterprising soul is selling a collection with every snow globe from 2001 to 2011 plus a special 2015 edition for $99.99 plus shipping. He includes all the original boxes too!
Despite the early hours and the low value trinkets, I would do it all again. More valuable than money are the memories we have of standing in the cold and dark to earn our little prizes. I am sad that the tradition has come to an end.
For snow globe enthusiasts, Black Friday 2012 was a bitter disappointment. Instead of the Mickey Mouse globes, Penneys elves handed customers promotional buttons. It was the end of an era and the beginning of a downward spiral. Jump ahead a few years. In 2017, JCPenney had to close 138 stores nationwide including the one at Hilltop Mall in Richmond. I am convinced that lack of snow globes had something to do with that.
Black Friday was never the same. This year, the JCPenney "Black Friday" sale starts at 2pm on Thursday. People no longer need to get out of bed at zero dark thirty. Wal-Mart begins their sales online at 10pm on Wednesday. People no longer need to get out of bed at all. That means fewer opportunities to talk to strangers and meet new and interesting people. If we don't talk to each other how are we ever going to meet people from Australia?
An advertisement on the radio this week recommended buying high speed internet for your house because families will be coming home for the holidays. According to the ad, every kid will need extra bandwidth to play his or her video games. With streaming video, each person can watch a different TV show or movie in a different room of the house. That sounds like a terrible idea.
Luckily, we still have Small Business Saturday. Enjoy Thanksgiving with your friends and family and happy hunting for those big priced items on Back Friday. Then enjoy the small town festive atmosphere in downtown Martinez this Saturday, and all year long.
My grandparents used to tell me about milking cows then walking to school through the snow. It was hard for me to imagine. I will tell my grandchildren about waiting in the dark with hundreds of people to get excellent deals for the holidays. It may be hard for them to imagine. For my grandchildren, Black Friday sales will probably start in June!