By CHARLIE JARRETT
Martinez News-Gazette Columnist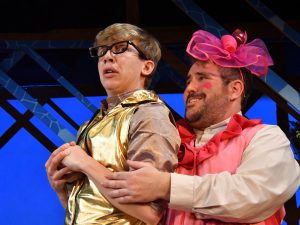 Once again, I'm excited to share with you my reviews of two totally different but completely satisfying theater productions for your entertainment over the holidays. First, the Town Hall Theater in Lafayette has delivered an engaging spoof of a classic Brothers Grimm fairytale, entitled Cinderella: A Fairytale. The second show that just opened at the Golden gate Theatre in San Francisco, is an exhilarating Donna Summer Musical, superbly crafted to replicate for fans the exquisite sounds of this extremely popular singer, songwriter, and five-time Grammy award winning singer-entertainer, often described as the Queen of disco.
Cinderella: A Fairytale follows the initial storyline of the Grimm brother's beloved and fanciful story, a re-creation by Sally Cookson and Adam Peck that is very similar to what I would expect in a British pantomime comedy; in a wonderfully wacky style and total fun-filled exaggeration. However, this one is even more inventive than the classic Birmingham "Pantos" typically written by the highly regarded John Morley. This Cinderella fairytale is unique in that none of the typical characters are exactly replicated in this storyline. First of all, Ella (Lindsay Kathryn Ford) is the young lady who later becomes known as Cinderella. Ella and her widowed father are both avid bird fanciers, that is, until he remarries and subsequently dies. In this quirky spoof, the bearded dad, Dennis Markham, turns into a sinister, conniving, and acidic stepmother mother. Her children from a previous relationship consist of a self-serving stepbrother (Marshall Scott) and dorky stepsister (Sara-jean Bartky). You may remember that in the original fairytale, gentle birds befriended Cinderella, and found ways to serve her needs. In this story, the birds are similarly attentive and are portrayed by youthful children actors. What is truly unique in this production is that the Queen (Mikah Kavita) and her son, the Prince (Henry Halkyard), are completely contrary to any vision you could ever possibly have of a Queen and a Prince in any kingdom. The Prince is lovingly down-to-earth, quirky, humorous, and a wonderful product of very fertile minds. This cleverly comic and wonderfully rewarding storyline makes this an evening of outrageous entertainment. The acting skills of these principal characters truly set this production apart from other similar spoofs but it is the especially smart direction of Clive Worsley that brings it all together to make it a smashing success, an uplifting evening that is absolutely perfect for our upcoming holidays.
This must-see production continues Thursdays Fridays and Saturdays at 8 PM, with Saturday, December 14 and 21st and Sunday, December 15 2 PM matinees filling out its run that closes on Saturday, December 21. Tickets are a very reasonable $25-$30 each with additional discounts for seniors and youth. The box office may be reached by telephone at (925) 283-1557 or by Internet at www.townhalltheatre.com. The theater is located at 3535 School St. (at the corner of Moraga Road) in Lafayette, 94549.
I would imagine that if you enjoyed music by performers in the 60s and 70s as I did, then you would probably enjoy Summer, The Donna Summer Musical, as much as I did. It is similar to the musical "Jersey Boys", in that both shows tell a little bit of the history of how the entertainers came together, and shared their conflicts and successes brought on by their rapid growth in the music business. But both shows primarily showcase their wonderful music.
The Donna Summer story is about a young woman who was not that much different than many other talented young people who became successful during that time in the music industry. She was born LaDonna Adrian Gaines in Boston in 1948, sang in her church chorus, and dropped out of high school hoping to break out of her lackluster and painful early life experiences. She cut school, even escaping all the way down the "pike" to New York City, which eventually provided an opportunity for her being cast in her first musical, "Hair". For that show, she worked hard and became fluent in German in order to jump on an opportunity that would take her to Germany with the German version of "Hair". While there she met and married Helmuth Sommer, later assuming as part of her stage name, her German husband's surname of Sommer. She subsequently changed it slightly to read "Summer," intending to dramatize her musical persona as "Hot like Summer". She had become more in control of her own life through singing and sharing her superbly unique and beautiful voice with the world.
While this San Francisco Broadway SF production concentrates primarily on sharing with the audience a strong selection of her beloved music, the story-telling may under-serve much of the great work done by her famous producers. Yet it is still a heartwarming, upbeat and rewarding evening of song and beautifully choreographed dancing. What is truly unique in this production is that the dancing ensemble consists almost entirely of women, who are outstanding dancers. Some of her great hits such as "Love to Love You Baby", "I Remember Yesterday", "MacArthur Park", "No More Tears (Enough is Enough)", "On The Radio", "Bad Girls", "She Works Hard For The Money", and "Last Dance", are so cherished by the audience, that it is almost impossible not to sing along throughout the production.
The story is brilliantly told through the different stages of Summer's life by embracing three different Donna Summers; the Duckling Donna by Olivia Elease Hardy, the Disco Donna by Alex Hairston, and the Diva Donna by Dan'yelle Williamson.
Summer, The Donna Summer Musical, continues in the Golden Gate Theater, located at number 1 Taylor St., at the corner of Golden Gate Ave. in San Francisco. It is located approximately two & ½ blocks from the 19th St. BART station. Tickets range in price between $56 and $256 each, but are subject to change. The performances are on Tuesdays, Wednesdays and Thursdays at 7:30 pm, with Friday and Saturday performances at 8 pm, along with Wednesday, Saturday and Sunday matinees at 2 pm. There will be no performances on December 24th or 25th, but there will be added performances on Monday, December 23rd at 7:30 pm, Thursday, December 26th at 2 pm and on Sunday, December 29th, at 7:30 pm. Additional information may be found on the internet at: TheDonnaSummerMusical.com, or If you love the incredible music of this very talented woman, then by all means go and re-live the excitement of Donna Summer's music!