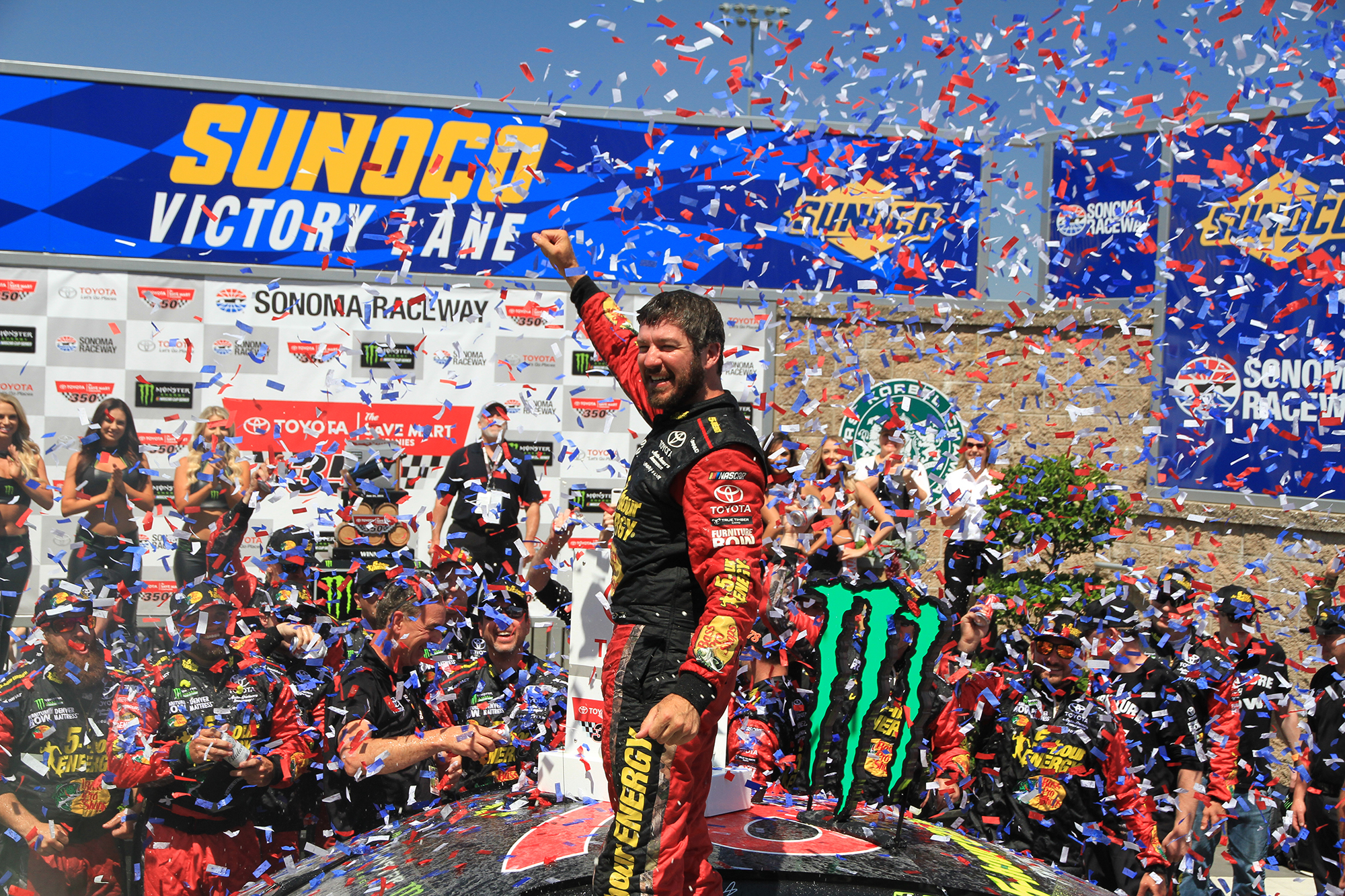 MARTINEZ, Calif. – Martin Truex Jr. returned to Sonoma Raceway's victory lane Sunday afternoon after a surprising delayed pit call gave the defending Cup series champion the fresh tires he needed to cruise to the finish line well ahead of Kevin Harvick and Clint Bowyer.
"We played cat and mouse," Truex said of his battle with Harvick, the Bakersfield native who won the race last year.
"I think we feel great when we beat him. He and his whole team are great competitors," Truex said. In fact, Harvick was the stronger of the two in the first two stages of the race, he said.
But Truex's crew chief, Cole Pearn, gambled on a pit strategy that ultimately worked for the driver. With about 40 laps left, Pearn initially told Truex to pit. Harvick headed to pit road, then Pearn waved his driver off, telling him to stay out on the track for another nine laps. That gave Truex the lead.
For the last 10 laps, Truex, Pearn, team owner Barney Visser and Furniture Row Racing President Joe Garone were praying the race would stay green until the checkered flag dropped. They got their wish.
"I knew the situation I was in, sort of, because anytime somebody pits before you at a track like this, you know you're going to be on older tires," he said. He drove carefully, avoiding mistakes on the technically-challenging road course. "I wasn't sure what was going on, to be honest. I just did what he said."
Staying out on the track while others pitted worked for Truex in 2013, the first time he won the race. But that was with a different team, Michael Waltrip Racing that lost sponsors after being accused of manipulating the end of a Richmond, Va., race later that year.
Truex moved to his current team, Furniture Row Racing, a single-driver team that is the the only one in Monster Energy NASCAR Cup racing that is based in Colorado instead of Charlotte, N.C.
"I remember that win like it was yesterday," Truex said. "It was huge." His career ups and downs has made him appreciate the high points, including his current reign as champion.
"I really feel like I treat every win the same as I did that day. You never know when your last one is going to be. I went through a lot between my first win in my career and that first win here," he said. "I think since that one, I've really felt the same on all of them: That I feel really privileged, really blessed and really lucky to be in the position I'm in for a lot of reasons.
"You never know what's going to happen tomorrow even, so I try to live in the moment as best I can and enjoy as much as I can," he said. In addition to the win, he led the most laps, 62.
"This is a huge win. Road courses are something that everybody in the garage wants to win in a big way, and to be able to win here twice and to win at both the road courses has been pretty awesome for me."
he said. He also won NASCAR's 2017 Watkins Glen race in New York. "It's kind of a feather in the cap for a stock car driver to get those – and I'm definitely proud of it."
If Truex thought Harvick's car was the stronger earlier in the race, the Bakersfield driver returned the compliment. "Martin just had a little bit faster car than we did today," Harvick said.
"At the beginning of the race, we could outrun him just a little bit, and as the second stage got over, we just started struggling with the brakes on our car," Harvick said. "And when the brakes started not working as good getting into the corner, I started carrying more speed through the center of the corner, and then it started to burn the rear tires off on exit."
Bowyer, who finished third, noticed when Truex stayed out while other drivers, including himself, turned on to pit road.
"I was like, 'What's that mean? Where are we going to come out?' And I kept looking, where is the 78 (Truex)? He just had such an advantage on tires there at the end, same advantage we did the time prior when we had tires."
Bowyer continued, "All in all, there (were) three cars that were class of the field, and proud that we were one of them. But kind of frustrated that we weren't over there in Victory Lane."
Behind them came Chase Elliott, Kyle Busch, Kurt Busch, Erik Jones and Aric Almirola for the top 10; Denny Hamlin, El Cajon native Jimmie Johnson, Chris Buescher, Brad Keselowski, pole sitter and Elk Grove native Kyle Larson, Daniel Suarez, Austin Dillon, Grass Valley's Matt DiBenedetto, Ricky Stenhouse Jr., Joey Logano, Kasey Kahne, Michael McDowell, David Ragan, Parker Kligerman, Ryan Newman, William Byron – the highest-placing rookie at 25th, Paul Menard, Trevor Bayne, Justin Marks, Bubba Wallace, Gray Gaulding, Chris Cook, Hollywood's Tomy Drissi, Ty Dillon, Ruan Blaney, Alpine's Cole Whitt, Jamie McMurray and Los Gatos native A.J. Allmendinger.
The race had only three cautions, two for mid-race stages. Allmendinger got his inaugural stage win by being in front at the end of Stage 1. Denny Hamlin took Stage 2.
But Allmendinger, who led five laps, missed a shift at a turn on Lap 35, damaging his engine. He returned to the race briefly before heading to the garage. "I haven't missed a shift on a road course in 10 years," the disappointed driver said.
Cody Ware left the race early after his fuel pump quit. An oil pump ended Jamie McMurray's chances for a win.
Wallace went for a wild spin late in the race on Turn 11, but traffic avoided him, and he managed to get his car pointed the right way and continued on. Blaney's car lost power steering, causing his arms to cramp the last 20 laps of the race.
However, most of the cars that finished the race in running condition were fairly free of dents or scrapes. Harvick attributed that to the few cautions, during which cars bunch up for restarts as soon as the pace car leaves the track. "That's usually where the most damage comes," he said.
Bowyer also was surprised. "I think that's a credit to the caliber of equipment out there, the caliber of drivers out there. A lot of rookies out there and young kids that haven't been here very often, if not the first time," he said. "I really thought and expected there to be a few more problems out there, and there just wasn't."
In other weekend racing action at Sonoma, Will Rodgers of Solvang won the K&N Pro West Series Carneros 200 Saturday afternoon, improving on his runner up finish in the race last year.
Rodgers, who started from the pole, had been stalking Aric Almirola, finally making the pass to take the lead as they swept around Turn 11 on Lap 49 of the 52-lap race.
William Byron, Daniel Suarez, Rancho Cucamonga native Ryan Partridge, Erik Jones, Hailie Deegan of Temecula and the only woman in the race, Lakeport's Derek Thorn, Cole Keatts and Derek Krause rounded out the top 10.
Of other Californians, David Mayhew of Atascadero was 11th, Rodd Kneeland of Sonoma was 14th; Rich DeLong III of Santa Clarita was 16th; Jim Inglebright of Fairfield was 18th; Todd Souza of Aromas was 19th; Trevor Huddleston of Agoura Hills was 20th; Carlos Vieira of Atwater was 22nd; and Hollis Thackeray of Gridley was 23rd.
This is Rodgers's fourth consecutive win this year. "I knew with the new set of tires, I could get around (Almirola,)" he said after the race. Also, he's received help from Harvick, and said Harvick's tips about tackling Turn 11 prepared him to make the pass. "His experience helped me," he said. "We wouldn't be racing like this without Kevin."
The race provided fans with excitement, from dramatic passes to several spinouts and crashes to old-fashioned trading paint. He's driven in series that discouraged rough racing, but he's also raced go-karts. Saturday's contest reminded him of those days.
"Rubbing is racing," Rodgers said. "This is NASCAR….I like it. If you want it, go get it."
From California, Monster Energy series drivers go to Chicagoland Speedway in Illinois for the Overton's 400. Broadcast will be at 11:30 p.m. Pacific time Sunday, July 1, on NBC Sports Network.